Holly Trostle Brigham is currently preparing for a solo exhibition in September 2013 at the Berman Museum of Art at Ursinus College in Collegeville, Pennsylvania. She will be in a group show of women artists at Penn State the Lehigh Valley in February 2012. Her work will be on view at ACA Galleries in Chelsea, NYC in the summer of 2012 as well. In addition, Holly is finishing up a print collaboration with the Experimental Printmaking Institute (EPI) at Lafayette College, where she was artist-in-residence.

Holly grew up in Carlisle, PA, and attended Smith College, where she studied Art History and Italian. After Smith, she studied for a Master's in Art History at the University of Pittsburgh and then attended the Pennsylvania Academy of the Fine Arts. Afterwards, she earned an MFA in Painting from George Washington University. Holly has taught at Pasadena City College, Lebanon Valley College, Worcester State College, the Worcester Art Museum School, and The Baum School of Art.

Her work may be found in numerous private collections and at the Smith College Museum of Art, as well as at George Washington University and the student collection at PAFA. She maintains a studio in her home in Philadelphia, where she lives with husband David and two children, Noble and Flora.




Maryann Corbett is the author of Breath Control, forthcoming from David Robert Books, and the chapbooks Dissonance and Gardening in a Time of War. She has been a winner of the Willis Barnstone Translation Prize and a finalist for the Morton Marr prize, the Best of the Net anthology, and the Able Muse Book Prize. Her poems, essays, and translations appear in many journals in print and online and in the anthologies Hot Sonnets, The Able Muse Anthology, and the forthcoming Imago Dei: Poems from Christianity and Literature. She lives in St. Paul and works for the Minnesota Legislature. Earlier work in Mezzo Cammin: 2009.1, 2007.1




Nausheen Eusuf is a doctoral student in English at Boston University. She holds an MA from the Writing Seminars at Johns Hopkins, and her work has appeared in Acumen, Orbis, Spillway, Raintown Review, Poetry Salzburg Review, and other journals. Her chapbook What Remains is available from Longleaf Press at Methodist University. Earlier work in Mezzo Cammin: 2009.1




Anna M. Evans' poems have appeared or are forthcoming in the Harvard Review, Atlanta Review, Rattle, American Arts Quarterly, and 32 Poems. She gained her MFA from Bennington College, and is the Editor of the Raintown Review. Recipient of a 2011 Fellowship from the MacDowell Artists' Colony, she currently teaches poetry at West Windsor Art Center. Her chapbooks Swimming and Selected Sonnets are available from Maverick Duck Press. Visit her online at www.annamevans.com. Earlier work in Mezzo Cammin: 2009.1, 2006.2.



Rebecca Foust's book, All That Gorgeous Pitiless Song, won the Many Mountains Moving Book Award and was shortlisted for the 2010 Paterson Poetry Prize. God, Seed: Poetry & Art About the Natural World won the 2010 Foreword Book of the Year Award and was a finalist for the Mass Book Award. Mom's Canoe and Dark Card received the Robert Phillips Poetry Chapbook Prizes in 2007 and 2008. Foust's poems are in current issues of The Hudson Review, The Humanist, Poetry Daily, The Sewanee Review, Woman's Review of Books, and elsewhere.




Nicole Caruso Garcia was born in New Jersey in 1972. She earned her B.A. in English from Fairfield University, and after seven years in corporate industry, she left to earn her M.S. in Education from the University of Bridgeport. Her poetry has appeared in literary journals such as Willow Review, The Sow's Ear Poetry Review, Soundings East, The Ledge, Poetry Midwest, and Small Pond Magazine of Literature, and she received the Spring 2010 Willow Review Award. She and her husband live in Connecticut, where she teaches literature and creative writing at Trumbull High School. Earlier work in Mezzo Cammin: 2011.1, 2008.1.




Karen Kelsay lives in Torrance, California, and is the editor of Victorian Violet Press poetry magazine, and White Violet Press publishing company. She has authored five chapbooks, Lavender Song (2011), In Spite of Her (2010), Song of the Bluebell Fairy (2010), A Fist of Roots (2009), Somewhere near Evesham (2009) and a full length collection, Dove on a Church Bench (2011). Karen has been published in numerous anthologies, including Fire in the Pasture, a collection of 21st century Mormon poets. She is a five-time Pushcart Prize nominee, and was the featured poet in The New Formalist in January 2011. Her work has appeared in The Flea, The Raintown Review, The Lyric, 14 by 14 Magazine, Trinacria, The Foundling Review, Grey Sparrow, and many other journals.




Michele Leavitt, 2010 winner of the William Allen Creative Nonfiction Prize from The Ohio State University, is a high school dropout, former trial attorney and hepatitis C survivor who now teaches writing at the University of Idaho. She has had poems and prose published in a wide variety of print and online journals, including The Humanist, Ragazine, The Lyric, and The Platte Valley Review. Her poetry chapbook, The Glass Transition, will be published by Finishing Line Press in June of 2010. Earlier work in Mezzo Cammin: 2010.1, 2008.2, 2007.1




Laura Maffei is the author of Drops from Her Umbrella (Inkling Press 2006) and founding editor of American Tanka (est. 1996). She has recently had work appear in the anthologies Hot Sonnets and Best of the Barefoot Muse.




Susan McLean teaches English at Southwest Minnesota State University. Her book The Best Disguise won the 2009 Richard Wilbur Award and was published by the University of Evansville Press. Her poems have appeared recently in Measure, First Things, Umbrella, and Light Quarterly. Earlier work in Mezzo Cammin: 2010.2, 2009.1, 2008.1, 2006.2




Annabelle Moseley is the author of The Clock of The Long Now, published by David Robert Books and selected for the First Book Panel at the West Chester University Poetry Conference in 2012. Author of six chapbooks, her most recent is A Field Guide to the Muses, published by Finishing Line Press in 2009. Her chapbook, The Divine Tour, is forthcoming from Finishing Line Press. The first Walt Whitman Birthplace Writer-in-Residence, from 2009-2010, Moseley is also editor of String Poet, the online journal of poetry and music, and host of the New York Times-featured String Poet Studio Series at the Long Island Violin Shop. She lives on the North Shore of Long Island. Earlier work in Mezzo Cammin: 2011.1, 2010.2, 2009.1, 2007.1.




Jennifer Reeser is the author of An Alabaster Flask (winner of the Word Press First Book Prize, 2003) Winterproof (Word Press, 2005), and Sonnets from the Dark Lady and Other Poems (forthcoming from Saint James Infirmary Books). She has contributed poems, essays and translations of French and Russian literature to magazines and journals including POETRY, The Hudson Review, The Formalist, Light Quarterly, First Things and The National Review. Her work has appeared in several anthologies, including Longman's An Introduction to Poetry (edited by X.J. Kennedy and Dana Gioia), and has received The New England Prize, the Lyric Memorial Prize, numerous nominations for the Pushcart and Best of the Net anthologies, as well as awards from the The World Order of Narrative and Formalist Poets. She is former assistant editor to Iambs & Trochees, serves as a poetry consultant on faculty at the West Chester Poetry Conference, and lives amid the bayous of southern Louisiana with her husband and children. Earlier work in Mezzo Cammin: 2011.1, 2008.2, 2006.1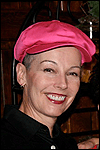 Myrna Stone is the author of three full-length books of poetry: The Casanova Chronicles, which was a Finalist for the Ohioana Book Award in Poetry; How Else to Love the World; and The Art of Loss, for which she received the 2001 Ohio Poet of the Year Award. She is the recipient of two Ohio Arts Council Fellowships in Poetry, a Full Fellowship to Vermont Studio Center, and the 2002 Poetry Award from Weber--The Contemporary West. Her poems have been featured on both Poetry Daily and Verse Daily, and have appeared in such journals as Poetry, Ploughshares, Boston Review, TriQuarterly, The Massachusetts Review, Nimrod, and River Styx. Her work has also appeared in seven anthologies, including Flora Poetica: The Chatto Book of Botanical Verse; I Have My Own Song For It: Modern Poems of Ohio; and Beloved on the Earth: 150 Poems of Grief and Gratitude. Stone is a founding member of The Greenville Poets, based in Greenville, Ohio, where she lives with her husband in an 18th century Rhode Island farmhouse.




Wendy Vardaman has a Ph.D. from the University of Pennsylvania. Co-editor/web master of both Verse Wisconsin and Cowfeather Press, she is the author of Obstructed View (Fireweed Press, 2009). She works for a classical theater company, The Young Shakespeare Player, has three children with husband Thomas DuBois, and does not own a car. In addition to poetry, she writes reviews, essays, and interviews, which have appeared in a variety of places, including Poetry Daily, The Women's Review of Books, and Poets.org. Earlier work in Mezzo Cammin: 2009.1




Doris Watts lives in Temecula, California. Her work has appeared in Mezzo Cammin, The Formalist (she was twice a finalist in the Howard Nemerov Sonnet Competition), Blue Unicorn, The Lyric, The Mid-American Poetry Review, and 14 by 14. Earlier work in Mezzo Cammin: 2011.1, 2009.2, 2009.1






Marly Youmans is a poet and writer living near the mouth of the Susquehanna. Her latest collection of poetry is The Throne of Psyche (Mercer University Press, 2011.) Also from Mercer is her ninth book, A Death at the White Camellia Orphanage, winner of The Ferrol Sams Award for Fiction, to be published in March of this year. Other books of poetry (Thaliad and The Foliate Head) and novels (Glimmerglass and Maze of Blood) are forthcoming. Earlier work in Mezzo Cammin: 2011.1, 2010.2, 2010.1, 2009.2, 2009.1, 2008.2, 2008.1, 2007.1