Jennifer Reeser






It Seems Your Speech



It seems yours is a speech I'll never master--
A rich, occult air spilled from sacred lungs
Like worship in a church in which the pastor
Continually chants in other tongues.
A sympathetic showing of the word
Would be sufficient edifice, although
Confusion in attendance feels absurd.
When no interpretation comes, I go.
Some deity of clay is ever toying
With my opinions, balance, comprehension.
I cannot tell you which is more annoying--
Your "vastness," or the slivered condescension
To be endured, hiding what I hear
But disagree with, lest it sound unclear.







Sappho of Athens



I once held high a slight, Athenian doll,
which puzzled me with its peculiar slant
bobbed head, from which the scent of alcohol
mingled with sunflower oil and hierophant
device, over furtive eyes, devised to roll
at touch. I named her "Sappho" in my head,
in honor of that one who round the globe
by newsmen without peer had once been read,
by senators, and those who wore the robe
of academia--the same who said,
"Let him who finds a fault become a clown..."
whose poems made paste to mold archaic smiles,
and stuff the mouths of mummy crocodiles.
The doll's snub nose turned up. I put her down.


AUTHOR BIO
Jennifer Reeser is the author of An Alabaster Flask, winner of the Word Press First Book Prize, and Winterproof. Her poems, essays, and translations of Russian and French literature appear online and internationally in such journals as Poetry, Botteghe Oscure, Disquieting Muses, Salt, The Dark Horse and The Formalist. Her work is gathered in numerous print and online anthologies, including Longman's Introduction to Poetry, edited by X.J. Kennedy and Dana Gioia, and Phoenix Rising: The Next Generation of American Formal Poets, as well as the online Alsop Review (which also produced her CD as part of its Spoken Word series), and Famous Poets and Poems. She has twice been nominated for the Pushcart Prize, and has received awards from the World Order of Narrative and Formalist Poets and The Lyric magazine. She has given and participated in readings and poetry conferences and seminars at various American universities, and lives in southern Louisiana. Visit Jennifer Reeser's website. Earlier work in Mezzo Cammin: 2008.2 & 2006.1.
POETRY CONTRIBUTORS

Taylor Altman

Sarah Busse

Nicole Caruso Garcia

Brittany Hill

Lisa Huffaker

Jean Kreiling

Barbara Loots

Charlotte Mandel

Annabelle Moseley

Angela Alaimo O'Donnell

Ann Walker Phillips

Carolyn Raphael

Jennifer Reeser

Hollis Robbins

Catherine Tufariello

Doris Watts

Joyce Wilson

Marly Youmans

Fifth-Anniversary MC Reading
West Chester University Poetry Conference
Friday, June 10
8:15 AM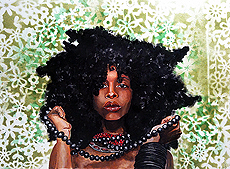 Alice Mizrachi: Growing up in New York, I have been immersed in a culture that is constantly growing. Throughout my work you can feel the influence the city has had on me, the never-ending desire to grow and flow. One common thread in my work is the texture--rhythm and layers. I love to incorporate tactile surfaces that compel the audience to approach and feel it. Timeless and universal, my images evoke a raw feminine energy that leaves you feeling nurtured. My art is a vehicle to express to the world my journey as a NYC female artist in the past, present and future. I am logging my time here. After completing a residency in Paris during 2010, I am focusing on residencies in other cities with the intention of spreading my art globally.