A

.

n

.

n

.

a

.

.

E

.

v

.

a

.

n

.

s




Stubborn Town



I am the Queen of Won't Back Down;
you are the Mayor of Stubborn Town,
where hungry dogs patrol the street
yet still sniff warily the meat
that lies upon the rain-washed ground.

Apart, we're verbs without a noun;
you are a mouth that chokes on sound;
I am a coda that won't repeat
until I'm Queen.

You are a beachcomber who found
sea glass, not amber, and tossed it down.
I'm the initials carved on a seat--
worn but still legible, my sweet.
You are the Mayor of Stubborn Town,
but I'm the Queen.







Retrovirology



Virologists claim we should thank the virus
which first mutated eggs, as yet unlaid,
into the parasites that swim inside us.
Our pre-ape mammal ancestors downplayed
this marvel gifted to the second sex,
knowing the alpha males would feel supplanted--
live birth? who cares? what will they think of next?
Suttee. Backstreet abortions. Breast implants.

Meanwhile the watchful girls in burkhas wait
to be unlocked by a virus made of words.
Since language, like genomes, can't replicate
in safety everywhere we should be heard,
our miracles will hide out in plain sight,
our voices will be loudest when we write.


AUTHOR BIO
Anna Evans is a former British citizen now residing in NJ, where she is raising two daughters. Her poems have appeared in journals such as The Harvard Review, The Atlanta Review, Rattle and 32 Poems. She has been nominated three times for a Pushcart Prize and was a finalist for both the 2005 and 2007 Howard Nemerov sonnet award and for the 2007 Willis Barnstone Translation Award. She is editor of both The Raintown Review and the formal poetry e-zine The Barefoot Muse. She holds an M.F.A. from Bennington College and her chapbooks Swimming and Selected Sonnets are available from Maverick Duck Press. Earlier work in Mezzo Cammin: 2006.2
POETRY CONTRIBUTORS

Maryann Corbett

Nausheen Eusuf

Anna Evans

Dolores Hayden

Luann Landon

Susan McLean

Annabelle Moseley

Alexandra Oliver

Wendy Vardaman

Doris Watts

Holly Woodward

Marly Youmans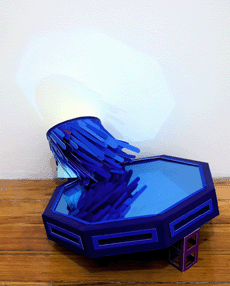 Lauren Clay
: Addressing feelings of lost cultural identity and sitelessness, this work investigates ideas of the self as discerned through the lense of place and site. The search is influenced by various mythologies of place, such as the inherited place, found through home and community; the internal place which exists in the psyche or imagination; and the discovered place, found through study or travel.