Jennifer Reeser






Ballade of Wire Hangers



Who has knocked down the wreath of thorn?
When did my father get that frown?
How did my bathrobe hem get torn?
Where are the ties to my nightgown?
Mother calls it a "hand-me-down."
Mother calls me a little liar.
What goes around must come around?
Why are coat hangers made with wire?

What if I never had been born?
Where could I get a silver crown?
Mother says long hair should be shorn.
Mother wants everything in brown.
Where can I go, and not be found?
Who made the rain fill my swing tire?
Father says, Float, or sink and drown.
Why are coat hangers made with wire?

How can they bake a cake from corn?
Mother says it must first be ground.
There is no grinder like her scorn.
When will the circus come to town?
Wire-walkers, whips, a fireman clown.
Who do I ask, to play with fire?
How does a siren make that sound?
Why are coat hangers made with wire?







Grieving Angel



for W.M.

Outstretched is useless; and for all this length
The sculptor has embedded in her form
Of stone, she is a statue without strength--
Cold in a southern crypt of humid, warm,
Diffused light, seen through stained blue atmosphere,
As though she had been washed up in a storm,
Some figure purged from Twelfth Night or King Lear,
Whose heated, inner sorrowing none hear.

To symbolize the helplessness of loss,
Is she not perfect in a social sense?
Familiar to us both, amid the moss
And mosquitoes, blanched to the most intense
White, one could surmise her hidden face
To be so inexpressive of offense
As to invite disaster, with no trace
Of blame or accusation--fat with grace.

Whatever pain we might protract is mental.
She is the product of a poet's skills,
Like you and me--too poisonously gentle
For transplant in a world of living wills.
As far as we can tell, she has no heart,
And we, no heart to speculate what mills
Beneath her surface, superficial art.
We take the top alone, and come apart.







The Hillbilly and the Knife



We muster her to mind with hair in loops
Of brown braids, watching pass brute, Union troops,
Through their procession, clearing her dazed town
Of innocents on Main which, too, is brown.
We find in her, far out of wartime reach,
A throwback to Elizabethan speech
And attitude, encompassed by privation
Like hills on all four sides--and isolation.
Who saw grey smoke diffuse, grey soldiers scuffle;
Who watched a dying Rebel drop his duffle.
Who stumbled on some toy, perhaps a rattle,
And grew to be the outcast of a battle
They say was civil: volatile and lazy,
Too small to drive a wagon, driven crazy
By drawbacks. Much is copied of such scenes--
Like war, to fill with hate the hill ravines:
Mean as a scarred snake, growing madder still,
She floundered in minority until
Around a mountain, become a farmer's wife,
Would charge her own doll with a butcher's knife.
It must have been a doll--not her own child.
Those two within us can't be reconciled.

Among lost marbles--agate and cat's eye--
The doll would have to come to life to die;
And once he came to life, would have to run,
Escape the knife--as she escaped the gun,
Skip union, as he would skip a rope.
This is the stratagem by which we cope,
To probe the memory within our mind,
Like mice inside the nursery verses, blind,
Not knowing--did she screech, or calmly stalk?
He will not tell, because he does not talk.
How did she chase? We chuckle and pretend
Some strong arm brought the nonsense to an end.
But nonsense never finishes. We know
That's not the way Grimm's fairy stories go.
Though fundamentals of the tale are true.
Those amaurotic signs by which we knew
Accost us from his youthful features traced
With premature, keen age, stark terror-based.
Elsewhere we were, thus we remain unmoved.
That myth is solace, which cannot be proved.
Mythos, like a "civil" war, unites
The factions of our faults, for all its frights.
Yet in the end, there was a death. Yes, yes.
Whose it was, he fails to say. You guess.







The Lalaurie Horror



Canto I

Beneath a scalloped awning, black as soot,
I found myself at dusk, beside a street
Along whose distance I had come on foot,

Beside black lacquered doors--mine but two feet
Pacing through a pub amid a crowd
Unaccustomed to the proud, sub-tropic heat.

Observing, evanescent, disavowed,
I was as though some witness who had died,
The overhanging canopy my shroud.

A red, infernal light glowed, magnified
By lachrymosal glass and tavern fume
As I awaited my belated guide;

So tired of his delay--though to resume
My life within the world, without the wait
Would seem like flight away, upon a broom.

I did not wonder why my guide was late.
Instead, I pondered life's approaching fringe,
To close the life in back of me: a gate.
Of iron this gate was wrought, pronged, with a hinge
Constructed clean, but rusted through the springs
And screeching, so to make a deaf man cringe;

The kind to carve a stone floor, when it swings,
Embedded in its plate, an oval brooch,
The numerals of French and Spanish kings.

I failed to note the guide's discreet approach,
Attentions focused on the gate design.
He came by what? Not streetcar, nor by coach.

I knew how I had come to stand in line
As just another member on the tour--
The others round about, with beer or wine,

With flippancy to turn me insecure.
Where apprehensiveness gave way to worry,
I felt I could avoid, but was not sure.

Advising us sincerely not to curry
Proximity with local passersby,
He gathered us together, in a hurry.

"Be slight," he cautioned, "here among the sly."
As though to mean we each should be a ghost,
A warning from the corner of his eye,

A look which caught and held mine more than most.
"We love you all, and want you to return."
He hooked one hand around a horse-head post.

"This is a place of danger you will learn
"Some righteous in our midst would call a 'dive,'
"Which innocents and fools do well to spurn.

"On to our tour, then. There are those alive
"Who speculate the law of conservation
"Of energy ensures that they survive

"Who lose the body, and the deprivation
"Of some sound 'conduit'--like love or peace--
"Compels the ones deprived of such sensation

"To linger with the living they decease
"In forms as-yet-inscrutable, to 'live'
"As generated power without release;

"That each imprints itself--a negative
"Affixed to our world, whereupon the haunt
"May symbolize that which will not forgive.

"Some will appear as healthy, others gaunt;
"While many seem to want nothing at all,
"Others may manifest to soothe, or taunt.

"Our fears are large, our comprehension small.
"What reason keeps us dead, in this respect?
"Science is slow, and few possess great gall.

"Now, if you will, stay with the group, collect
"Your wits and your belongings. We are off.
"I ask that you would have your blinders checked,
"Be courteous, sincere, and circumspect."


AUTHOR BIO

Jennifer Reeser is the author of An Alabaster Flask (winner of the Word Press First Book Prize, 2003) Winterproof (Word Press, 2005), and Sonnets from the Dark Lady and Other Poems (forthcoming from Saint James Infirmary Books). She has contributed poems, essays and translations of French and Russian literature to magazines and journals including POETRY, The Hudson Review, The Formalist, Light Quarterly, First Things and The National Review. Her work has appeared in several anthologies, including Longman's An Introduction to Poetry (edited by X.J. Kennedy and Dana Gioia), and has received The New England Prize, the Lyric Memorial Prize, numerous nominations for the Pushcart and Best of the Net anthologies, as well as awards from the The World Order of Narrative and Formalist Poets. She is former assistant editor to Iambs & Trochees, serves as a poetry consultant on faculty at the West Chester Poetry Conference, and lives amid the bayous of southern Louisiana with her husband and children. Earlier work in Mezzo Cammin: 2011.1, 2008.2, 2006.1
POETRY CONTRIBUTORS

Maryann Corbett

Nausheen Eusuf

Anna M. Evans

Rebecca Foust

Nicole Caruso Garcia

Karen Kelsay

Michele Leavitt

Laura Maffei

Susan McLean

Annabelle Moseley

Jennifer Reeser

Myrna Stone

Wendy Vardaman

Doris Watts

Marly Youmans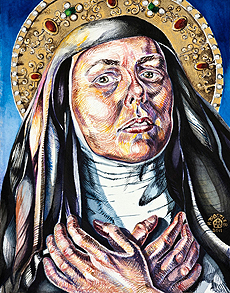 Holly Trostle Brigham: My paintings are rich with symbolism. I include flowers, butterflies, and other things from nature that communicate messages about the subject. These elements are interconnected with biographical references to tell a larger story about the sitter's life or place in history.