Susan McLean






Above It



The ones who do not care are wise.
They have no passions to pursue.
Cocking a brow, they scrutinize
the ones who do.

No standing in an endless queue
for them, no straining for a prize,
no sweating through the play's debut--

to struggle is to compromise,
to choose, to lose, to change one's view.
It's simpler just to criticize
the ones who do.







Inheritors



We've learned to live outside the light,
to lurk in nooks and dodge a fray.
We may look cuddly, but we bite.
The dinosaurs have had their day.

What large teeth! What a tiny brain!
The heft and bulk that gave them sway
grow ever harder to sustain.
The dinosaurs have had their day.

As they are sinking in the mire,
from tuft to tuft we pick our way.
We've got the nerve and the desire.
The dinosaurs have had their day.

Time favors us. We'll wait them out.
We're small but fast. We mean to stay.
Our greater numbers give us clout.
The dinosaurs have had their day.

Their blood is cold, but ours is warm.
The clouds that made the sun turn gray
are not just from a passing storm.
The dinosaurs have had their day.


AUTHOR BIO

Susan McLean teaches English at Southwest Minnesota State University. Her book The Best Disguise won the 2009 Richard Wilbur Award and was published by the University of Evansville Press. Her poems have appeared recently in Measure, First Things, Umbrella, and Light Quarterly. Earlier work in Mezzo Cammin: 2010.2, 2009.1, 2008.1, 2006.2
POETRY CONTRIBUTORS

Maryann Corbett

Nausheen Eusuf

Anna M. Evans

Rebecca Foust

Nicole Caruso Garcia

Karen Kelsay

Michele Leavitt

Laura Maffei

Susan McLean

Annabelle Moseley

Jennifer Reeser

Myrna Stone

Wendy Vardaman

Doris Watts

Marly Youmans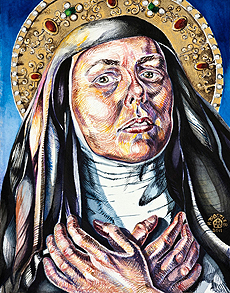 Holly Trostle Brigham: My paintings are rich with symbolism. I include flowers, butterflies, and other things from nature that communicate messages about the subject. These elements are interconnected with biographical references to tell a larger story about the sitter's life or place in history.