M

.

a

.

r

.

y

.

a

.

n

.

n

.

.

C

.

o

.

r

.

b

.

e

.

t

.

t




Selections from the Online Bridal Registry



The elegant tea set,
its high-end allure
her youthful dream
that will crash to the floor,

the roaster, unused
till the holiday meal
for in-laws, stewed
in her silent bile,

the crystal stemware
she'll shut in a hutch,
spindly, fragile,
snapped with a touch,

the pewter goblets
her heirs will discover
and whisk to estate sales
while bickering over

the ordinary:
a stoneware bowl,
crazed with the years,
featureless, bland--

Like a wicked fairy,
I wave my hand.







Showings



Those months when we'd drift through houses
dreaming and vague, like air through the August windows,
what glamours were cast around us

by the molding's ogival curves,
by the darkened heart of the oak and the sheen of woodwork?
What old-world charms were recited?

For certainly we were spellbound
in deep designs--saltbox, colonial, foursquare--
concealed from our rapt attention.

Our agent, her lacquered smiling
changeless, took pains to show us the patterned surface,
part image, part invocation

of faces out of our childhoods
kissed at the end of a day-long drive in summer.
Of love that demands no labor.

We stood in the fragrant half-light
of wrapped verandahs, heady with trellised roses,
yet never caught wind of a season

when clouds of hydrangea blossom
must be pruned hard, exposing the peeling lattice
and the cracked foundation behind it,

and walls must be finally opened
to ancient pipes, where under a flowered paper
the gas was hissing its secrets.







Cold Snap



The cold, an angry lover's smack
across the mouth. Stunned, we recoil.
Spring flashed, and then it turned its back,
cold. An angry lover's smack
of blizzard: unprovoked attack
in sleet raking the bared topsoil.
April's an angry lover. Smack,
across the mouth. Stunned, we recoil.







Litany



Think of the repetition as a prayer.
Where are Mom and Teri? At the store?
Intone your answers toward the worried stare:

Calls and responses. Every time you hear
I don't know where they went. Did they go to the store?
say, Yes, Dad. Ostinato, mantra, prayer,

this you can bear. The trial you used to fear
was night, when he would say, Why am I here?
I'm going home. No answer stopped the stare;

he'd drive away from his own home, going--where?
Troopers who found him marveled at how far
he's gone. Over and over. Frightened prayer

is done now; in the end you gave the car
to relatives, although he raged and swore
at your answers. Now he's calm. This gentled stare

into the night is better. Since you care
for him, he might remember who you are
briefly, with repetition, patience, prayer.
Keep chanting answers at the vacant stare.



AUTHOR BIO
Maryann Corbett grew up in northern Virginia. She holds a doctorate in English from the University of Minnesota and has worked for 25 years as an editor, indexer, and in-house writing teacher for the Minnesota Legislature. Her poems have appeared or are forthcoming in Measure, Alabama Literary Review, First Things, The Lyric, The Raintown Review, The Barefoot Muse, and other journals. She serves as a moderator on Eratosphere, an online forum for metrical poetry. She and her husband live in Saint Paul, Minnesota. Earlier work in Mezzo Cammin: 2007.1
POETRY CONTRIBUTORS

Maryann Corbett

Nausheen Eusuf

Anna Evans

Dolores Hayden

Luann Landon

Susan McLean

Annabelle Moseley

Alexandra Oliver

Wendy Vardaman

Doris Watts

Holly Woodward

Marly Youmans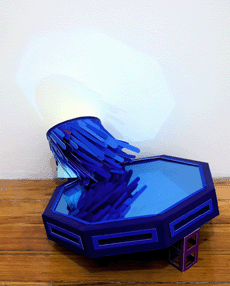 Lauren Clay
: Addressing feelings of lost cultural identity and sitelessness, this work investigates ideas of the self as discerned through the lense of place and site. The search is influenced by various mythologies of place, such as the inherited place, found through home and community; the internal place which exists in the psyche or imagination; and the discovered place, found through study or travel.