Nausheen Eusuf






The Sinful Earth



"Poor soul, the centre of my sinful earth..."
--Shakespeare, Sonnet 146

Do not be so quick to scorn
this sinful earth. Did I not attend
the fretful hour when you were born?
Were you not cloven from my clay,
so you could behold the light of day?
Was it not I who gave you breath
and I again, when your travels end,
who will receive your mortal sheath?

It's easy to disparage my decay,
but imagine flowers that bloom but cannot die,
a listless day that night cannot allay,
the sun held hostage to a changeless sky.
Instead, I die each day to rise afresh
and so the gods begrudge my mortal flesh.







The Poem as an Airplane



The gears turn, the engine coughs,
the little airplane skips and starts
and stalls, but tries and tries again
until one glorious moment it darts

off, lifts itself to the wind and sun,
soaring above any common care.
With leaps and turns and somersaults,
it exults in praise to the high blue air;

though sadly knowing it has to leave
the airy kingdom of its feathered kin,
it turns and turns above its fragile earth
where sorrows end and poems begin.


AUTHOR BIO

Nausheen Eusuf is a doctoral student in English at Boston University. She holds an MA from the Writing Seminars at Johns Hopkins, and her work has appeared in Acumen, Orbis, Spillway, Raintown Review, Poetry Salzburg Review, and other journals. Her chapbook What Remains is available from Longleaf Press at Methodist University. Earlier work in Mezzo Cammin: 2009.1
POETRY CONTRIBUTORS

Maryann Corbett

Nausheen Eusuf

Anna M. Evans

Rebecca Foust

Nicole Caruso Garcia

Karen Kelsay

Michele Leavitt

Laura Maffei

Susan McLean

Annabelle Moseley

Jennifer Reeser

Myrna Stone

Wendy Vardaman

Doris Watts

Marly Youmans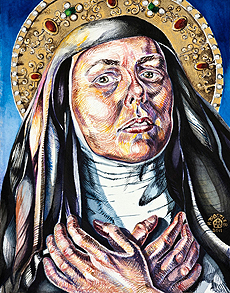 Holly Trostle Brigham: My paintings are rich with symbolism. I include flowers, butterflies, and other things from nature that communicate messages about the subject. These elements are interconnected with biographical references to tell a larger story about the sitter's life or place in history.