Michele Leavitt






Even though my body wants to cleave in two to hold her



driftwood jams the riverbends as if
stacked up for a bone-fire of the gods.
I whisper baby's name to wake her, make
her take her bottle, juice and syrup laced

with Phenobarbital to still her seizures.
I love her chubby skin, like butter left
in sun, if butter would not melt. She will
not wake and cannot hold her head up, though

she's twelve months old, though now I see the driftwood
angles up toward stars as if it points toward
hope, as if it's true that God or time
combines mistakes to make a thing of beauty.

I made her. I am guilty. I am thirsty.
Sometimes I think a fire would be a mercy.







A flawless theory of everything



I woke up knowing my mistake--to trust
the fate that brought me this far North, where dawn
arrives too soon in summer. Wrapped in night
clothes and resentment, envying the lilies of a neighbor's
garden from my deck, I don't expect
the pair of hummingbirds mobbing me
at knee point, their throats phosphoric green,
their wings invisible as flesh can wish
to be. They have mistaken me, my shabby
ruby robe, my frou-frou feather slippers,
for wells of nectar, confused our meeting with
a miracle. They start, then zigzag off,
but leave this proof against the flaws I make:
a world too dense with meetings for mistake.


AUTHOR BIO

Michele Leavitt, 2010 winner of the William Allen Creative Nonfiction Prize from The Ohio State University, is a high school dropout, former trial attorney and hepatitis C survivor who now teaches writing at the University of Idaho. She has had poems and prose published in a wide variety of print and online journals, including The Humanist, Ragazine, The Lyric, and The Platte Valley Review. Her poetry chapbook, The Glass Transition, will be published by Finishing Line Press in June of 2010.
POETRY CONTRIBUTORS

Melissa Balmain

Janann Dawkins

Juleigh Howard Hobson

Anjie Kokan

Jean L. Kreiling

Luann Landon

Michele Leavitt

Mary Meriam

Gail White

Holly Woodward

Marly Youmans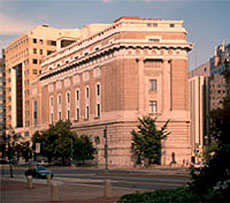 Mezzo Cammin
is proud to announce that The
Mezzo Cammin
Women Poets Timeline Project, which will eventually be the largest database of women poets in the world, was launched on Saturday, March 27, 2010, at 6:00 PM at the National Museum of Women in the Arts in Washington, D.C. (Photo by Tom Field)
Visit Timeline
.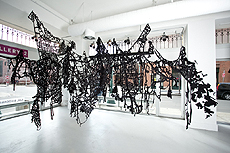 Gail Biederman: I use sewing as a form of drawing, as one way to alter a surface. Thread is my line, a physical presence that hovers in space in my installations. With both a cast shadow and an edge that catches the light, thread creates multiple realities, a jumbled mix of hard and soft, the solid and the ephemeral.