Rebecca Foust




She Returns from Retreat,
Having Shed Her Deadlies

Back now from my silent, fasting retreat
I no longer feel inappropriate rage when my cat
misses her litter box, nor do I long to eat
her kibble. I can look directly at
my neighbor's artesian well without cursing
the dowser who charged half a mill
to drill a dry hole. The parking valet,
with his really low, baggy pants? It's hard,
but I cope. The need to accumulate
more shoes? Gone, and I'm off to Goodwill
tomorrow to donate the rest all away.
My plan for today, meanwhile: to keep still
chillax, have a bath. Indulge the one sin
all that mind-numbing chanting seemed to condone.







Her Mother's Advice



Her mom had dispensed all kinds of advice
that did not apply. Like never wear
white after Labor Day--no one thought twice
about Labor here, nor knew how to tell where
summer left off. As for each day's clean set
of briefs in case of a car accident
and peeping EMTs--with every street
corner nail-saloned and each salon bent
on waxing its clients "commando"--this felt,
well, a bit quaint and off-point. There was one
piece of advice, though, that still served her well:
If you can't say something nice, then
( )
( )


AUTHOR BIO
Rebecca Foust's book, All That Gorgeous Pitiless Song, won the Many Mountains Moving Book Award and was shortlisted for the 2010 Paterson Poetry Prize. God, Seed: Poetry & Art About the Natural World won the 2010 Foreword Book of the Year Award and was a finalist for the Mass Book Award. Mom's Canoe and Dark Card received the Robert Phillips Poetry Chapbook Prizes in 2007 and 2008. Foust's poems are in current issues of The Hudson Review, The Humanist, Poetry Daily, The Sewanee Review, Woman's Review of Books, and elsewhere.
POETRY CONTRIBUTORS

Maryann Corbett

Nausheen Eusuf

Anna M. Evans

Rebecca Foust

Nicole Caruso Garcia

Karen Kelsay

Michele Leavitt

Laura Maffei

Susan McLean

Annabelle Moseley

Jennifer Reeser

Myrna Stone

Wendy Vardaman

Doris Watts

Marly Youmans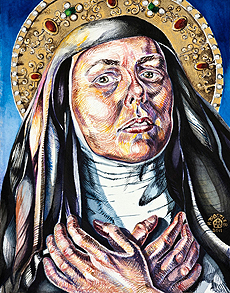 Holly Trostle Brigham: My paintings are rich with symbolism. I include flowers, butterflies, and other things from nature that communicate messages about the subject. These elements are interconnected with biographical references to tell a larger story about the sitter's life or place in history.