Annabelle Moseley






A Time to Cast Away



"Martha, Martha, you are anxious and worried about many things. There is need of only one thing. Mary has chosen the better part and it will not be taken from her"
(Luke 10: 40-42).

Since Christ himself was visiting my house,
I wanted to prepare my greatest dish.
I labored near the stove and tried to douse
the lamb with wine, instead, I drowned the fish.
He might have let me know when he'd drop by,
I whispered as I swept the kitchen clean,
and I let out a pitiable sigh.
Where was my sister Mary in this scene?
I searched, and found her sitting at Christ's feet,
delighted by each story that he'd start.
I asked if she would help me serve the meat,
but Jesus said she'd picked the better part.
and so I joined my sister at his side--
and Jesus took the burned meal quite in stride.







A Time to Love



"Invisible, there's something to be said
for wanting you. I like your phantom arms--
heavy but imperceptible. Instead
of light and vision, I must sense your charms."
Even as she said this, Psyche knew
she always wanted more from Love, like proof.
She adored his touch, and yet it grew
unsettling to worship the aloof.
The nights with him in bed made it all right;
his beard against the softness of her skin,
the press of lips that didn't need the light
to find her. But when Cupid took her in
the darkness, he was trying to be kind...
keeping his god-love from her human mind.



AUTHOR BIO

Annabelle Moseley is the founder and editor of String Poet, the online journal of poetry and music. She holds the distinction of being the first ever Walt Whitman Birthplace Writer in Residence, from 2009-2010. Her most recent chapbook is A Field Guide to the Muses, published by Finishing Line Press in 2009 and her full-length poetry collection, The Clock of the Long Now, is forthcoming from David Robert Books in February 2012. Visit Annabelle Moseley's website. Earlier work in Mezzo Cammin: 2010.2, 2009.1, & 2007.1.
POETRY CONTRIBUTORS

Taylor Altman

Sarah Busse

Nicole Caruso Garcia

Brittany Hill

Lisa Huffaker

Jean Kreiling

Barbara Loots

Charlotte Mandel

Annabelle Moseley

Angela Alaimo O'Donnell

Ann Walker Phillips

Carolyn Raphael

Jennifer Reeser

Hollis Robbins

Catherine Tufariello

Doris Watts

Joyce Wilson

Marly Youmans

Fifth-Anniversary MC Reading
West Chester University Poetry Conference
Friday, June 10
8:15 AM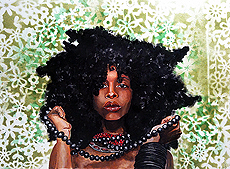 Alice Mizrachi: Growing up in New York, I have been immersed in a culture that is constantly growing. Throughout my work you can feel the influence the city has had on me, the never-ending desire to grow and flow. One common thread in my work is the texture--rhythm and layers. I love to incorporate tactile surfaces that compel the audience to approach and feel it. Timeless and universal, my images evoke a raw feminine energy that leaves you feeling nurtured. My art is a vehicle to express to the world my journey as a NYC female artist in the past, present and future. I am logging my time here. After completing a residency in Paris during 2010, I am focusing on residencies in other cities with the intention of spreading my art globally.