Annabelle Moseley






The Persistence of Memory



I.
Our house clocks stopped the day my father died--
at three, the very hour that he passed.
No catch of shifting gears, no pulse defied
his absence. Time itself mourned him. The past
and future froze in one long pause. We kept
this lack of measured music, mourning him--
the clock-lover, and watch-buyer. Except,
time offered itself up in grief. The trim
minutes and hours that my father filled
grew greedy to engorge themselves with him.
And days after his death, a parcel thrilled
when it arrived. He had ordered a slim,
black-banded watch. On its face, a Dali
painting of melting time. His memory.

II.
One summer night in childhood, I ran
chasing a firefly. Then I let go.
That is the way my father died; the man
felt time dripping off of his fingers: slow,
honey-paced drizzle. But he shook it free
when he beheld a distant speck of light,
and lunged, then with a laugh, fell forward. He
rejected past and future for the bright
and promised steadfastness of the long now.
My father's unworn watch bore on its face,
between the marks of twelve and six, the brow
of dripping, melting time. And likewise, grace
had marked my father's countenance, though age
had not. He had not reached the fading stage.








The First Birth



(I have been born inside him, too.) I am
my mother's goldfinch, thistle-eater of
her womb. I sing her blood's music, enjamb
the sounds her heart and breathing made above
my new ears between words and warbles. And--
her orchard is behind my eyelids. But
I am also my father's fish, each hand
a fin, to thrust my way through every rut
of water, land or air. Wide-eyed, the one
swallowed up whole, caught by the line; I've felt
the hook in my mouth, scales flashing in sun--
I've bitten myself free. I bore the welt
of grief when he was gone. His fish, sent through--
I have been born, been born inside him, too.








When the Light Went Out



Your ghost would be there, folded like a fleece
across my bed at night, delaying rest.
Afraid of what I'd conjured, wanting peace,
I'd tug the blankets, wait to feel the blessed
saltwater stain of sleep upon my lips.
And hours would pass before it came. That's how
I tucked myself in every night. The ships
appearing in my dreams were you. Each prow,
your neck. Each sail, your hair. It was enough,
rocked by you. Yet you also stood on deck
beside me, made of warm, still-solid stuff.
Awakening, there was only the wreck,
the memories that you left behind, your ghost--
the fleece I wore by day, skimming the coast.



AUTHOR BIO

Annabelle Moseley was the 2009-2010 Walt Whitman Birthplace Association Writer-in-Residence. Her poems have appeared or are forthcoming in such journals as The Texas Review, Marsh Hawk Review, Oberon, and The Lyric, among others. Moseley's fourth chapbook is A Field Guide to the Muses, published by Finishing Line Press in 2009, and her fifth, shared with the Welsh poet J.C. Evans, is Bridging the Waters, published jointly in New York and Wales by Cross-Cultural Communications. Visit Annabelle Moseley's website.
POETRY CONTRIBUTORS

Taylor Altman

Barb Crane

Janann Dawkins

Rose Kelleher

Athena Kildegaard

Jean L. Kreiling

Barbara Loots

Susan McLean

Mary Meriam

Annabelle Moseley

Wendy Sloan

Janice D. Soderling

Alison Talbott

Catherine Tufariello

Deborah Warren

Joyce Wilson

Marly Youmans

AWP, Washington, D.C.
The Mezzo Cammin Women Poets Timeline Project
(Anna Evans, Kim Bridgford, Erica Dawson, Jehanne Dubrow, Kathrine Varnes)
Room: Virginia A
Marriott Wardman Park
Lobby Level
Saturday, February 5
10:30-11:45 AM

Fifth-Anniversary MC Reading
West Chester University Poetry Conference
Friday, June 10
8:15 AM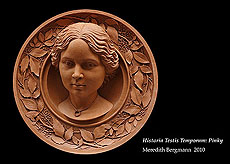 Meredith Bergmann: An artist's statement is a formal thing--not written out in lines, but still constrained in length, and more particularly, tone. One should assert one's strategies, and boast about creative mischief. (Dithering is better done in verse.) But I'm restrained by wanting you to find out on your own what tickles me, and what moves me the most.

I sometimes doubt that humor really heals. Perhaps I want to wound instead, to wake; to wrong what may too easily be right. I love how sudden recognition feels, and play with that in everything I make--as in my second sonnet for this site.