Susan McLean






Brief Lives of the Poets



Was it a genetic trait, her pallor,
passed down from her mother, or a marker
of latent cancer? Had she feared her lover
planned to leave her? Did her poems pull her
out of the sunshine, trap her in her chamber?
Or was the bridge she built of words her savior,
lifting her over the hypnotic river?
Was she always taunted by the laughter
of others? Did she take her pills with liquor?
Did she choose a granite ridge to build her
house on, unaware the gas would kill her?
Would it ease her mind to know we have her
preserved in poems, like a bee in amber?








The Whetstone Misses the Knife



I answered your desire to meet
resistance and be honed by friction.
Sharp as you were, you couldn't beat
the zero-sum of contradiction.

Abrasion was your privilege,
the only stroking I have known.
Now you have lost your cutting edge
and I am just another stone.



AUTHOR BIO

Susan McLean teaches English at Southwest Minnesota State University. Her book The Best Disguise won the 2009 Richard Wilbur Award and was published by the University of Evansville Press. Her poems have appeared recently in Measure, First Things, Umbrella, and Light Quarterly.
POETRY CONTRIBUTORS

Taylor Altman

Barb Crane

Janann Dawkins

Rose Kelleher

Athena Kildegaard

Jean L. Kreiling

Barbara Loots

Susan McLean

Mary Meriam

Annabelle Moseley

Wendy Sloan

Janice D. Soderling

Alison Talbott

Catherine Tufariello

Deborah Warren

Joyce Wilson

Marly Youmans

AWP, Washington, D.C.
The Mezzo Cammin Women Poets Timeline Project
(Anna Evans, Kim Bridgford, Erica Dawson, Jehanne Dubrow, Kathrine Varnes)
Room: Virginia A
Marriott Wardman Park
Lobby Level
Saturday, February 5
10:30-11:45 AM

Fifth-Anniversary MC Reading
West Chester University Poetry Conference
Friday, June 10
8:15 AM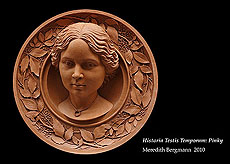 Meredith Bergmann: An artist's statement is a formal thing--not written out in lines, but still constrained in length, and more particularly, tone. One should assert one's strategies, and boast about creative mischief. (Dithering is better done in verse.) But I'm restrained by wanting you to find out on your own what tickles me, and what moves me the most.

I sometimes doubt that humor really heals. Perhaps I want to wound instead, to wake; to wrong what may too easily be right. I love how sudden recognition feels, and play with that in everything I make--as in my second sonnet for this site.