Michele Leavitt






In this light



Far mountains blur with tree-tops in this light.
The peaks and leaves dissolve in dusky fusions.
Distinctions fade. The vagaries of sight

Combine my vision's limits with what might
Be, filling blankness with conclusions
So mountains turn to tree-tops. In this light,

The far becomes familiar. I invite
Connection's bliss to fill me with allusions.
Distinctions fade. The vagaries of sight

Distract me from myself, but all my bright,
Effusive claims, to others, are delusions.
Far mountains blur with tree-tops in this light?

You're such a Pollyanna. Vision's sleight
Of hand creates your optical illusions,
So distinctions fade. The vagaries of sight,

For me, bring nuanced, sensory delight,
For others--ones I love--they're grim intrusions.
Their mountains burn, trees topple. In this light,
Distinction frames the vagaries of sight.







Heart Rot



Effective measures don't exist to treat
this malady attacking hardwood trees.
Prevention by avoiding injuries
can minimize the harm, but not defeat
the possibility. Twice this week

a fallen tree has blocked my way. The first
one shocked a city street, the second burst
in view more secretly beside a creek,
and cut across my path's trajectory.
My mind suggests these trees are messages

for me; here come the hackneyed images
that feed my personal mythology:
abusers, festering with wrongs they did
to me, and still my memories forbid
free passage. Such is metaphor's temptation.

I learn that healthy trees wall off decay
in tissues injured on the wounding day,
and grow around the rot, and rarely will
uninjured wood fall prey to fungi. Still,
it's hard to see which limbs were scraped or mauled,

and harder still to tell which heart holds walled-
off rot behind some calloused acclimation.







Bowling in Heaven



For Sachi

If thunder came before the lightning, she
exclaims, if sound could beat the speed of light,
Then we could hide and not get struck, you see--
We'd be forewarned. She thinks a warning might
prevent calamity, but what about
the hosts of heroes with their ears shut tight--
Pandora, Oedipus, the ones who doubt
advice--their tales confirm that second sight
just sets us up like bowling pins. Forewarned
is not forearmed. Obedience is not
our nature; angels, fed up, finally scorned
us; now they send no messages. On hot,
desultory days, they're bowling in the clouds
and hurling strikes with hollow thunder-sounds.







The Road from Statesboro



This New Year's Day we're driving north. The fields
divide like right from wrong on either side
of Highway 67. Cotton hangs
unpicked along the east side of the road,

white flags in tatters stuck to brittle twigs,
and every time we pass by here, surrender
seems more certain, a simple consequence
of giving up control. What fortune might

make working people turn away from what
they plant, and leave their crops to rot and go
to seed? We don't know them or their intent.
It's New Year's Day with promises enough

to go around for everyone to break.
The west side of this road's been picked and mowed,
made virtuous and ready for the spring,
but clay bleeds through its winter weeds like need

wells up from satiety, relentless.
If only we could yoke these fields together,
blend the harvest with the letting go,
embracing both the gain and loss as blameless.


AUTHOR BIO
Michele Leavitt's poems and essays have been published in a variety of journals and anthologies, including Rattapallax, The Raintown Review, The Lyric, Wind, Underground Voices, Yellow Silk II: International Erotic Stories and Poems, and The Powow River Anthology. She is a former trial attorney who recently transitioned from the University of North Florida to the University of Idaho, where she will continue to teach writing. Earlier work in Mezzo Cammin: 2007.1
POETRY CONTRIBUTORS

Sarah Busse

Barbara Crooker

Jehanne Dubrow

Annie Finch

Ann Fisher-Wirth

Dolores Hayden

Melanie Houle

Michele Leavitt

Diane Lockward

Charlotte Mandel

Ann Michael

Tatyana Mishel

Jennifer Reeser

Wendy Sloan

Diane Arnson Svarlien

Marilyn Taylor

Kathrine Varnes

Terri Witek

Marly Youmans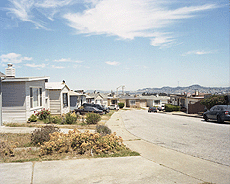 Marion Belanger
: My current project,
Continental Drift: Iceland/California
, is structured around the geologic boundary that forms the edge of the North Atlantic Continental Plate. I was particularly interested in the fact that this geological boundary has no political allegiance, was not determined by wars, by financial interest, or national demarcation. It is a boundary that cannot be controlled or contained by human intervention.