Annabelle Moseley






Rebekah Speaks of Jacob



"Rebekah said to her son Jacob, 'Listen, I overheard your father tell your brother Esau,"Bring me some game and with it prepare an appetizing dish for me to eat, that I may give you my blessing with the Lord's approval before I die." 'Now, son, listen carefully to what I tell you. Go to the flock and get me two choice kids. With these I will prepare an appetizing dish for your father, such as he likes. Then bring it to your father to bless you before he dies... let any curse against you, son, fall on me!'" (Gen 27: 6-13)

"Jacob departed... Then he had a dream: a stairway rested on the ground, with its top reaching to the heavens; and God's messengers were going up and down on it" (Gen 28: 10-12).

A mother can direct this sort of thing.
Jacob stole Esau's birthright with my aid--
but only since I knew that he would bring
more honor than his brother. We'd delayed
the blessing until Isaac neared the tomb.
But I remembered holding both within--
Those brothers fought and pushed inside my womb.
Esau was born first, but his smaller twin
clutched Esau's heel determinedly, as though
to be born meant to fight. That's when I knew.
I saw that Jacob never would outgrow
the urge for battle. Power was his due.
He wanted it more. Yes, I loved Esau.
But times were hard; survival was the law.

But times were hard; survival was the law--
I told Isaac, Our fighter should be heir.
And Jacob, too, is wiser, much less raw
and slovenly than Esau. But my prayer
to open Isaac's eyes was unheard. He
preferred Esau; so I helped Jacob win.
Tonight, he's run away. But I can see
that he will find a ladder and begin
climbing until he reaches heaven--find
a way to get a blessing right from God
Himself. That's how ambition is designed.
To keep on trying till you get the nod.
No parent can resist the child who tries--
And God's a parent. He'll hear Jacob's cries.







Salome's Crown for John



"But at a birthday celebration for Herod, the daughter of Herodias performed a dance before the guests and delighted Herod so much that he swore to give her whatever she might ask for. Prompted by her mother, she said, 'Give me here on a platter the head of John the Baptist.'" (MT 14:6-8)

I've come to hate the way I danced. My arms
swaying to drum-beats were my call to war--
the way I challenged any woman's charms
and made a man see only me, want more
than what I showed through subtle turns of cloth--
until the more I moved, the more he swore
he'd have me-- pin my body like a moth
against the floor. I've come to hate the chore
of teasing lust from strangers. There's a font
inside me where was once only a door
I'd closed--though others thought it open. Want
can do that sort of thing--But I abhor
what I have done. I dammed the water's source.
I used the passion of my limbs as force.

I used the passion of my limbs as force--
My mother nodded--but I heard the wails
when I asked for her wish. Then shame-- Remorse
became the fabric of my seven veils.
I close my eyes and see the prophet's head
upon the platter, mouth severed from breath--
If I got what I asked for first, instead,
I'd have a bracelet, not a plate of death.
Why did I ask for it? Why use my lips
as trumpets sounding battle on one life?
I doubted that mere thrusting of my hips
could really raise or lower Herod's knife.
But I wanted to know if it were true
that my motions could conquer and subdue.

That my motions could conquer and subdue
a man between the sheets, I knew. I'd won
a heart or ten, never a skull. Taboo--
to mention all the parts I've claimed. I'm done
dancing for hearts and heads, know what the brag
has cost. The night they served my severed wish,
I had just bathed. They took it from a bag--
held by the hair and placed it on a dish
beside my bed where just the night before
ripe pomegranates dropped their clotted seeds.
And I remembered their dark stains, the gore
of sweetness on my fingers. Those red beads
were what I saw when I first glimpsed the blood
staining the prophet's mouth-- each speck, a bud.

Staining the prophet's mouth, each speck a bud--
I had not thought they wouldn't clean him first.
And neither had they smoothed away the blood
staining his beard. Trying to wash, submerse,
undo my wrong, I showed my still-wet sponge
to one of them, asked him to wipe the brow
of the baptist. He laughed. I rose and plunged
my robe in water, rushed to disavow
my crime, reverse the stains. I tended him
with what I could. But his still-open eyes
were beautiful; their light had not yet dimmed.
I thought, he had a lovely face--rough, wise,
and strong, his hair was gleaming, face was browned
and had a look of mercy I'd not found.

He had a look of mercy I'd not found
in any man before. Not him, the brute--
the war-monger. This head-- beautiful, round--
the coin I'd won-- was not a cut bud. Shoot
of new life, though severed, I wish I'd known
him when he lived; then I might have lived, too.
I would have followed John. He would have shown
me uses for my dance. The old tattoo
of sorrow on my skin he would have drowned
within the Jordan. Naked, then reborn,
I would have given him myself, and crowned
him as my king. Why then was I the thorn?
I called to God to come remove the tray--
to make him whole again, take him away.

To make him whole again, take him away
from me. This was my prayer the night I'd danced
for death. I asked that this prophet of day--
of light, sent to his end by one entranced--
could somehow be put back together. But
before I had finished my plea, he stood
before me. Herod. Licked his lips, then shut
the door. Dance for me, Salome, you're good--
Why do you shake your head, refuse a king?
I gave you what you wanted, it's your turn.
Why didn't you ask for a dress, a ring?
You are a strange one. Even so, I burn
for you. And what you will not give, I'll take.
Where is your power now? Look how you shake.

Where is your power now? Look how you shake,
I said to Herod as he told me, Dance. You
were not the first man who came here to take
me for himself. I'm owned first by a Jew,
a desert wanderer, a homeless priest.
Herod laughed, But he's dead, and now you fall
in love with what you danced to kill? At least
just tell me how his head holds you in thrall.
I answered: Some of his blood smeared on me
as I was tending him. Now there's a font
inside me where was once an aimless sea.
I was baptized tonight, and now I want
to love what I have killed, sent to the knife.
I dance for what I lost. I dance for life.


AUTHOR BIO

Annabelle Moseley is the author of The Clock of The Long Now, published by David Robert Books and selected for the First Book Panel at the West Chester University Poetry Conference in 2012. Author of six chapbooks, her most recent is A Field Guide to the Muses, published by Finishing Line Press in 2009. Her chapbook, The Divine Tour, is forthcoming from Finishing Line Press. The first Walt Whitman Birthplace Writer-in-Residence, from 2009-2010, Moseley is also editor of String Poet, the online journal of poetry and music, and host of the New York Times-featured String Poet Studio Series at the Long Island Violin Shop. She lives on the North Shore of Long Island. Earlier work in Mezzo Cammin: 2011.1, 2010.2, 2009.1, 2007.1.
POETRY CONTRIBUTORS

Maryann Corbett

Nausheen Eusuf

Anna M. Evans

Rebecca Foust

Nicole Caruso Garcia

Karen Kelsay

Michele Leavitt

Laura Maffei

Susan McLean

Annabelle Moseley

Jennifer Reeser

Myrna Stone

Wendy Vardaman

Doris Watts

Marly Youmans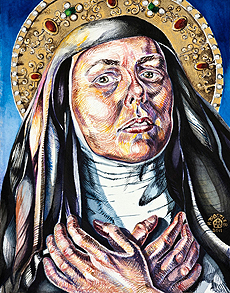 Holly Trostle Brigham: My paintings are rich with symbolism. I include flowers, butterflies, and other things from nature that communicate messages about the subject. These elements are interconnected with biographical references to tell a larger story about the sitter's life or place in history.