M

.

a

.

r

.

l

.

y

.

.

Y

.

o

.

u

.

m

.

a

.

n

.

s




In the Shadow of Jasmine



in the shade--the eternal jasmine's--
with immaculate joy.
--Wasyl Barka, "The Mad Woman"

As white as jasmine though more crystalline,
The snow goes on for miles around the house
Under a freighted, leaning sky of ice.
So it has been for months--first the water
Flowing choppily between us, and next
Torrential time, widening the spaces.
Then came the soft relentlessness of snow.
At first I thought one second was enough
To alter us forever and bereave
My soul of you--and so it was--but then
Your face went slipping through my memory
Like water that no human hands can hold
Until I ran along the banks of death,
Stumbling, cutting my feet, calling your name,
And there I glimpsed the shade of you, not torn
In pieces by mad terror's strike . . . To think,
They've named me mad who had divinest sense
Of love for you that would not ebb and die
As others wished, as others would commend!
I knew your voice, your body wavering
As if in ancient glass--you steadied, were
A vision of full-bodied soul, my love,
Who elsewhere lay in fragments in the grave,
And there along the shrapnel-edge of death,
We made the only vows we'll ever have,
To walk past time into the jasmine shade
Where fragrance may be music, where our love
May fuse with light, where we're not as we were.

At night my sheets are white as miles of snow;
My body, restless, aches for what is not,
And when I sleep my dreams are jasmine-lit.
I wander in the moonlight, break the stems
Of closed-up jasmine flowers just at dawn
And make them into tea. Sun's corolla
Transforms into a single jessamine.

Above your bones I draw in snow a bloom
That glints as if it were a diamond brooch--
A scentless thing with dust at every heart
Of every flake of snow. No matter how
Broken, each crystal star is beautiful,
Fallen from perfection into a world
Infinitely precious, infinitely
Small against the dark and galaxies.
My love, my love, there is no terror here
But only grief that passes and a joy
I cannot share, these stars upon my skin.
I bend to taste the snow, and it is sweet.







The Elder Race



They had a flair for fountain-smithery,
So that the tears flew up in joy like drops
Ascending to a realm of peace, to stand
Prismatic--as if magical--on air
Before the dazzling strings collapsed in stars
Inside a marble basin . . . The cogs and wheels,
The tiny valves that shot apart when steam
Flashed and geysered, whistling through the gas-pipes
To whirl the figures by a silver lake
To dancing: what gilt-loveliness they were,
Those works of nimbleness. Such simple things
As ball or box approached the marvelous;
It tugged the heart to see the latticed spheres
In spheres, the leaf-shaped latch, the hidden drawer--
Its subtle, crafty mechanism sunk
Deeper than a hand could find by groping.

I wonder now if they disliked our arts,
Those cheaper, stillborn copies of their works
That seemed to glint in mockery of craft
And creation at every peddler's stall.
Perhaps they never noticed what we hatched:
Why should an eye alight on mounds of straw
When fine-spun gold makes flourishes on air?
They always seemed on verge of vanishing--
A flash of profile lost in market crowds,
A glim-lit form receding over waves,
A figure moving off through twilit trees.
I used to hear them singing as they crossed
The stile beside my father's meadowland,
Their voices sweet, their native language strange,
And I would run outside to watch them pass,
Afraid of gammer-gossip and yet drawn.

One fall they were less common in our towns--
Swell jettison! crowed local shopkeepers,
Although for several years the prices sailed
Cloud-high wherever well-smithed goods were hawked.
Their paths of chalk that glowed on lunar nights
Began to melt away, as if trails poured
From salt were yielding to the autumn rains,
Withdrawing like the end of mystery.
Though I was young, I still recall the hour
I glimpsed the last of them in snowy woods,
The fierceness in his eyes that branded me
As surely as if glances could be coal.
He nodded, seemed to vanish in the hill,
And though I knocked, no answer was returned.
He must have spied some artful gift in me
To leave a chest of tools beside my door
With gold and silver wire and beveled gems,
That I will work despite my ignorance
And out of longing for their kind and grief.







The Stone Court



I didn't meet the terror's lightning-strike,
Jag-necked Medusa whom the painters praise
With heads that show a severed life can prick
Its serpent hair to hissing, howl the mouth
In everlasting No! against the world:
My eyes were dwelling on the stranger's eyes
Reflected from the hero's godborn shield--
Long-throated head, the twist of gleaming hair,
The moony skin as luminous as pearl.
I hadn't known that I was beautiful.
A horse that sprang from blood unshipped its wings,
The hero thumped Medusa's head in a bag,
Chucked it across his shoulder and flew away.
My mother's brother, come to plead a cause,
Stiff with anger . . . I kissed his limestone cheek,
Was glad of wine and barley flatbreads tucked
Inside a cloth, and thieved the king's own knife--
He'd have no further clasp on weaponry
But would forever claw a fleaborn itch
Beneath a cloak of stone. A tippler's mouth
Was plugged, a snatched caress was tombed in rock:
The figures looked too real: impossible,
A little corny, certainly not art
Or worth my grief. I hardly felt the loss
Just then, drifting in the cloud of knowledge
That was my youth, a shield around my limbs,
Though floating motes once dust were adamant
To sting my face to tears. I threaded paths
Between arrested courtesies of court
And stared as dazzle of a shield and horse
Made starfalls retrograde. Though sapphire sky
Slanted a jeweled lid above the stones,
I never feared but walked a thousand steps
Before the world began to yield to green.
I bore a light-drenched memory of me,
A soft and yielding vision, stream of flame
Or water welling in a fresh-dug pit,
And slowly realized the morning's truth:
The power of my gaze protected me.
The island's edge came curling to my feet,
I walked in brightness like a springtime sun,
Carrying myself as one who witnessed
The dangers burning from a woman's face.
I bore myself like glory in a cloud
As I moved swiftly over hills to home,
Goatherds called me by the name of Ceres
And begged me make the ground grow deep with grass,
And country people knotted near the path
To see the goddess green the early fields.
Though all the flame was vigor of my youth
And borrowed magic of a fearsome sight,
I came in after-years to meditate
How I alone escaped the pitiless
And wondered that the innocence of youth
And joy could blunt the edge of brute demand,
Declaring by mere thoughtless going-on
That life was far too vigorous to end.







That Which Snatches



Vulture-like, the harpies wheel on updrafts
Or settle in the grove of wind-whipped trees,
Their small, secretive faces looking out
Without sign of interest or passion,
As pinched and harsh as "soul heads" on a stone
Propped up by mourning Puritans on land
Unused to buried bone: winged skulls that glare.
One is singing, Turn away, my bonnie,
Turn away home, and yet there is nowhere
To turn, no home when such weird sisters sing.
In Cretan caves they hang like ungroomed bats,
Letting locks hang, letting the lice parade,
Their molting feathers like some nightmare bed
Where no man fancies lying--that's a truth
That galls, for only breeze that glances here
And there and then is gone could bear to kiss
Their shriveled, wicked purse of privacies.

Bedraggled, murderous, entirely foul . . .
If they had hands, the fingers would be small,
As leathery as paws for throwing scat
At queens or prophets. No respect, no cheer,
No proper sentiment for the flawless
Horses of Achilles, their own offspring
Who wept to smell the battle-scent of death,
No sisterly devotion to Iris
Tricked out in sunstruck iridescent drops.

They'll shriek the dawn awake and howl for flesh,
Heraldic frights so ignorant of evil
They could be us--so self-absorbed, so free.
On branches in the bleeding wood of souls,
They shift their talons, sigh in sleep like doves,
Dreaming of men like birds of paradise,
Of leaf-winged forests tumbling in a storm,
The phoenix burning on her nest of myrrh
Who found this harpied world worth dying for.


AUTHOR BIO

photo courtesy of
Ellen Datlow

Marly Youmans is the author of six books of fiction and a collection of poetry. Her latest novel, Val/Orson, satisfies her long-time desire to write a book set in trees. The story also finds some of its inspiration in the legendary account of twins, Valentine and his "wild child" brother, Orson. It appeared in two limited editions from P. S. Publishing (U. K.) in September, 2008. Earlier work in Mezzo Cammin: 2008.2, 2008.1, & 2007.1.
POETRY CONTRIBUTORS

Maryann Corbett

Nausheen Eusuf

Anna Evans

Dolores Hayden

Luann Landon

Susan McLean

Annabelle Moseley

Alexandra Oliver

Wendy Vardaman

Doris Watts

Holly Woodward

Marly Youmans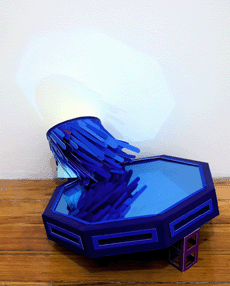 Lauren Clay
: Addressing feelings of lost cultural identity and sitelessness, this work investigates ideas of the self as discerned through the lense of place and site. The search is influenced by various mythologies of place, such as the inherited place, found through home and community; the internal place which exists in the psyche or imagination; and the discovered place, found through study or travel.