Doris Watts






Catastrophe Theory



The math explains the way small increments
of change create disaster. It's really all
a matter of that final drop that over-
flows the cup. Dams fail, kingdoms collapse,
the earth slips unexpectedly along
a half-forgotten fault, love turns to hate.

And yet the selfsame formulas contain
the algebra of grace. Winds shift, tides ebb,
a fever breaks, an epidemic's done.
The sonnet turns: Saint Stephen's stoned
and Saul's struck down.







Ornament



The bright blue plastic butterfly survived
its first night in the garden, lived
through rain and wind, still sits
held fast by its
long wire among
the red geraniums
and trembles just a bit--a sigh?
What now? Hinged wings were never meant to fly.







Caryatid



Lillian 1881-1958

It was the wind, that flat persistent whine
that women said would almost wear you down.
Constant, day after day, across the plains,
someways you'd feel done in just by the sound,
its ranting at the windows and the doors.
No pause, it seemed, to let a body breathe,
the wind was with you endless as your chores.
Best keep oneself inside, they all agreed.

Except Lillian, who family said was known
to of a sudden leave her work undone
and stand there on the stoop outside alone,
face into wind, back straight, chin up, like one
of those Greek-woman-statues--strange, aloof--
standing on a porch, holding up the roof.


AUTHOR BIO
Doris Watts lives in Temecula, California. Her poems have appeared in Mezzo Cammin, The Formalist (she was twice a finalist in the Howard Nemerov Sonnet Competition), Blue Unicorn, The Lyric, and The Mid-American Poetry Review. She has work forthcoming in 14 by 14. She graduated from the University of Redlands and completed a Special Major Master's Degree in Technical Communication at San Diego State University. She has worked as a usability specialist, examining the human interface with hardware and software documentation, and as a technical writer. Earlier work in Mezzo Cammin: 2009.2 & 2009.1.
POETRY CONTRIBUTORS

Taylor Altman

Sarah Busse

Nicole Caruso Garcia

Brittany Hill

Lisa Huffaker

Jean Kreiling

Barbara Loots

Charlotte Mandel

Annabelle Moseley

Angela Alaimo O'Donnell

Ann Walker Phillips

Carolyn Raphael

Jennifer Reeser

Hollis Robbins

Catherine Tufariello

Doris Watts

Joyce Wilson

Marly Youmans

Fifth-Anniversary MC Reading
West Chester University Poetry Conference
Friday, June 10
8:15 AM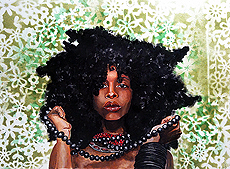 Alice Mizrachi: Growing up in New York, I have been immersed in a culture that is constantly growing. Throughout my work you can feel the influence the city has had on me, the never-ending desire to grow and flow. One common thread in my work is the texture--rhythm and layers. I love to incorporate tactile surfaces that compel the audience to approach and feel it. Timeless and universal, my images evoke a raw feminine energy that leaves you feeling nurtured. My art is a vehicle to express to the world my journey as a NYC female artist in the past, present and future. I am logging my time here. After completing a residency in Paris during 2010, I am focusing on residencies in other cities with the intention of spreading my art globally.