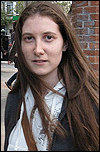 Taylor Jillian Altman is a graduate of Stanford University and the Creative Writing Program at Boston University. Her work has appeared in journals such as The Alembic, Salamander, and Silk Road, and her chapbook, Swimming Back, was published by sunnyoutside press. Taylor lives in the San Francisco Bay Area and works for QuestBridge, a non-profit that connects high-achieving low-income students with college scholarships. Earlier work in Mezzo Cammin: 2010.2.





Sarah Busse co-edits the poetry magazine Verse Wisconsin and has authored two chapbooks, Quiver (Red Dragonfly, 2009) and Given These Magics (Finishing Line, 2010), with a third, Gauguin in California, forthcoming from Desperado Press. Given These Magics received the 2011 WFOP Chapbook Award. Her work has been published widely in online and print journals, and her poem "Silhouettes" was awarded a Pushcart Prize, and will appear in the Pushcart anthology in 2012. She is a contributing scholar to the Women Poets Timeline Project. Earlier work in Mezzo Cammin: 2008.2.





Nicole Caruso Garcia was born in New Jersey in 1972. She earned her B.A. in English from Fairfield University, and after seven years in corporate industry, she left to earn her M.S. in Education from The University of Bridgeport. Her poetry has appeared in literary journals such as Willow Review, The Sow's Ear Poetry Review, Soundings East, The Ledge, Poetry Midwest, and Small Pond Magazine of Literature, and she received the Spring 2010 Willow Review Award. She and her husband live in Connecticut, where she teaches literature and creative writing at Trumbull High School. Earlier work in Mezzo Cammin: 2008.1.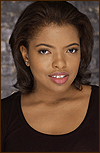 Brittany Hill is a graduate of Fairfield University with a BA degree in Psychology and a minor in English and is now pursuing her MFA in Poetry at Fairfield. She was an associate editor of Dogwood: A Journal of Poetry and Prose. She was also part of Fairfield University's "Poetry by Stealth" initiative, which was comprised of the best poets on Fairfield University's campus, and was also a judge for Poetry for Peace, a poetry competition for kindergarten through eighth grade students in Fairfield and Bridgeport. In Fairfield University's MFA program, she is the poetry co-editor for their online journal, Mason's Road, which launched its second issue in Spring 2011.




Lisa Huffaker's poems have appeared, or are forthcoming, in Southwest Review, Poet Lore, Southern Poetry Review, The Texas Observer, and Measure. She was the 2008 winner of Southwest Review's Morton Marr Poetry Prize. A classical singer by trade, she has sung with The Dallas Opera for ten years, and holds a Master's Degree in Voice Performance from The New England Conservatory.



Jean L. Kreiling is a Professor of Music at Bridgewater State College in Massachusetts, and previously taught English at Western Carolina University in North Carolina. Her poetry has appeared in several print and on-line journals, including 14 by 14, Contemporary Sonnet, Dogwood, Ekphrasis, The Evansville Review, The Formalist, London Poetry Review, and The Pennsylvania Review. She was a semifinalist for the 2009 Richard Wilbur Poetry Award and a finalist for both the 2009 Howard Nemerov Sonnet Award and the 2010 Dogwood Poetry Prize. Her interdisciplinary essays on music and poetry have been published in the academic journals Ars Lyrica and Mosaic. Earlier work in Mezzo Cammin: 2010.2 & 2010.1.




The poems of Barbara Loots have appeared during the past 40 years in The Lyric, The Formalist, Measure, and Light Quarterly, to name a few, and in a collection titled Landscapes With Women, with Gail White, Rhina Espaillat, and Martha Bosworth. Most likely you've read at least a handful of the thousands of verses she wrote as one of the anonymous professionals at Hallmark Cards. Now retired, she writes when she can spare the time from leading tours at the Nelson-Atkins Museum of Art. Earlier work in Mezzo Cammin: 2010.2.





Charlotte Mandel's seventh book of poetry, Rock Vein Sky, was named a "Best Poetry Book Read" by Monserrat Review. Her poem-novella, The Life of Mary, is published together with audiocassette reading and musical accompaniment. Her essay on "The Cinematics of H.D.'s Poetry" is forthcoming in a Modern Language Association volume, Approaches to Teaching H.D. As founder of the Saturday Press Eileen W. Barnes Award, she edited the anthology, Saturday's Women. She recently retired from teaching poetry writing at Barnard College Center for Research on Women. Visit her online. Earlier work in Mezzo Cammin: 2008.2 & 2007.1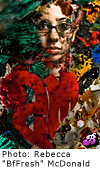 Alice Mizrachi is an artist, curator, social entrepreneur, educator and community organizer. Born and raised in Queens, New York, she has long been an active part of the art community near and outside her home town. Since her graduation from Parsons School of Design in 1999, she has exhibited her works in galleries worldwide such as Powerhouse in NYC, Colette in Paris, Lab 101 in L.A, Intermedia Arts in Minneapolis, to name a few. Her works reflect a nostalgia for a city that once was an urban subculture, gritty and thriving through a variety of buildings woven together as a colorful luminous cityscape; sometimes vibrant but always invoking a hidden tranquility. With a knack for intensity, it is no wonder that Alice's work is commissioned for a list of iconic companies including Gravis, The Washington Post and Shape Magazine. Alice has also been featured in a variety of niche publications such as Giant Magazine, Juxtapoz, and Square Rootz for her hard work and dedication to the arts. She continues to paint murals all over the world as an additional part of her artistic ventures and collaborative partnerships. While educating today's youth in central Harlem as a teaching artist, she is also keeping busy as a co-founder of the YOUNITY Arts Collective. Alice is not only known for her excellence as an artist and educator but also for her passion in uniting female artists and entrepreneurs through YOUNITY.




Annabelle Moseley is the founder and editor of String Poet, the online journal of poetry and music. She holds the distinction of being the first ever Walt Whitman Birthplace Writer in Residence, from 2009-2010. Her most recent chapbook is A Field Guide to the Muses, published by Finishing Line Press in 2009 and her full-length poetry collection, The Clock of the Long Now, is forthcoming from David Robert Books in February 2012. Visit Annabelle Moseley's website. Earlier work in Mezzo Cammin: 2010.2, 2009.1, & 2007.1.





Angela Alaimo O'Donnell teaches English, Creative Writing, and interdisciplinary courses in American Catholic Studies at Fordham University in New York City. Her book Saint Sinatra & Other Poems (Word Press) is forthcoming in 2011. Previous books include a full-length collection, Moving House (Word Press, 2009), and two chapbooks, Mine (Finishing Line Press 2007) and Waiting for Ecstasy (Franciscan University Press, 2009). Her poems have appeared in a number of journals, including America, Comstock Review, First Things, Hawaii Pacific Review, Journal of the Motherhood Initiative, Pedestal Magazine.com, Post Road, Potomac Review, RUNES, The Nepotist.org, and Xavier Review. O'Donnell was a finalist for the Foley Poetry Award and the Mulberry Poets Award, and her work has been nominated for Pushcart and Best of the Web prizes. Earlier work in Mezzo Cammin includes a critical essay on poet Josephine Jacobsen (2007.2) and poems (2009.2).




Ann Walker Phillips holds a Ph.D. in English from the University of North Carolina-Chapel Hill and teaches online for the University of Maryland University College. She is the author of Richard Ford (Twayne, 2000) and has published articles on southern women writers and southern culture. Her poems have appeared in Parnassus Literary Journal, Poet Lore, The Christian Science Monitor, Cicada, and Rosebud. Currently, she's working on a multimedia project of her own photographs and poems. A few of her photographs may be seen at her blog and on her Flickr site.




Carolyn Raphael retired from the English Department at Queensborough Community College, CUNY, after more than thirty years of teaching. Her poems have appeared in journals including The Formalist, Measure, Orbis, Pivot, and Rattapallax and on the Newington-Cropsey Cultural Studies website for the American Arts Quarterly, where her poem, "Honorable Mention," was nominated for a Pushcart Prize. She was a finalist in the 2009 Howard Nemerov Sonnet Contest. Her chapbook, Diagrams of Bittersweet, was published by Somers Rocks Press in 1997, and her poetry collection, The Most Beautiful Room in the World, was published by David Robert Books in February, 2010.





Jennifer Reeser is the author of An Alabaster Flask, winner of the Word Press First Book Prize, and Winterproof. Her poems, essays, and translations of Russian and French literature appear online and internationally in such journals as Poetry, Botteghe Oscure, Disquieting Muses, Salt, The Dark Horse and The Formalist. Her work is gathered in numerous print and online anthologies, including Longman's Introduction to Poetry, edited by X.J. Kennedy and Dana Gioia, and Phoenix Rising: The Next Generation of American Formal Poets, as well as the online Alsop Review (which also produced her CD as part of its Spoken Word series), and Famous Poets and Poems. She has twice been nominated for the Pushcart Prize, and has received awards from the World Order of Narrative and Formalist Poets and The Lyric magazine. She has given and participated in readings and poetry conferences and seminars at various American universities, and lives in southern Louisiana. Visit Jennifer Reeser's website. Earlier work in Mezzo Cammin: 2008.2 & 2006.1.




Hollis Robbins teaches literature, poetry, and aesthetics at the Peabody Institute of the Johns Hopkins University. Her poetry has appeared recently in Per Contra, Boston Literary Magazine, Mastodon Dentist, and Bridges, a Jewish Feminist Journal. Her most recent scholarly article is a study of census politics in William Wordsworth's "We are Seven" (1798), published in English Language Notes 48.2. She is the editor of the Penguin Classics edition of the poet Frances E.W. Harper's 1892 novel Iola Leroy (2010). She is at work on long project entitled Sonnets of Imprisonment.





The New York Times called Mary Ann Sullivan's first novel, Child of War, set in Belfast, Northern Ireland, "an earnest first novel," and that book was named a Notable Book in Social Studies by the National Council of Social Studies and Children's Book Council. Her poetry has been published online at places such as the BBC Arts Online and BlazeVox, her literary interviews and commentaries at places such as Jacket and The Poetry Library, Southbank Centre, London. While a cloistered Cistercian nun, Sullivan wrote poetry using a monastic contemplative practice called lectio divina. Those poems appear in her e-chap Mending My Black Sweater, published by eratio Editions, a Brooklyn-based publishing company. An associate professor at Hesser College in New Hampshire, Sullivan teaches creative writing, composition and communications courses, and earned a Doctor of Arts Degree from Franklin Pierce University and an MFA in Writing from Norwich University.




A native of Buffalo, New York, Catherine Tufariello received a B.A. in English from SUNY Buffalo and a Ph.D. from Cornell University, where she specialized in nineteenth-century American poetry. She has published two chapbooks and one full-length collection, Keeping My Name (Texas Tech, 2004), which was a finalist for a 2005 Los Angeles Times Book Prize and winner of the 2006 Poets' Prize. Her poems have recently appeared in Able Muse, The Dark Horse, Light Quarterly, and The Nervous Breakdown. A staff member of the Project on Civic Reflection at Valparaiso University, Catherine lives in Valparaiso, Indiana, with her husband and daughter. Earlier work in Mezzo Cammin: 2010.2





Doris Watts lives in Temecula, California. Her poems have appeared in Mezzo Cammin, The Formalist (she was twice a finalist in the Howard Nemerov Sonnet Competition), Blue Unicorn, The Lyric, and The Mid-American Poetry Review. She has work forthcoming in 14 by 14. She graduated from the University of Redlands and completed a Special Major Master's Degree in Technical Communication at San Diego State University. She has worked as a usability specialist, examining the human interface with hardware and software documentation, and as a technical writer. Earlier work in Mezzo Cammin: 2009.2 & 2009.1.




Joyce Wilson, editor and creator of the online magazine The Poetry Porch, teaches English at Suffolk University. Her poems have appeared in many literary journals, among them Cyphers, Poetry Ireland, and Ibbetson Street Magazine. Her poems have appeared in Poetry Ireland, Ibbetson Street, and other literary journals. Her first book of poems The Etymology of Spruce and a chapbook The Springhouse were both published in 2010. Earlier work in Mezzo Cammin: 2010.2 & 2007.2.




Marly Youmans is the author of four novels, two books of Southern fantasy for young adults, and a collection of poetry. Forthcoming poetry books are: The Throne of Psyche (Mercer University Press, March 2011), The Foliate Head (UK: Stanza Press, tba, with artwork by Clive Hicks-Jenkins), and Thaliad, a post-apocalyptic epic poem in blank verse (Montreal: Phoenicia Publishing, late 2011.) She also has three novels due out in the near future: Glimmerglass and Maze of Blood from P. S. Publishing in England and A Death at the White Camellia Orphanage, winner of the first annual Ferrol Sams Award for Fiction (Mercer University Press, 2011). Earlier work in Mezzo Cammin: 2010.2, 2010.1, 2009.2, 2009.1, 2008.2, 2008.1, & 2007.1.