Jean L. Kreiling






Another Plaster Idol Smashed to Bits



You didn't think, this time, that you'd expected
too much, that you had set him up for blame
right from the start, your high hopes misdirected,
until the very moment he became
another plaster idol smashed to bits.
Of course, you never know until the smashing
that something's made of plaster. Oddly, it's
surprising every time--the silent crashing
an insult to the heart's ear. But you'd swear
that this time had been different: you had taken
this man for mortal, hadn't made him wear
a halo or a laurel wreath. You're shaken
to hear again the din of mute disaster,
to breathe again this dust that tastes of plaster.







Old South Carriage Tour



(Reunion, July 2009)

The weary horse pulled six loud tourists through
the streets of Charleston, through a history
of war and earthquake, where magnolias grew
to lush and sturdy heights, as graciously
as if they'd witnessed only years of ease,
as if they'd found exactly what they'd needed
among these palms and wrought-iron balconies
and southern sun, and so they had succeeded.
We too had bloomed, each where she had been planted,
and all of us knew just what had been lost
and gained, in decades poor and prosperous.
The yearly sharing of our stories granted
a peace more dear because we knew the cost--
and neither years nor sun would weary us.



AUTHOR BIO

Jean L. Kreiling is a Professor of Music at Bridgewater State College in Massachusetts, and previously taught English at Western Carolina University in North Carolina. Her poetry has appeared in several print and on-line journals, including 14 by 14, Contemporary Sonnet, Dogwood, Ekphrasis, The Evansville Review, The Formalist, London Poetry Review, and The Pennsylvania Review. She was a semifinalist for the 2009 Richard Wilbur Poetry Award and a finalist for both the 2009 Howard Nemerov Sonnet Award and the 2010 Dogwood Poetry Prize. Her interdisciplinary essays on music and poetry have been published in the academic journals Ars Lyrica and Mosaic.
POETRY CONTRIBUTORS

Melissa Balmain

Janann Dawkins

Juleigh Howard Hobson

Anjie Kokan

Jean L. Kreiling

Luann Landon

Michele Leavitt

Mary Meriam

Gail White

Holly Woodward

Marly Youmans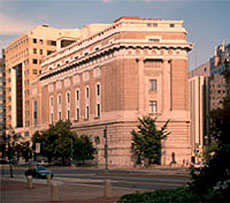 Mezzo Cammin
is proud to announce that The
Mezzo Cammin
Women Poets Timeline Project, which will eventually be the largest database of women poets in the world, was launched on Saturday, March 27, 2010, at 6:00 PM at the National Museum of Women in the Arts in Washington, D.C. (Photo by Tom Field)
Visit Timeline
.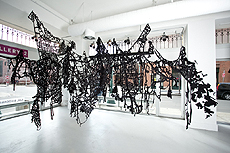 Gail Biederman: I use sewing as a form of drawing, as one way to alter a surface. Thread is my line, a physical presence that hovers in space in my installations. With both a cast shadow and an edge that catches the light, thread creates multiple realities, a jumbled mix of hard and soft, the solid and the ephemeral.