Jean L. Kreiling




Libby Larsen's Parachute Dancing

(Note: According to composer Libby Larsen, this orchestral piece portrays a Renaissance dance involving bright silk umbrellas (forerunners of the parachute) carried by dancers who hop along courtyard walls and then leap off and float to the ground. Larsen professed an attraction to the "giddy danger" of the dance.)

These bright vibrations animate a tale
of fearless flight from old-world parapets--
a story understood by those who scale
love's heights with neither parachutes nor nets.
The timpani could be the heartbeat's twin;
the cymbals' crash announces sudden bliss.
Pitch dips, an emblem of the swoon within,
then leaps as boldly as new lovers kiss.
No tonal, tuneful regularity
informs the dance, the music, or this mood
of rapture unconstrained by clarity,
this joy on which no logic can intrude.
Wild sounds abound, and giddy danger calls
the dancer and the lover to their falls.







At the Movies



"He is a moviegoer, though of course he does not go to movies."
--Walker Percy, The Moviegoer

He watches moving pictures in his mind,
while granting real life minimal attention;
he much prefers the scenes that he's designed.

He sleepwalks through his day--the office grind,
the past-due bills, the marital contention--
while watching moving pictures in his mind.

In his director's cut, the deal is signed,
the girl is hot, the car is fast--no mention
of trouble. In the scenes that he's designed,

he's young, he's rich, and he can always find
his keys. The screenplay sizzles with invention,
and so he watches pictures in his mind.

Engaged with an imagined cast, he's blind
to costars in the flesh, who might bring tension
or tedium to scenes that he's designed.

Nobody watches with him. Disinclined
to live in the quotidian dimension,
he moves alone through pictures in his mind,
and much prefers the scenes that he's designed.



AUTHOR BIO
Jean L. Kreiling is a Professor of Music at Bridgewater State College in Massachusetts, and previously taught English at Western Carolina University in North Carolina. Her poetry has appeared in several print and on-line journals, including 14 by 14, Contemporary Sonnet, Dogwood, Ekphrasis, The Evansville Review, The Formalist, London Poetry Review, and The Pennsylvania Review. She was a semifinalist for the 2009 Richard Wilbur Poetry Award and a finalist for both the 2009 Howard Nemerov Sonnet Award and the 2010 Dogwood Poetry Prize. Her interdisciplinary essays on music and poetry have been published in the academic journals Ars Lyrica and Mosaic. Earlier work in Mezzo Cammin: 2010.2 & 2010.1.
POETRY CONTRIBUTORS

Taylor Altman

Sarah Busse

Nicole Caruso Garcia

Brittany Hill

Lisa Huffaker

Jean Kreiling

Barbara Loots

Charlotte Mandel

Annabelle Moseley

Angela Alaimo O'Donnell

Ann Walker Phillips

Carolyn Raphael

Jennifer Reeser

Hollis Robbins

Catherine Tufariello

Doris Watts

Joyce Wilson

Marly Youmans

Fifth-Anniversary MC Reading
West Chester University Poetry Conference
Friday, June 10
8:15 AM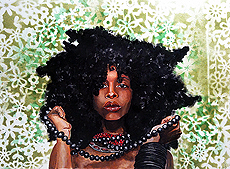 Alice Mizrachi: Growing up in New York, I have been immersed in a culture that is constantly growing. Throughout my work you can feel the influence the city has had on me, the never-ending desire to grow and flow. One common thread in my work is the texture--rhythm and layers. I love to incorporate tactile surfaces that compel the audience to approach and feel it. Timeless and universal, my images evoke a raw feminine energy that leaves you feeling nurtured. My art is a vehicle to express to the world my journey as a NYC female artist in the past, present and future. I am logging my time here. After completing a residency in Paris during 2010, I am focusing on residencies in other cities with the intention of spreading my art globally.