Taylor Jillian Altman






The Apprentice Witch



Owl's eyelids, adder's tongue,
the stinger from a honeybee--
teach me, correspondence school,
what spells to say so I can be

a witch. I want the icy touch
of winter and the north wind's moan;
I want to serve stewed nettle soup
to children, turning them to stone.

I'm learning, working in the dark
with poisoned liver, dragon hearts.
Once, for practice, I turned a man
into a toad. He used my arts

to turn himself into a bird
of prey and fly up to my room,
not fast enough to catch my skirt
before I rode off on my broom.








Tybalt, Prince of Cats



He has a natural air of confidence,
of knowledge we pretend that we possess.
In the servants' quarters we play at Capulet--
we're princes, free to wander anywhere,
to thrust and parry in the bars, and write
each day in golden, braided leather books,
describing nothing but ourselves, our dreams
and secret loves, transparent boyish schemes.

When Master Tybalt saunters in, we stop.
Though not conventionally beautiful,
his personality can fill the house
as by osmosis; weaker men flow out.
His hair is always slick; his teeth are sharp.
He hasn't slept since last night's masquerade
where he and Romeo played cat and mouse.
However masked, he's never not himself.

Sometimes, resting on a chaise, he speaks
to me as though I weren't his servant boy,
speaks quietly, in that low, thrilling voice,
in a Mantuan accent (though he grew up here).
He tells me freedom comes from violence,
and says the tranquilest societies
are those where people daily live in fear.








22 February 1821



(Fanny Brawne to John Keats)

I hear your phantom footsteps in the hall,
their fall as light and airy as the day
exhaling red- and blue-tipped butterflies
that live for three days in the month of May.

How sweetly their perfume perfumes the air
with sweat and heat and light of summer days.
The curtains whisper in your voice and move
across my thighs, a gentle winged graze.

And if I lift the lid of afternoon,
a treasure trove, a wunderkabinett,
I'll find inside a flock of butterflies,
their wings of beaten gold and violet.

When will you come for me? You didn't say
before you left for Italy; and since,
I've lived those fifty common years and known
the fragility of all experience.



AUTHOR BIO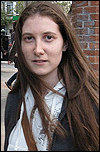 Taylor Jillian Altman is a graduate of Stanford University and the Creative Writing Program at Boston University. Her work has appeared in journals such as The Alembic, Salamander, and Silk Road, and her chapbook, Swimming Back, was published by sunnyoutside press. Taylor lives in the San Francisco Bay Area and works for QuestBridge, a non-profit that connects high-achieving low-income students with college scholarships.
POETRY CONTRIBUTORS

Taylor Altman

Barb Crane

Janann Dawkins

Rose Kelleher

Athena Kildegaard

Jean L. Kreiling

Barbara Loots

Susan McLean

Mary Meriam

Annabelle Moseley

Wendy Sloan

Janice D. Soderling

Alison Talbott

Catherine Tufariello

Deborah Warren

Joyce Wilson

Marly Youmans

AWP, Washington, D.C.
The Mezzo Cammin Women Poets Timeline Project
(Anna Evans, Kim Bridgford, Erica Dawson, Jehanne Dubrow, Kathrine Varnes)
Room: Virginia A
Marriott Wardman Park
Lobby Level
Saturday, February 5
10:30-11:45 AM

Fifth-Anniversary MC Reading
West Chester University Poetry Conference
Friday, June 10
8:15 AM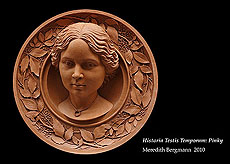 Meredith Bergmann: An artist's statement is a formal thing--not written out in lines, but still constrained in length, and more particularly, tone. One should assert one's strategies, and boast about creative mischief. (Dithering is better done in verse.) But I'm restrained by wanting you to find out on your own what tickles me, and what moves me the most.

I sometimes doubt that humor really heals. Perhaps I want to wound instead, to wake; to wrong what may too easily be right. I love how sudden recognition feels, and play with that in everything I make--as in my second sonnet for this site.