Joyce Wilson






Hoar Frost



We walked down to the railroad bridge
in temperatures near ten degrees,

a dazzling world of fragile forms
and soundless temporal release

where feathered crystals coated trees
and rocks, fattening the branches

as if in patterns carefully
arranged, like tiny stonehenges.

Our mother raised her hand
before the frozen atmosphere

And said, "This is your world.
By noon, it will have disappeared."

The crystals melting on the stones
like emblems sliding off a shield

betrayed the motion of the earth,
the changing seasons of the field.








If I Should Leave You



If I should leave you, everyone will know
How strong these terrors run beneath the ice;
The sullen spirits that our faces show
Will seem a symptom of our needs and vice.

If we should make a north-from-south divide
And stake our reputation on our fences,
We will unleash the monsters we denied
And few excuses will restore expenses.

We hail the worst in each, in each condone
The remedy for pain; we know our faults.
What use will parting bring to one alone?
We'll have to lock our love in separate vaults.

If you should leave me, we will be at war,
When peace is what we say we're fighting for.



AUTHOR BIO

Joyce Wilson, editor and creator of the magazine on the Internet, The Poetry Porch (www.poetryporch.com), teaches English at Suffolk University in Boston, Massachusetts. Her poems have appeared in many literary journals, among them Cyphers, Poetry Ireland, and Ibbetson Street Magazine. Her first poetry collection The Etymology of Spruce was published early in 2010 by Rock Village Publishing in Middleborough, Massachusetts, and her chapbook The Springhouse was published in December 2010 by Finishing Line Press of Georgetown, Kentucky.
POETRY CONTRIBUTORS

Taylor Altman

Barb Crane

Janann Dawkins

Rose Kelleher

Athena Kildegaard

Jean L. Kreiling

Barbara Loots

Susan McLean

Mary Meriam

Annabelle Moseley

Wendy Sloan

Janice D. Soderling

Alison Talbott

Catherine Tufariello

Deborah Warren

Joyce Wilson

Marly Youmans

AWP, Washington, D.C.
The Mezzo Cammin Women Poets Timeline Project
(Anna Evans, Kim Bridgford, Erica Dawson, Jehanne Dubrow, Kathrine Varnes)
Room: Virginia A
Marriott Wardman Park
Lobby Level
Saturday, February 5
10:30-11:45 AM

Fifth-Anniversary MC Reading
West Chester University Poetry Conference
Friday, June 10
8:15 AM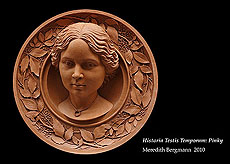 Meredith Bergmann: An artist's statement is a formal thing--not written out in lines, but still constrained in length, and more particularly, tone. One should assert one's strategies, and boast about creative mischief. (Dithering is better done in verse.) But I'm restrained by wanting you to find out on your own what tickles me, and what moves me the most.

I sometimes doubt that humor really heals. Perhaps I want to wound instead, to wake; to wrong what may too easily be right. I love how sudden recognition feels, and play with that in everything I make--as in my second sonnet for this site.