Joyce Wilson




Looking at Zinnias and Marigolds in a Porcelain Vase, by Hermann Dudley Murphy

What companion would you select
in this common country garden?
Both zinnia and marigold,
the elegant and sovereign.

The Elegant: The zinnia
Is tall, hard-working, vigorous,
in yellow, pink, magenta splendor,
a favorite of the local vendor
who praises its unerring charm,
waltzing on late summer's arm,
bowing, sumptuous, twirling, chaste,
beside the rose, almost straight-laced,
reaching out to gather in,
when cut, its blossoms come again.

The Sovereign: The marigold
keeps its abundant petals rolled,
the double gold anemone
upholds our summer's currency
that must not be hoarded but spent
according to our agreement
on what we need, how much we have;
its beauty, bold and curative,
can keep the pests away from those
most precious of our tomatoes.







My Mother and the Rugosa



The rose would die if she were wrong,
Clipping short a thousand lives.
She held the scissor's pair of knives
And hummed an old familiar song

Whose lyrics helped to quell her fears.
Just as she thought her doubts had fled,
A newborn sparrow raised its head
Between the crossbars of the shears

Beseeching her to end the storm
Of loosened leaves and hacking swords,
To fill the promise of her words
With mother love, perhaps a worm.







The Ash Tree



To reach so wide, it must have been alone
for a long time and in an open field.

Our mother walked an old hemp rope around
the trunk of the ash tree and marked it,

and then we spread the rope out on the lawn
to measure just how much our love had grown

in the ten years since she had counted lengths
with him, our father died, and we had moved.

Ten years since she had wrapped her arms around--!
It showed an increase of eleven feet.

We got the car to take us back to town
and left the tree, our house, and our old street.



AUTHOR BIO

Joyce Wilson, editor and creator of the online magazine The Poetry Porch, teaches English at Suffolk University. Her poems have appeared in many literary journals, among them Cyphers, Poetry Ireland, and Ibbetson Street Magazine. Her poems have appeared in Poetry Ireland, Ibbetson Street, and other literary journals. Her first book of poems The Etymology of Spruce and a chapbook The Springhouse were both published in 2010. Earlier work in Mezzo Cammin: 2010.2 & 2007.2.
POETRY CONTRIBUTORS

Taylor Altman

Sarah Busse

Nicole Caruso Garcia

Brittany Hill

Lisa Huffaker

Jean Kreiling

Barbara Loots

Charlotte Mandel

Annabelle Moseley

Angela Alaimo O'Donnell

Ann Walker Phillips

Carolyn Raphael

Jennifer Reeser

Hollis Robbins

Catherine Tufariello

Doris Watts

Joyce Wilson

Marly Youmans

Fifth-Anniversary MC Reading
West Chester University Poetry Conference
Friday, June 10
8:15 AM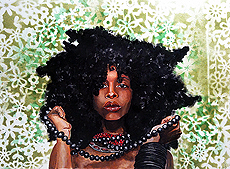 Alice Mizrachi: Growing up in New York, I have been immersed in a culture that is constantly growing. Throughout my work you can feel the influence the city has had on me, the never-ending desire to grow and flow. One common thread in my work is the texture--rhythm and layers. I love to incorporate tactile surfaces that compel the audience to approach and feel it. Timeless and universal, my images evoke a raw feminine energy that leaves you feeling nurtured. My art is a vehicle to express to the world my journey as a NYC female artist in the past, present and future. I am logging my time here. After completing a residency in Paris during 2010, I am focusing on residencies in other cities with the intention of spreading my art globally.