Barbara Loots






Down the Road from Graceland



Elvis's Death Anniversary
August 16, 1996

Route 78 takes us to the Travelers Rest
near Birmingham. The air-conditioner
has ushered me through dreamland with its whirr
all night. I quarrel with another guest--
a gnat. And then a trucker overhead
awakens, turns the needle shower on.
A trunk lid slams. It's minutes after dawn.
And I remember now:
the King is dead.
Back up the road a-ways in Tupelo,
the fans will gather at the shotgun shack
where he was born to bring his spirit back
in one egregious, sentimental show.

Life is a costume, and you wore it well,
Elvis, when your sequined dream came true
a thousand fold and danced away with you
in blue suede shoes. Those golden records tell
the story of a lonesome boy possessed
by demon music, caught up by the crowd,
and nailed to fame. You made your momma proud
and rich. But still she died.
Well, God knows best,
you might have said. And in the end, you gave
your soul to Graceland, where the pilgrims queue
to view the relics, say a prayer for you,
and pile their plastic roses on your grave.








Road Trip



Ganesha--the elephant deity--is the destroyer of vanity, selfishness and pride.

The geographic magazine explained
how brutally young elephants are trained
to carry tourists on their trundling backs
along domesticated jungle tracks
in Thailand, where the work of clearing trees
once brought great herds of giants to their knees.

Meanwhile, and closer by, a new herd grows
in Wal-Mart parking lots, lined up in rows,
of chrome-tooth beasts exhaling diesel breath
and bringing armadillos certain death
when they roll out on ribbons of concrete
with brutal masters in the driver's seat.

Surrounded by them on the interstate,
I wonder at my lust for other freight,
what unfulfilled ambition like a goad
still prods and pushes me along the road,
while wreckage littering the countryside
shows how Ganesha will be satisfied.



AUTHOR BIO

The poems of Barbara Loots have appeared during the past 40 years in The Lyric, The Formalist, Measure, and Light Quarterly, to name a few, and in a collection titled Landscapes With Women, with Gail White, Rhina Espaillat, and Martha Bosworth. Most likely you've read at least a handful of the thousands of verses she wrote as one of the anonymous professionals at Hallmark Cards. Now retired, she writes when she can spare the time from leading tours at the Nelson-Atkins Museum of Art.
POETRY CONTRIBUTORS

Taylor Altman

Barb Crane

Janann Dawkins

Rose Kelleher

Athena Kildegaard

Jean L. Kreiling

Barbara Loots

Susan McLean

Mary Meriam

Annabelle Moseley

Wendy Sloan

Janice D. Soderling

Alison Talbott

Catherine Tufariello

Deborah Warren

Joyce Wilson

Marly Youmans

AWP, Washington, D.C.
The Mezzo Cammin Women Poets Timeline Project
(Anna Evans, Kim Bridgford, Erica Dawson, Jehanne Dubrow, Kathrine Varnes)
Room: Virginia A
Marriott Wardman Park
Lobby Level
Saturday, February 5
10:30-11:45 AM

Fifth-Anniversary MC Reading
West Chester University Poetry Conference
Friday, June 10
8:15 AM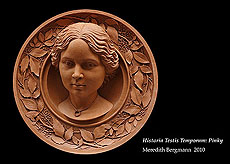 Meredith Bergmann: An artist's statement is a formal thing--not written out in lines, but still constrained in length, and more particularly, tone. One should assert one's strategies, and boast about creative mischief. (Dithering is better done in verse.) But I'm restrained by wanting you to find out on your own what tickles me, and what moves me the most.

I sometimes doubt that humor really heals. Perhaps I want to wound instead, to wake; to wrong what may too easily be right. I love how sudden recognition feels, and play with that in everything I make--as in my second sonnet for this site.