Jean L. Kreiling






Autumn Wish



I wish for seaside weightlessness once more
before I huddle in a heavy coat
and hide my hands in mittens, and before
I wind a woolen scarf around my throat.
I want the salt and sand to stick to me
as if I were a barnacle or bird,
as light as air and thriving thoughtlessly,
anxieties erased and debts deferred.
Unshod, unscheduled, and uninsulated,
I'd drop my shoulders and I'd lift my head,
my step as careless and uncalculated
as winds and waves by wanton currents led.
I want to walk this beach in weightless ease--
a summer girl once more before the freeze.








Old and New



Rachmaninoff's Rhapsody on a Theme of Paganini (1934)

No new aesthetic dogma was declared
at its premiere; nobody had to read
instructive program notes to be prepared
for how or why this music would proceed.
When borrowed melody met eloquence
as old as truth, as fresh and unashamed
as first romance, then sentiment and sense
were wed, and even well-read hearts were claimed.

For passion finds its surest sustenance
in trusted arms and in familiar faces,
where new desires are honed by history;
and notes that ring with epic resonance
make Edens out of ordinary places
as breath itself becomes a rhapsody.



AUTHOR BIO
Jean L. Kreiling is a Professor of Music at Bridgewater State College in Massachusetts, and previously taught English at Western Carolina University in North Carolina. Her poetry has appeared in several print and on-line journals, including 14 by 14, Contemporary Sonnet, Dogwood, Ekphrasis, The Evansville Review, The Formalist, London Poetry Review, and The Pennsylvania Review. She was a semifinalist for the 2009 Richard Wilbur Poetry Award and a finalist for both the 2009 Howard Nemerov Sonnet Award and the 2010 Dogwood Poetry Prize. Her interdisciplinary essays on music and poetry have been published in the academic journals Ars Lyrica and Mosaic.
POETRY CONTRIBUTORS

Taylor Altman

Barb Crane

Janann Dawkins

Rose Kelleher

Athena Kildegaard

Jean L. Kreiling

Barbara Loots

Susan McLean

Mary Meriam

Annabelle Moseley

Wendy Sloan

Janice D. Soderling

Alison Talbott

Catherine Tufariello

Deborah Warren

Joyce Wilson

Marly Youmans

AWP, Washington, D.C.
The Mezzo Cammin Women Poets Timeline Project
(Anna Evans, Kim Bridgford, Erica Dawson, Jehanne Dubrow, Kathrine Varnes)
Room: Virginia A
Marriott Wardman Park
Lobby Level
Saturday, February 5
10:30-11:45 AM

Fifth-Anniversary MC Reading
West Chester University Poetry Conference
Friday, June 10
8:15 AM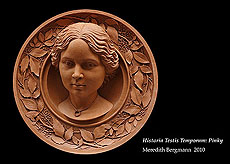 Meredith Bergmann: An artist's statement is a formal thing--not written out in lines, but still constrained in length, and more particularly, tone. One should assert one's strategies, and boast about creative mischief. (Dithering is better done in verse.) But I'm restrained by wanting you to find out on your own what tickles me, and what moves me the most.

I sometimes doubt that humor really heals. Perhaps I want to wound instead, to wake; to wrong what may too easily be right. I love how sudden recognition feels, and play with that in everything I make--as in my second sonnet for this site.