Catherine Tufariello






The Understory



Willow, green and yellow,
Room without a door
I hid in, with a pillow
I stole, when I was four,

You washed me in your shadows
By the little creek
That glinted from our windows.
Hand against my cheek,

I lay in an enclosure
More private than the sky.
Outside in open ocean
Clouds rolled blindly by,

But in your understory
Branch and curling leaf,
Breathing without hurry,
Formed a coral reef--

Withies swelled like curtains
With a swishing sound,
And tickling mouths of catkins
Nibbled at the ground.

Whisperer of secrets
That you always kept,
Soother of my fevers,
Weeping when I wept,

Your refuge was forbidden.
But what child could resist
A safe place to be sad in?
However I might twist

Your pliant fingers held me.
Guiltily I stayed
When fading voices called me
From your prickled shade,

While red roots, interwoven
With my waking dream,
Stirred a tinge of crimson
In the crooked stream.








Fairy Tale



Her fingers curl,
Clutching her fare--
A smooth-sharp pearl
Secreted there

Under the pillow.
Fathoms deep,
Souls wait to cross
The shoals of sleep.

Part of her missing,
Tongue in the space
That tastes like pennies,
She takes her place.

Little by little,
Selves are shed.
When the sly one steals
Beside her bed

With a shiny coin
(A bribe, a fake)
And pockets the pearl,
She won't awake,

Her spellbound head
On a mound of moss.
So this is grief.
So this is loss--

Hard as ivory,
Light as a leaf,
An arrowhead wrapped
In a handkerchief,

A milky seashell,
Sycamore wings.
It's time to let go
Of childish things.








The Summer Inside



A skift of snow on the ground,
A skein of geese in the sky,
Leaves whirled aloft by the wind
Skirling wild and high,

While warm indoors we drift
Downstream on our sturdy craft
Dreaming awake, and sift
The ripples running by.








The Gift



The gift skipped over me and went to her.
My daughter and my mother knit together,
Their foreheads furrowed in the family frown
Of concentration as the yarn unwinds.
I look up from my book to where they're sitting
Side by side on the sofa, fingers flitting
Birdlike over two fields--one purple heather,
The other pieced and plotted, cream and brown.
Rapt in their wordlessness, I set it down.
They too are reading, dreaming, left to right,
My daughter and my mother--knit together
By rows they cast and bind off, fold and fallow,
Yellow and gold, fringed purses, fingerless gloves
Threaded with lace, a worsted winter cap.
My child who loved this thing my mother loves
Even at three, when frowning on her lap
She learned to hold the needles, now can follow
Patterns and wear the scarves I left unfinished.
Over their shoulders snow is lightly falling,
True to predictions.
Somewhere, later on,
I'll watch my daughter bending in the lamplight
(Making, maybe, a sweater for her child),
And see, while squares of color blend and blur,
My mother's bent head through the lamplit window
From where I'm playing kickball on the lawn,
The skein of time still seeming undiminished,
And she not gone.



AUTHOR BIO

A native of Buffalo, New York, Catherine Tufariello received a B.A. in English from SUNY Buffalo and a Ph.D. from Cornell University, where she specialized in nineteenth-century American poetry. She has published two chapbooks and one full-length collection, Keeping My Name (Texas Tech, 2004), which was a finalist for a 2005 Los Angeles Times Book Prize and winner of the 2006 Poets' Prize. Her poems have recently appeared in Able Muse, The Dark Horse, Light Quarterly, and The Nervous Breakdown. A staff member of the Project on Civic Reflection at Valparaiso University, Catherine lives in Valparaiso, Indiana, with her husband and daughter.
POETRY CONTRIBUTORS

Taylor Altman

Barb Crane

Janann Dawkins

Rose Kelleher

Athena Kildegaard

Jean L. Kreiling

Barbara Loots

Susan McLean

Mary Meriam

Annabelle Moseley

Wendy Sloan

Janice D. Soderling

Alison Talbott

Catherine Tufariello

Deborah Warren

Joyce Wilson

Marly Youmans

AWP, Washington, D.C.
The Mezzo Cammin Women Poets Timeline Project
(Anna Evans, Kim Bridgford, Erica Dawson, Jehanne Dubrow, Kathrine Varnes)
Room: Virginia A
Marriott Wardman Park
Lobby Level
Saturday, February 5
10:30-11:45 AM

Fifth-Anniversary MC Reading
West Chester University Poetry Conference
Friday, June 10
8:15 AM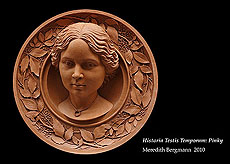 Meredith Bergmann: An artist's statement is a formal thing--not written out in lines, but still constrained in length, and more particularly, tone. One should assert one's strategies, and boast about creative mischief. (Dithering is better done in verse.) But I'm restrained by wanting you to find out on your own what tickles me, and what moves me the most.

I sometimes doubt that humor really heals. Perhaps I want to wound instead, to wake; to wrong what may too easily be right. I love how sudden recognition feels, and play with that in everything I make--as in my second sonnet for this site.