Doris Watts






Something for My Mother-in-Law



She had this way that made me want to tell
her everything—and that was even when
I knew I would regret it later on.

She knew it too. She'd sigh and say, "I just
can't stand to think there's something happening,
and I don't know." I'd hurry to confide
those things I'd told myself I'd never tell.

A simple lunch with her, and I'd become
a shameless gossip eager to tell all,
so ready to confess my secrets, faults,
and sins—and those of others just as well.

Now visiting her grave—and she's long gone—
I'm still compelled to find something to tell—
to please her, see her nod, "Well! I thought so."



See a Penny



She always claimed, in spite of all the odds,
that life would be a fairy tale. She knew,
she said, that men preferred the pretty blondes,
that handsome heroes always came to rescue
damsels in distress, the shoe would be her size,
she'd find the prince someday—and even more—
the man who brings the giant sweepstakes prize
would any minute knock at her front door.

The fact that things did not work out for her
is really no concern for she's still sure
that there is just some glitch in "meant-to-be."
For now at least, there is the lottery,
let's make a deal, a car behind door three.
Optimism (aren't we glad?) has no real cure.




AUTHOR BIO
Doris Watts lives in Temecula, California. She is a graduate of the University of Redlands and of San Diego State University where she completed a special major master's degree in technical communication. Her work has appeared in The Formalist, Mezzo Cammin, 14x14, Blue Unicorn, The Lyric, Autumn Sky Daily and is forthcoming in Able Muse.
POETRY CONTRIBUTORS

Sylvia Ashby

Jane Blanchard

Barbara Crooker

Lisa DeSiro

Nicole Caruso Garcia

Andrea Hackbarth

Kathryn Jacobs

Mina Le

Charlotte Mandel

Libby Maxey

Joan Mazza

Susan McLean

Sally Nacker

Janice D. Soderling

Myrna Stone

Wendy Videlock

Doris Watts

Marly Youmans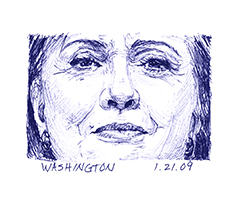 Mary Temple has lived and worked in Brooklyn, New York for the past 20 years. She moved to the borough after completing her MFA in painting and drawing at Arizona State University. She then went on to study at Skowhegan School of Painting and Sculpture in 1999.

Mary Temple has exhibited her work throughout the US and abroad. The artist has completed commissioned projects at the San Francisco Museum of Modern Art, SF, CA; SculptureCenter, LIC, Queens, NY; Massachusetts Museum of Contemporary Art, North Adams, MA; The Aldrich Contemporary Art Museum, Ridgefield, CT; Rice Gallery, Houston, TX; Western Bridge, Seattle, WA; The Drawing Center, NY; UCSF Mission Bay Medical Center; The Bunkamura Museum, Tokyo, Japan; NYU Abu Dhabi, among many other venues. Her work has been reviewed in publications including, The New York Times, Artforum, ArtNews and Art in America. This year the artist will complete major public projects for the City of New York's Percent for Arts program, at the historic landmark site, McCarren Pool in Williamsburg, Brooklyn as well as at Boston's Brigham and Women's Hospital's new wing, The Building for a Better Future.

You can view more work from this series and others at Temple's website: marytemple.com.