Libby Maxey






Keeping on Nodding Terms



1.
Thoughts on Nietzsche During Palm Sunday Mass
(Age 18)

You say I worship hatred's progeny,
And see in every act of Christian love
The work of selfish hands in selfless gloves.
Too well I know my own duplicity.
You scorn my humble penitence and damn
The self-inflicted wounds by which I gain
The masochistic pleasure of my pain
To compensate for loathing what I am.
It sickens you to contemplate the ills
That I have made my own. But I am sick
At them as well. I long to justify
The weakness which condemns what nature wills,
But sink beneath my guilt, now doubly thick,
And prove your words in wanting to deny.

2.
Thoughts for My 18-Year-Old Self
(Age 38

Two decades spent and still we write our verse
Epistles to these second persons who
Do not collect their mail. I'll reimburse
You with these lines for all their overdue
Replies. Since Nietzsche wouldn't, I'll applaud
Your will to power. No mawkish counterpoise,
No teenage bluster sure of its reward,
No playbook bluff in someone else's voice;
Just knowing all the pieces on the board.
I wonder, could I write you better now
Than you did then? There'd be a little more
Enjambment, certainly. But shame, and how
You peel it, seed it, cut it from the core
And smooth it through a literary mill
Would be the same: I am your codicil.



Chamber Odyssey



Penelope kept busy, never sure,
But keeping faith in hand, her artful act
Of love each day the same, she would endure
The years of pushing love away—exact
Her warp and weft and smooth the shroud with which
She did conceal her heart. What did she weave
And furtively destroy by night? What rich
Depictions, true yet crafted to deceive?
What longing, what eviscerating dread,
What hope appalling, anguish unconfessed?
No vestige whispered through the finished threads,
No layered paint, no scoured palimpsest—
Propriety laid down on smothered fire—
To leave a telling shadow of desire.



AUTHOR BIO
Libby Maxey has a master's degree in Medieval Studies and works as a freelance editor. She is on staff at the online journal Literary Mama, which has also published her poetry. Other work has appeared in The Mom Egg Review, Brain of Forgetting, Off the Coast and Tule Review. Her non-literary activities include singing classical repertoire and mothering two sons.
POETRY CONTRIBUTORS

Sylvia Ashby

Jane Blanchard

Barbara Crooker

Lisa DeSiro

Nicole Caruso Garcia

Andrea Hackbarth

Kathryn Jacobs

Mina Le

Charlotte Mandel

Libby Maxey

Joan Mazza

Susan McLean

Sally Nacker

Janice D. Soderling

Myrna Stone

Wendy Videlock

Doris Watts

Marly Youmans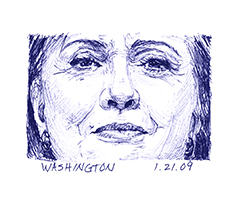 Mary Temple has lived and worked in Brooklyn, New York for the past 20 years. She moved to the borough after completing her MFA in painting and drawing at Arizona State University. She then went on to study at Skowhegan School of Painting and Sculpture in 1999.

Mary Temple has exhibited her work throughout the US and abroad. The artist has completed commissioned projects at the San Francisco Museum of Modern Art, SF, CA; SculptureCenter, LIC, Queens, NY; Massachusetts Museum of Contemporary Art, North Adams, MA; The Aldrich Contemporary Art Museum, Ridgefield, CT; Rice Gallery, Houston, TX; Western Bridge, Seattle, WA; The Drawing Center, NY; UCSF Mission Bay Medical Center; The Bunkamura Museum, Tokyo, Japan; NYU Abu Dhabi, among many other venues. Her work has been reviewed in publications including, The New York Times, Artforum, ArtNews and Art in America. This year the artist will complete major public projects for the City of New York's Percent for Arts program, at the historic landmark site, McCarren Pool in Williamsburg, Brooklyn as well as at Boston's Brigham and Women's Hospital's new wing, The Building for a Better Future.

You can view more work from this series and others at Temple's website: marytemple.com.