Jane Blanchard






Writer's Retreat



Rising early, donning ready sneakers,
down four sets of stairs she steps to reach the
parking lot, another to the beach, a
route accommodating ocean seekers.

After breakfast, plus a quarter-liter-
cola, she relaxes for an hour
on the Web, then minutes in the shower,
draining condo's meager water heater.

Housework goes so quickly that it borders
on compulsion, but the television's
interruptions do delay decisions:
when and where and what for take-out orders.

All poetic efforts yield such bad rhyme
that she wonders whether just to head home
(without finishing a must-be-read tome)
or to settle for advancing bedtime.

Inspiration can be quite elusive
when a writer tries to be reclusive.



Query



I do not mean to cause a fuss,
But I am rather curious:

Dear poet, why a pseudonym?
Who dares to let "her" pose as "him"?

In case of the reverse, should "he"
Assume the right to write as "she"?

Or have you kept the sex the same,
While using quite a different name,

Perhaps arranging letters so
Their source a reader may not know?

What motivates this common ploy
That makes identity a toy?

How can I take you seriously
When you play such a game with me?




AUTHOR BIO
Jane Blanchard divides her time between Augusta and Saint Simon's Island, Georgia. She is looking forward to attending the Sewanee Writers' Conference again this summer. Her poetry has appeared previously in Mezzo Cammin and recently in Calamaro, The Dark Horse, The Lyric, The Rotary Dial, and U.S.1 Worksheets. Her first collection Unloosed is available from White Violet Press of Kelsay Books.
POETRY CONTRIBUTORS

Sylvia Ashby

Jane Blanchard

Barbara Crooker

Lisa DeSiro

Nicole Caruso Garcia

Andrea Hackbarth

Kathryn Jacobs

Mina Le

Charlotte Mandel

Libby Maxey

Joan Mazza

Susan McLean

Sally Nacker

Janice D. Soderling

Myrna Stone

Wendy Videlock

Doris Watts

Marly Youmans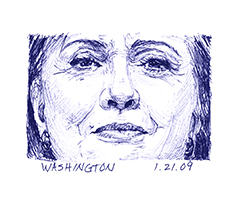 Mary Temple has lived and worked in Brooklyn, New York for the past 20 years. She moved to the borough after completing her MFA in painting and drawing at Arizona State University. She then went on to study at Skowhegan School of Painting and Sculpture in 1999.

Mary Temple has exhibited her work throughout the US and abroad. The artist has completed commissioned projects at the San Francisco Museum of Modern Art, SF, CA; SculptureCenter, LIC, Queens, NY; Massachusetts Museum of Contemporary Art, North Adams, MA; The Aldrich Contemporary Art Museum, Ridgefield, CT; Rice Gallery, Houston, TX; Western Bridge, Seattle, WA; The Drawing Center, NY; UCSF Mission Bay Medical Center; The Bunkamura Museum, Tokyo, Japan; NYU Abu Dhabi, among many other venues. Her work has been reviewed in publications including, The New York Times, Artforum, ArtNews and Art in America. This year the artist will complete major public projects for the City of New York's Percent for Arts program, at the historic landmark site, McCarren Pool in Williamsburg, Brooklyn as well as at Boston's Brigham and Women's Hospital's new wing, The Building for a Better Future.

You can view more work from this series and others at Temple's website: marytemple.com.