Janice D. Soderling






Lord Randall Redux: The Back Story



What did he give you, your chivalrous lover?
What did you give him, the lordly lad?
He gave me his pledge, so beautifully spoken.
I gave him my ribbons, velvet and red.

What did he give you, your dark-haired suitor?
What did you give him, your own true love?
He gave me a promise, so easily broken.
I gave him my hand in its lily white glove.

What did he give you, your bold young sweetheart?
What did you give him, so well-born and bred?
I gave him my laces, I gave him my buttons.
He gave me his shoulder to pillow my head.

What did he give you, your courteous lover?
What did you give him, your own dear boy?
He gave me sweet kisses, but made me return them.
I gave him my honor, and all of my joy.

What did he give you, your dashing young lover?
What did he give you, your gentleman proud?
He gave me a bed in the moss of the forest.
He gave me this baby, squalling and loud.

What did you give him, your false, faithless lover?
When he came a-hunting with hawk and with hound?
I fried him hot eels, each seasoned with larkspur
and soon we'll all three lie cold under the ground.



War Bride



Most all are dead, those foreign, fearful-eyed,
imported wives of World War Two. Our own
Lady Betty, as they called her with a groan,
arrived expectantly with babe, stateside.
No one would tell her straight out he had lied.
A former POW, he had flown
his missions, been shot down, escaped, was known
as hero. And a family has its pride.
However small her expectations were,
they were too grand. From Baptist house to house
(in-laws and charity), with brave hauteur
she moved. He was a decorated louse
and went on to have many other wives.
And her? A footnote in our rural lives.



AUTHOR BIO
Janice D. Soderling has published over three hundred and thirty poems, stories and translations in international journals. Recent and forthcoming work is at The Ekphrastic Review, Asses of Parnassus, Boston Literary Magazine's "Best of Antholog," The Great American Wise Ass Poetry Anthology, and Modern Poetry in Translation. Her chapbook ms. Political Woman was honorably noted by Minerva Rising.
POETRY CONTRIBUTORS

Sylvia Ashby

Jane Blanchard

Barbara Crooker

Lisa DeSiro

Nicole Caruso Garcia

Andrea Hackbarth

Kathryn Jacobs

Mina Le

Charlotte Mandel

Libby Maxey

Joan Mazza

Susan McLean

Sally Nacker

Janice D. Soderling

Myrna Stone

Wendy Videlock

Doris Watts

Marly Youmans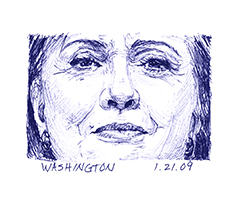 Mary Temple has lived and worked in Brooklyn, New York for the past 20 years. She moved to the borough after completing her MFA in painting and drawing at Arizona State University. She then went on to study at Skowhegan School of Painting and Sculpture in 1999.

Mary Temple has exhibited her work throughout the US and abroad. The artist has completed commissioned projects at the San Francisco Museum of Modern Art, SF, CA; SculptureCenter, LIC, Queens, NY; Massachusetts Museum of Contemporary Art, North Adams, MA; The Aldrich Contemporary Art Museum, Ridgefield, CT; Rice Gallery, Houston, TX; Western Bridge, Seattle, WA; The Drawing Center, NY; UCSF Mission Bay Medical Center; The Bunkamura Museum, Tokyo, Japan; NYU Abu Dhabi, among many other venues. Her work has been reviewed in publications including, The New York Times, Artforum, ArtNews and Art in America. This year the artist will complete major public projects for the City of New York's Percent for Arts program, at the historic landmark site, McCarren Pool in Williamsburg, Brooklyn as well as at Boston's Brigham and Women's Hospital's new wing, The Building for a Better Future.

You can view more work from this series and others at Temple's website: marytemple.com.