Wendy Videlock






If You Should See



If you should see the man I knew
you needn't say my name aloud
nor ask him why the white duck flew,

or what the water flower knows.
Do not sing, to break his mood.
Don't offer him the mountain rose.

The aster and the the muted bird,
the dress that's slowly lifted off—
don't mention these. Say not a word

of innocence or blue canoes.
These things are mine, not his to lose.



Words



Words,
we do not listen to you.

Last night the moon, as usual
has managed all there is to say
of change and how it goes and goes.

This is the kind of aloneness only
a mother knows.



The World Is Old



The world is old
and we are old,

and how—

patience, sister,
we
are the elders now.



The Lebanese Woman Speaks



I speak cat.

If
you don't know that
if you're inclined
think Persian wine,
think mosque and shroud
and dune and hand
and feline as
the features of
the land of sand.
Or go with crow
or mourning dove,
or Prussian blue.
I speak those, too.





AUTHOR BIO
Wendy Videlock lives on the western slope of the Colorado Rockies. Her work has appeared widely, most notably in Poetry, Hudson Review, The New York Times, The New Criterion, Quadrant, and Rattle. Her books, Nevertheless, The Dark Gnu (an illustrated children's book), and Slingshots & Love Plums are published by, and available from Able Muse Press. To see more of Wendy's work please visit nutshell-wendy.blogspot.com.
POETRY CONTRIBUTORS

Sylvia Ashby

Jane Blanchard

Barbara Crooker

Lisa DeSiro

Nicole Caruso Garcia

Andrea Hackbarth

Kathryn Jacobs

Mina Le

Charlotte Mandel

Libby Maxey

Joan Mazza

Susan McLean

Sally Nacker

Janice D. Soderling

Myrna Stone

Wendy Videlock

Doris Watts

Marly Youmans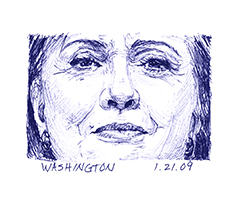 Mary Temple has lived and worked in Brooklyn, New York for the past 20 years. She moved to the borough after completing her MFA in painting and drawing at Arizona State University. She then went on to study at Skowhegan School of Painting and Sculpture in 1999.

Mary Temple has exhibited her work throughout the US and abroad. The artist has completed commissioned projects at the San Francisco Museum of Modern Art, SF, CA; SculptureCenter, LIC, Queens, NY; Massachusetts Museum of Contemporary Art, North Adams, MA; The Aldrich Contemporary Art Museum, Ridgefield, CT; Rice Gallery, Houston, TX; Western Bridge, Seattle, WA; The Drawing Center, NY; UCSF Mission Bay Medical Center; The Bunkamura Museum, Tokyo, Japan; NYU Abu Dhabi, among many other venues. Her work has been reviewed in publications including, The New York Times, Artforum, ArtNews and Art in America. This year the artist will complete major public projects for the City of New York's Percent for Arts program, at the historic landmark site, McCarren Pool in Williamsburg, Brooklyn as well as at Boston's Brigham and Women's Hospital's new wing, The Building for a Better Future.

You can view more work from this series and others at Temple's website: marytemple.com.