Charlotte Mandel






Topiary



Old age insinuates, murmurs, "you, there"
ignored until dormant calendar days
have rooted a tangled briar of years.
Gardener, you designed this evergreen maze:
your scissors sculpted shrubs in shapes of deer,
flamenco dancer with skirt flare ablaze,

The playful twinning blades clicked free of rust,
planned entrances, exits for rendezvous.
Children called one another's names to test
sudden blank corners and deceptive clues.
Now shadow rises, green walls fuse. Stay. Trust

to a low lulling summons where you stand,
the iron shears seized by another's hand.



The Waiting Room





i


Time is a space you inhabit from birth
gravity-held, upright on a ball named Earth.
No receptionist clerk to say "proceed
to the next chamber." If shuffling forms, she'd
not be looking for your name in her file.
You've been brought down a mysterious aisle
blank in memory, cradled, and let go,
arms flailing for balance, to undergo
some sort of initiation, enrolled
as human in transit, crossings foretold.
Gifted with talent to wonder, daylong
you strive for answers, the right to belong.
Desire's lever spins your daily round
in limbo, neither hell nor heaven bound.



ii


In limbo, neither hell nor heaven bound
I live alone, other elder folks surrounding.
Some bend over walkers, a few ride bikes,
pedaling up/down hill to scenic lakes.
For me, the past ever part of today,
flashbacks superimpose, dissolve. The play
of images disturbs, amuses, soothes.
So many years tumbling by, I tend to lose
track of calendar lines, weekday/weekend?
Someone cooks my meals, no one reprimands
memory lapse. Bodily needs constrain—
obey the autocracy of what sustains.
Doctors' names pinpoint the zodiac wheel.
Time is on hold. Waiting, the hours congeal.



iii


Never on hold, time is liquid. We fill
hollows of loss with requiem. My call
to Jack, his birthday, one hundred and five,
reverberates as though he were alive.
Voice lowered in pitch, his words vibrated
rich with images of news we'd debated,
history now, but that we had breathed
day by day like living cells in a world seething
with change. Applauding truths, rejecting lies,
gleeful to argue when opposing sides.
In a space far from calendars and clocks
our spoken words bide as in a mailbox
storing letters I can unfold at will.
Remembrance moves us on while standing still.



iv


We traverse in orbit while standing still,
the language of friendship a versatile
source of motion like an improvised dance
to a tune well-known, overheard by chance.
I dream of riding on a carousel
the unicorn my favorite steed. Bells
signal time to stop but I hug my mount,
flap the reins, sure I will never dismount.
Do I write this requiem while reaching
to hold hands with the mirror? Do I preach
to a cloned congregation of myself?
The minute hand's my second on the shelf.
Bless those we love with generous sun and rain
that life on earth be safely preordained.



v


Which acts in life are free or preordained?
Halls echo as you wait to be arraigned,
not certain if a court or judge exists,
your words mouthed by a skilled ventriloquist.
Take corridor left, right or straight ahead—
no matter—aging in place, green lights turn red.
Dreams spawn in daylight, flourish in the dark,
leave traces at dawn like a pale watermark
blur under scribbles of conscious thought.
The most trivial choice leaves you distraught.
On sidewalks you dare not step on a crack—
the ground may quake, slide, seal a cul-de-sac.
Stop: breathe: fragrance, a blossoming garden.
Lyrical birdsong signifies pardon.



vi


Trills and chirps sound temporary pardon.
Seasons veer. Tree bark hardens
to survive. Roaring snowmobiles motor
over ice-glazed surfaces of water.
For some, danger is a goad to pleasure,
defeating men and nature at one measure,
triumphal race to an opposite shore.
Mine is the path of caution—lock my door
against thieves, an umbrella or sunscreen
to placate all elements unforeseen.
My city grants privacy amid the crowd,
human hubbub surrounds, voices loud
on cell phones as though no one's in sight.
Blinking lights map a jagged skyline at night.



vii


Blinking lights map a jagged skyline. Night
unlocks theatres, celebrants converge. Starlight
dims in neon dazzle. Rhinestone stilettos
tap, rubber soles swish, leather drums. Solo
among thousands, you feel safely ensconced
in a weave of intrinsic response
to kinship. World count totals seven billion,
swelling despite slaughter of civilians
and so-called biblical-size disasters.
Part of a puzzle yet to be mastered,
stay patient, your destination's right here,
not in planetary realms. Our frontier
is bounded by water, sky, rock and earth:
time is a space you inhabit from birth.




AUTHOR BIO
Charlotte Mandel's ninth book of poetry, Through a Garden Gate with color photographs by Vincent Covello, is published by David Robert Books. Previous titles include Life Work, and two poem-novellas of feminist biblical revision—The Life of Mary and The Marriages of Jacob. Her awards include the New Jersey Poets Prize and two fellowships in poetry from New Jersey State Council on the Arts. She edited the Eileen W. Barnes Award Anthology, Saturday's Women. Critical essays include articles on the role of cinema in the life and work of H.D., as well as studies of Muriel Rukeyser, May Sarton and others. Visit her at www.charlottemandel.com.
POETRY CONTRIBUTORS

Sylvia Ashby

Jane Blanchard

Barbara Crooker

Lisa DeSiro

Nicole Caruso Garcia

Andrea Hackbarth

Kathryn Jacobs

Mina Le

Charlotte Mandel

Libby Maxey

Joan Mazza

Susan McLean

Sally Nacker

Janice D. Soderling

Myrna Stone

Wendy Videlock

Doris Watts

Marly Youmans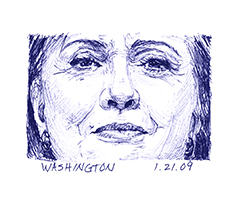 Mary Temple has lived and worked in Brooklyn, New York for the past 20 years. She moved to the borough after completing her MFA in painting and drawing at Arizona State University. She then went on to study at Skowhegan School of Painting and Sculpture in 1999.

Mary Temple has exhibited her work throughout the US and abroad. The artist has completed commissioned projects at the San Francisco Museum of Modern Art, SF, CA; SculptureCenter, LIC, Queens, NY; Massachusetts Museum of Contemporary Art, North Adams, MA; The Aldrich Contemporary Art Museum, Ridgefield, CT; Rice Gallery, Houston, TX; Western Bridge, Seattle, WA; The Drawing Center, NY; UCSF Mission Bay Medical Center; The Bunkamura Museum, Tokyo, Japan; NYU Abu Dhabi, among many other venues. Her work has been reviewed in publications including, The New York Times, Artforum, ArtNews and Art in America. This year the artist will complete major public projects for the City of New York's Percent for Arts program, at the historic landmark site, McCarren Pool in Williamsburg, Brooklyn as well as at Boston's Brigham and Women's Hospital's new wing, The Building for a Better Future.

You can view more work from this series and others at Temple's website: marytemple.com.