Kathryn Jacobs






Summer Sublet



In Florence locals rent out niches, squeezed,
on the periphery of glorious:
a fringe of clay pot roof-tops, doughnut-ringed
around the Great Bronze Doors.

It's Italy,
which means the window's open. And the men
whose chairs just fit on stamp-sized balconies
can scrutinize your bedroom perfectly

with every puff—which bothers nobody;
discretion is a foreign luxury
in that cascading water city ringed,
no, beaded with piazzas.

Water spills
from every byway, flowing wastefully
(this city has no off-switch)

but that means
that residents can fill their jugs for free,
the Central Market hums, and nobody

can comprehend the word "community"
the way they do in Florence—



Invitation



A granulated, coffee-colored trail
with lemon-ginger spruce trees. Okay, bugs;
I never promised perfect. But the beech
have stitched themselves together in brocades,
and every inch of under is a mat
of overly ambitious fingerlings
coniferously new, and basking in
incipient enormous—

just like us.

Or you might like the birches, which drop peels
like unread scrolls with brittle messages;
I'll save some for you.

And when evening comes
we can unfurl them slowly till they break
like overburdened book spines, and then burn
with resinous explosions
(I like fires);

and if the fire is hot enough, we'll coax
the spruce-cones into burning; spruce-cone ash
stays resolutely cone-shaped,
unlike us.

It doesn't have to be forever. Call—




AUTHOR BIO
Kathryn Jacobs is a professor, poet and Managing Editor of The Road Not Taken, A Journal of Formal Poetry. Wedged Elephant, her fifth book of poetry, was published this year by Karen Kelsay Press. Previous work includes In Transit (David Roberts Books),twenty articles on everything from poetry, to Chaucer, to Shakespeare, and over two hundred individual poems in Mezzo Cammin, Measure, The New Formalist, etc.
POETRY CONTRIBUTORS

Sylvia Ashby

Jane Blanchard

Barbara Crooker

Lisa DeSiro

Nicole Caruso Garcia

Andrea Hackbarth

Kathryn Jacobs

Mina Le

Charlotte Mandel

Libby Maxey

Joan Mazza

Susan McLean

Sally Nacker

Janice D. Soderling

Myrna Stone

Wendy Videlock

Doris Watts

Marly Youmans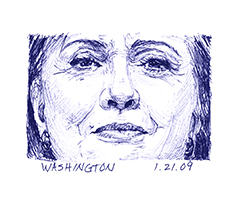 Mary Temple has lived and worked in Brooklyn, New York for the past 20 years. She moved to the borough after completing her MFA in painting and drawing at Arizona State University. She then went on to study at Skowhegan School of Painting and Sculpture in 1999.

Mary Temple has exhibited her work throughout the US and abroad. The artist has completed commissioned projects at the San Francisco Museum of Modern Art, SF, CA; SculptureCenter, LIC, Queens, NY; Massachusetts Museum of Contemporary Art, North Adams, MA; The Aldrich Contemporary Art Museum, Ridgefield, CT; Rice Gallery, Houston, TX; Western Bridge, Seattle, WA; The Drawing Center, NY; UCSF Mission Bay Medical Center; The Bunkamura Museum, Tokyo, Japan; NYU Abu Dhabi, among many other venues. Her work has been reviewed in publications including, The New York Times, Artforum, ArtNews and Art in America. This year the artist will complete major public projects for the City of New York's Percent for Arts program, at the historic landmark site, McCarren Pool in Williamsburg, Brooklyn as well as at Boston's Brigham and Women's Hospital's new wing, The Building for a Better Future.

You can view more work from this series and others at Temple's website: marytemple.com.