Nicole Caruso Garcia






Harvest Moon



When or if or soon, will we be? Aloof, yet
Like a chrome oasis, your white-hot neon
'O' says, Though the heavens are dark and silent,
Come, I am OPEN.

See my face aglow with your glowing. Are you
Out of reach? You borrow and pinball sunbeams;
I am bells bells bells at your touchless touch, through
Miles of midnight.

Let me taste you, golden-white apple, swollen
In the night's cool basin. Like saints, we linger
Brow to brow within a confessional of
Trees. Won't you tell me?

I could grasp a blemish of stars like scattered
Jacks, yet were I able to coax you down from
Orbit, I would not give you back. Your tranquil
Sea and this fever.



Barren



Only
a five-pound sack
of flour in her arms
as children sled and laugh beyond
bare trees.




AUTHOR BIO
Nicole Caruso Garcia's poetry has appeared in Measure, 823 on High, The Raintown Review, Antiphon, Frogpond, The HyperTexts, Sow's Ear, Soundings East, The Ledge, the anthology Mother is a Verb, and elsewhere. She is a past winner of the Willow Review Award. She lives in Connecticut, where she teaches Poetry and Creative Writing at Trumbull High School. If you liked her poems in this issue, you can seek her out in editions of the online journals Antiphon, The HyperTexts, or Mezzo Cammin.
POETRY CONTRIBUTORS

Sylvia Ashby

Jane Blanchard

Barbara Crooker

Lisa DeSiro

Nicole Caruso Garcia

Andrea Hackbarth

Kathryn Jacobs

Mina Le

Charlotte Mandel

Libby Maxey

Joan Mazza

Susan McLean

Sally Nacker

Janice D. Soderling

Myrna Stone

Wendy Videlock

Doris Watts

Marly Youmans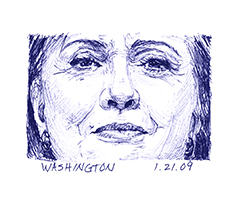 Mary Temple has lived and worked in Brooklyn, New York for the past 20 years. She moved to the borough after completing her MFA in painting and drawing at Arizona State University. She then went on to study at Skowhegan School of Painting and Sculpture in 1999.

Mary Temple has exhibited her work throughout the US and abroad. The artist has completed commissioned projects at the San Francisco Museum of Modern Art, SF, CA; SculptureCenter, LIC, Queens, NY; Massachusetts Museum of Contemporary Art, North Adams, MA; The Aldrich Contemporary Art Museum, Ridgefield, CT; Rice Gallery, Houston, TX; Western Bridge, Seattle, WA; The Drawing Center, NY; UCSF Mission Bay Medical Center; The Bunkamura Museum, Tokyo, Japan; NYU Abu Dhabi, among many other venues. Her work has been reviewed in publications including, The New York Times, Artforum, ArtNews and Art in America. This year the artist will complete major public projects for the City of New York's Percent for Arts program, at the historic landmark site, McCarren Pool in Williamsburg, Brooklyn as well as at Boston's Brigham and Women's Hospital's new wing, The Building for a Better Future.

You can view more work from this series and others at Temple's website: marytemple.com.