elcome to Mezzo Cammin, a web journal devoted to formal poetry by women. Publishing twice a year, Mezzo Cammin features poems in form by contemporary women writers; reviews of new books by and about women poets who work in form; and essays that explore a variety of topics, ranging from the accomplishments of a particular poet, to the possibilities of a particular form and the history and politics of canonization. Our journal aims not only to promote the work of contemporary women poets, but also to expose readers to formal poetry by women poets who may once have been well-known, but whose writing may now be difficult to find due to its lack of inclusion in anthologies, books falling out of print, and the tendency that still persists in academia of choosing the work of male poets to define a given era or literary style.
| | | |
| --- | --- | --- |
| | Our journal aims not only to promote the work of contemporary women poets, but also to expose readers to formal poetry by women poets who may once have been well-known, but whose writing may now be difficult to find. | |
We will therefore devote the essays section once a year to celebrating the achievement of a woman poet whose work deserves wider recognition. We are also starting a women poets timeline, known as "The Timeline Project," which will eventually be the largest database devoted to women's poetry in the world. We welcome suggestions concerning this timeline as well as contributions to it.

Our journal's title, Mezzo Cammin, derives most recognizably from the opening line of Dante's Inferno; more immediately, however, we borrow it from "Mezzo Cammin" by Judith Moffett (who, in turn, derived her title and theme from Longfellow as well as from Dante). Moffett's satirical, twenty-three stanza poem about reaching middle age inspires not only through her dexterity in working with rhyme and meter, but leads us to hope, as well, that controversies about how to define "form" have, at last, ripened to middle age. We at Mezzo Cammin therefore expect to take a middle path in our understanding of form by not limiting our definition to "poems written in rhyme, traditional stanza forms, and conventional rhyme and meter." Although such poems will likely predominate in the journal, especially in its early issues, we encourage submissions of poetry, essays, and reviews in which form is understood more liberally, as encompassing a repeatable pattern, of any sort, within a poem. In particular, we believe that women poets, as literary outsiders, have through the centuries been adept at playing with form; a tendency which, as in the case of Emily Dickinson, has sometimes led their work to be viewed skeptically, if at all, by the literary mainstream. At Mezzo Cammin, we hope to explore the variety of formal approaches taken by women writers and to recognize that "experimentation" in poetry is not limited to free verse, but flourishes equally well through poets' innovative handling of forms of repetition.


ADVISORY BOARD & STAFF
Advisory Board
Debra Bruce
Annie Finch
Allison Joseph
Marilyn Nelson
Molly Peacock
Kathrine Varnes

Staff
Kim Bridgford, Editor
Anna M. Evans, Design & Technical Editor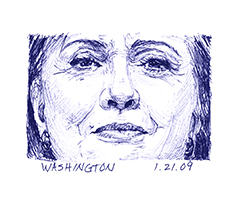 Mary Temple has lived and worked in Brooklyn, New York for the past 20 years. She moved to the borough after completing her MFA in painting and drawing at Arizona State University. She then went on to study at Skowhegan School of Painting and Sculpture in 1999.

Mary Temple has exhibited her work throughout the US and abroad. The artist has completed commissioned projects at the San Francisco Museum of Modern Art, SF, CA; SculptureCenter, LIC, Queens, NY; Massachusetts Museum of Contemporary Art, North Adams, MA; The Aldrich Contemporary Art Museum, Ridgefield, CT; Rice Gallery, Houston, TX; Western Bridge, Seattle, WA; The Drawing Center, NY; UCSF Mission Bay Medical Center; The Bunkamura Museum, Tokyo, Japan; NYU Abu Dhabi, among many other venues. Her work has been reviewed in publications including, The New York Times, Artforum, ArtNews and Art in America. This year the artist will complete major public projects for the City of New York's Percent for Arts program, at the historic landmark site, McCarren Pool in Williamsburg, Brooklyn as well as at Boston's Brigham and Women's Hospital's new wing, The Building for a Better Future.

You can view more work from this series and others at Temple's website: marytemple.com.