Marly Youmans






Portrait of Carolyn Wyeth with Leaves



Leaves moving in the evening light and air—
Some are lit from within, irregular
Green pages scribbled on by small insects,
The thinnest lanterns, glowing, wavering,
And then at once falling still—
Until the air between the leaves flickers,
Setting the bright isinglass chandelier
Awry, each leaf chatting with another,
Complicating negative space with talk,
The shadows making a play on the trunk
That rests its own long shadow on the grass.

Just paint the mystery, your father said;
Just paint the light and air around the thing.
And you, bearing up under loneliness,
Claiming for yourself its power to make
You into something rare and strange, your veins
Caressed by mystery of light and air.








Bride, with Magnolia Blossom



The piano-and-fiddle tune is faint,
As light as eyes in the daguerreotype…
And is it time that makes blue eyes so mild,
Long before my birth, before your children,
Before Depression years could steal the farm?
I never knew your lips this way, so full
And curling, and the brows made arched like mine.
There, next to him, you are the miracle
Of milliner's and needlewoman's art,
Your own, the wedding dress elaborately
Stitched and tucked, with handmade lace and high neck
And a choker of pearls, a cap of buds
Anchoring a cloud-drift of floating tulle.
You are barely more than a child, but you
Will need to be valiant. Much lies ahead,
Nights with a gun and baby on your lap,
Undaunted by intruders in the wild…
But at rightest now you are the Virgin
Of the Magnolias, and the immense
Bouquet you hold is still a stainless white.








My Lover Sang to Me



He sang a ballad in my ear;
Song echoed like a shell.
Waves were colored abalone
By the evening's spell.

He had no voice to sing, so sang
Waveringly, and yet
Sung sorrow made me fear the death
Of love: then, to forget!

Spirits of mist whirled on the waves,
Ignorant of my fear,
The sky was mother to a pearl,
Trembling like a tear.

The hours have folded like a fan;
Sea's hidden, song scattered.
Husband, sing to me of days when
Love was all that mattered.








The Dream of the King's Clothes



Seven years we toiled, collecting the orb
Spiders at dawn, coaxing the spinnerets
To harvest gold—leaving our homes in youth,
Journeying to far Madagascar—
All those years to release and reel the thread,
And then to weave the cloth for cloak and vest
And to embroider it with spider silk
In arabesques, with flowers and spiders
Floating on a gold so rich it might be
Paradise. Seven years. Our children
Were tall and married when we sailed for home,
And hardly knew our faces. But the cloak
And vest shone on a stand, calling to stars
And starlight and the nurseries of stars.
Seven years more we toiled to make the shirt,
Coaxing dream silk from the hair of infants,
Rubbing our eyes, seldom sleeping, spinning
The silk into a faintly luminous
Twist so fine we could hardly see to thread
The big twelve-harness loom. Seven years more
We paid as a fee to Faerie, coming
And going in the hollow hill and not
Sinking our mouths in the flushed, heaped-up fruits—
All except the spinner Fendrel, riding
A white horse with the Queen of Faerie Land,
Who may have gone the way of beauty's men,
A tenth-year tithe paid by the Queen to Hell.
We watched the ferly flax go yellowing,
And under the full moon at Lammastide,
We pulled the yellowed leaves of flax by hand
And wielded swingle and the heckling comb.
We spun the fibers, wove on Faerie looms,
Scattered dew from a branch onto the threads
To keep the breeches from the moonlight's spell.
We crocheted socks from newborn fairy tales,
Cooler, softer than blooms. The crown, the shoes,
The jewelry wrought as if by sorcery:
All is done, and we grown old. But we are
Ready for the King. We have given all.
We hunch by the side of the road and wait,
All beauty folded, nested in our arms.








Eldest



Firstborn, strange in the womb, too-late turner, brow-positioned—
In the cathedral I wandered to the Lady Chapel
With the blue-cloak Virgin and the grave-faced baby caught
Inside an egg of gold, prickled with thorns of light,
As if waiting together to be born as something other…

First child, you who are singular, whose mind is bent
Like a different sort of bow, your thoughts arrowing elsewhere:
You leaped inside me, lurched as if in greeting,
Shocking veins to gold from inmost me to my fingertips,
As if I were a branch, breaking with rose and thorn.



AUTHOR BIO
Recent poetry books by Marly Youmans are Thaliad (Montreal: Phoenicia, 2012), The Foliate Head (UK: Stanza, 2012), and The Throne of Psyche (Mercer, 2011). Recent novels are Glimmerglass and A Death at the White Camellia Orphanage (Ferrol Sams Award, ForeWord Silver Award); forthcoming is Maze of Blood (Mercer). Find her at Marly Youmans / The Palace at 2:00 a.m..
POETRY CONTRIBUTORS

Deborah Arnold

Sylvia Ashby

Meredith Bergmann

Carol Dorf

Melanie Figg

Sophia Galifianakis

Nicole Caruso Garcia

Jennifer Glancy

Dolores Hayden

Kjerstin Kauffman

Katrina Kostro

Michele Leavitt

Susan McLean

Ann Michael

Sally Nacker

Stella Nickerson

Samantha Pious

Rita Rousseau

Renée M. Schell

Leslie Schultz

Katherine Smith

Rebecca Starks

Myrna Stone

Chelsea Woodard (Featured Poet)

Marly Youmans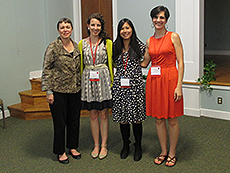 Jenna Le, Anne-Marie Thompson, and Chelsea Woodard join editor Kim Bridgford at the tenth-anniversary Mezzo Cammin panel at the Poetry by the Sea conference.
Sophia Galifianakis was the recipient of the Mezzo Cammin scholarship.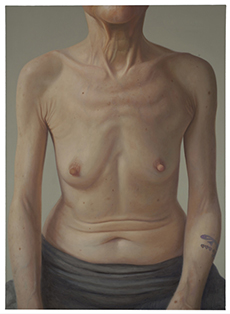 Corpus VI was formed in 2003, when six women figurative painters, who studied together at the Pennsylvania Academy of the Fine Arts, united to curate, exhibit and present our work to the public on our own terms, and launch our artistic careers. The name was chosen because it reflected our shared commitment to figurative representation. Clarity Haynes, Elena Peteva, and Suzanne Schireson were three of the founding members of the group, which organized an inaugural, self-titled show at Philadelphia's Highwire Gallery in the spring of 2005. The exhibition essay was written by Jeffrey Carr, Dean of the Pennsylvania Academy of the Fine Arts. The exhibition was very well-attended and reviewed in several art publications.

The experience of working together to successfully realize this exhibition, as well as the continuous dialogue and exchange of ideas on contemporary figuration, has proven to be greatly valuable to us. Ten years after graduating from PAFA, as our careers have taken us to different locations across the United States, three of the original members, Clarity Haynes, Suzanne Schireson, and Elena Peteva, have come together to reinvent the collective by inviting one artist each to be part of this exhibition that will begin at the New Bedford Art Museum in fall 2015 and travel to other institutions.

Holly Trostle Brigham, Stacy Latt Savage and Laurie Kaplowitz are professional figurative artists, whose strong artistic visions enrich the collective's range and explorations of contemporary representation. We are excited at the prospect of seeing our work all together in new configurations, creating new dialogues. Holly Brigham creates imaginative, narrative watercolors, which tell a feminist story, inserting her artistic persona into art historical narratives and mythologies. Laurie Kaplowitz uses textured paint to create personages that hint at the soul within, alluding to rituals of marking, scarring and adorning the body as an integral part of our human identity and presentation. Stacy Latt Savage combines figurative elements with fabricated structures and shapes to create objects that capture what it looks like to feel human and the complexities of our human condition. Clarity Haynes casts new light on ideas of beauty, femininity and embodiment through her realistic painted portraits of the female torso. Elena Peteva creates allegorical representations of our individual and social states through the human figure and subtle, charged, incomplete signs that invite the viewer's attempt for interpretation. Suzanne Schireson is influenced by her great-grandfather's autobiography as an early plastic surgeon and her paintings examine contradictions surrounding the birth of cosmetic surgery, such as the power to heal and the fostering of insecurity.