Katrina Kostro






Punica Granatum



When two girls wearing glasses turn away
as she waves frantically, Hey! Where've you been?
across the street, she wails, Swear I'm not cray—
loud car honks hit opaque French window. Thin
quick legs skip past red light.
She jerks her head,
accosts maroon alarm clock, finds clean socks.
This morning cuts ripe pomegranate, kneads
fruit leather skin. Smooth sarcotesta tread
in water bowl. White pithe floats to foam top.
Cold silver spoon scoops percolating seeds.
Two stragglers wobble, smash formica table.
Oh don't you dare tell me that I'm not stable.
Sweet juicy blood drops burst, greet eager tongue;
remembers last night's tastes when she was young.








Al Metro Sonreir



She boards the uptown A at 59th.
Black jeans, blue converse, denim jacket, hair
as dark and curly as the sea at night,
whose stars are silver rings in nose, left ear,
and bottom lip, supporting gold kazoo
and faded brown guitar. Strings curl past knobs,
they spiral round Guild head. Her nails (gold too)
pick minor E-chord notes. Eyes closed, she bobs

and sings, Llorando, siempre riendo al sol.
Her smiling cry resounds throughout the car.
This laughing gypsy, riendo sin razon.
The subway listeners smile back at her.

Her voice, sonriendo, spills like silk cordero.
Vale, she says, and gracias for dinero.








December Delivery



A fat white baby wrapped in cotton blue
upon the kitchen counter in the dark
cries out staccato signals, calling, You:
the one who made me be here. Where's the stork?

Blonde wisps of just-formed eyebrows furrow. How
does living being bundle just appear?
You've lacked libido action nine months now,
ingested pink small pill for thirteen years.

And yet in blurry shadows, infant breathes.
You creep a little closer. Tiny features.
You reach your un-ringed finger—will it teethe?
Don't know. Not ready. Wherefore newborn creatures.

Pale baby starfish-hand floats toward your breast.
Is this how fragile youth gets laid to rest?








Atargatis' Loss



The weighted woes a long-haired woman feels
when finally she dares to cut her hair:
once majestic mermaid among eels,
then suddenly androgynous, impaired.

The Barbie blondes and Cleopatra sisters—
they'll shun her now, her boobs and shoulders bare.
Before in waves her locks swirled round like twisters
but now the lack of length leaves silent air.

Her strands stretched toward eternal siren-youth
where long-haired girls twirl sections during class
and further, toward old wizened women's truth,
night witches wander through the looking glass
where old is young and lengthwise brushed away.
Tomorrow's hair grows into yesterday.



AUTHOR BIO
Katrina Kostro was born, raised, and educated on the upper-Upper West Side of New York City. She studied Art History and Psychology at Barnard College, then completed a two-year position as a clinical research coordinator at New York Presbyterian's Columbia Center for Eating Disorders in the NY State Psychiatric Institute. She composes sonnets as she sings, swims, and downward-dogs, trying to figure out the next beats of her life. Her poems have appeared in Letters to the World: Poems from the Wom-Po LISTSERV, Columbia University's literary/art journal, Tablet, and BigCityLit. She is delighted about her Mezzo Cammin debut.
POETRY CONTRIBUTORS

Deborah Arnold

Sylvia Ashby

Meredith Bergmann

Carol Dorf

Melanie Figg

Sophia Galifianakis

Nicole Caruso Garcia

Jennifer Glancy

Dolores Hayden

Kjerstin Kauffman

Katrina Kostro

Michele Leavitt

Susan McLean

Ann Michael

Sally Nacker

Stella Nickerson

Samantha Pious

Rita Rousseau

Renée M. Schell

Leslie Schultz

Katherine Smith

Rebecca Starks

Myrna Stone

Chelsea Woodard (Featured Poet)

Marly Youmans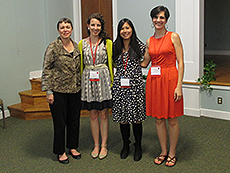 Jenna Le, Anne-Marie Thompson, and Chelsea Woodard join editor Kim Bridgford at the tenth-anniversary Mezzo Cammin panel at the Poetry by the Sea conference.
Sophia Galifianakis was the recipient of the Mezzo Cammin scholarship.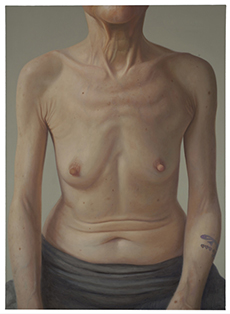 Corpus VI was formed in 2003, when six women figurative painters, who studied together at the Pennsylvania Academy of the Fine Arts, united to curate, exhibit and present our work to the public on our own terms, and launch our artistic careers. The name was chosen because it reflected our shared commitment to figurative representation. Clarity Haynes, Elena Peteva, and Suzanne Schireson were three of the founding members of the group, which organized an inaugural, self-titled show at Philadelphia's Highwire Gallery in the spring of 2005. The exhibition essay was written by Jeffrey Carr, Dean of the Pennsylvania Academy of the Fine Arts. The exhibition was very well-attended and reviewed in several art publications.

The experience of working together to successfully realize this exhibition, as well as the continuous dialogue and exchange of ideas on contemporary figuration, has proven to be greatly valuable to us. Ten years after graduating from PAFA, as our careers have taken us to different locations across the United States, three of the original members, Clarity Haynes, Suzanne Schireson, and Elena Peteva, have come together to reinvent the collective by inviting one artist each to be part of this exhibition that will begin at the New Bedford Art Museum in fall 2015 and travel to other institutions.

Holly Trostle Brigham, Stacy Latt Savage and Laurie Kaplowitz are professional figurative artists, whose strong artistic visions enrich the collective's range and explorations of contemporary representation. We are excited at the prospect of seeing our work all together in new configurations, creating new dialogues. Holly Brigham creates imaginative, narrative watercolors, which tell a feminist story, inserting her artistic persona into art historical narratives and mythologies. Laurie Kaplowitz uses textured paint to create personages that hint at the soul within, alluding to rituals of marking, scarring and adorning the body as an integral part of our human identity and presentation. Stacy Latt Savage combines figurative elements with fabricated structures and shapes to create objects that capture what it looks like to feel human and the complexities of our human condition. Clarity Haynes casts new light on ideas of beauty, femininity and embodiment through her realistic painted portraits of the female torso. Elena Peteva creates allegorical representations of our individual and social states through the human figure and subtle, charged, incomplete signs that invite the viewer's attempt for interpretation. Suzanne Schireson is influenced by her great-grandfather's autobiography as an early plastic surgeon and her paintings examine contradictions surrounding the birth of cosmetic surgery, such as the power to heal and the fostering of insecurity.