Michele Leavitt






Elegy for David



Names are only accidents—
you never stoned Goliath.
From the back seat of our sister's sedan,
you said our mother left

her secrets to you, and only you
knew what my daddy's name was.
We pulled in at the liquor store.
Our sister gave you just

the dollar eighty-five you needed
to shore you up before
you spilled your guts, and swift as a swallow,
you slipped back out the door,

your hair swept back, your jeans slung low,
the bottle cap wrenched off.
Names are never accidents—
your Colt 45.

Before we left the parking lot,
you'd sucked it down your reed-
thin, diabetic frame and you
were drunk and preaching, keeper

of secrets who keeps them to himself.
Your memory was shot,
and then your heart, your legs, your gut.
You won't see forty-one.

Your Jesus bent down, more than once.
He kept forgiving, so
you never stoned him. He left you touched
and longing for the out-of-reach, the sweet.








Elegy for Jonathan



The fruit flies drive me mad this time of year—
the harvest time. Out here, we bring in hay.
We check the weather. Stormclouds churn down south.
I learn the track projects toward foreign lands,
and turn to other news. I turn away.
Right now, you might be headed down to hell,

the autopsy complete, your body burnt
to ash. No one's fingers trace the rivers
of your scars or your tattoos. The little girls
your body tried to love or master—who
can say—are grown to womanhood, and this
week, since you died, two hummingbirds tap

back and forth outside my window, taken
by geranium reflections. Prison syn-
copates a life. A red eft—adolescent
newt—crawls across the dewy black-top
in early light. Weird species. Whose fingers
nudge him toward the sanctuary pond?








Elegy for Alaina



Because I've set out feeders, some birds knock
themselves against the window-glass. Some die.
This morning, a song sparrow squats dazed
on the bricks. Too old to cradle injured birds

or take their babies home, I leave her to heal,
or not, on her own. Born in May, and dead
by June, you missed all this, may not have known
your parents set their youthful lips in shapes

of O. Instead of opened windows, you
had a plastic bassinette, and oxygen
from tubes, and on your chest, an opened wound
we couldn't close. You never got outside,

and we could never press you to our breasts
until you died. Before, we stroked your light-
boned limbs, and cupped your head, your dark
hair mere down, dampened by your sweat.



AUTHOR BIO
Michele Leavitt's audio chapbook of poems from the hepatitis C epidemic, Virus Conversations, went live in August of 2014 at www.eatwords.net. Her book-length poetry collection, Back East, won the inaugural Michael Macklin First Book Prize and was published by Moon Pie Press in 2013. Her memoir excerpt, "No Trespassing," won The Ohio State University's 2010 William Allen Award for creative nonfiction, was published in The Journal, and received a notable listing in 2011 Best American Essays. Other works of poetry and prose appear in venues including So to Speak, Dogwood, Umbrella, Mezzo Cammin, The Tower Journal, Passager, and Per Contra. A high school dropout, hepatitis C survivor, and former trial attorney, she now lives in Maine, where she co-directs the Honors Program at Unity College and teaches writing. More at www.michelejleavitt.com
POETRY CONTRIBUTORS

Deborah Arnold

Sylvia Ashby

Meredith Bergmann

Carol Dorf

Melanie Figg

Sophia Galifianakis

Nicole Caruso Garcia

Jennifer Glancy

Dolores Hayden

Kjerstin Kauffman

Katrina Kostro

Michele Leavitt

Susan McLean

Ann Michael

Sally Nacker

Stella Nickerson

Samantha Pious

Rita Rousseau

Renée M. Schell

Leslie Schultz

Katherine Smith

Rebecca Starks

Myrna Stone

Chelsea Woodard (Featured Poet)

Marly Youmans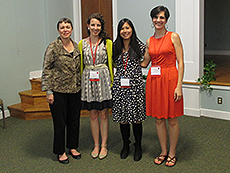 Jenna Le, Anne-Marie Thompson, and Chelsea Woodard join editor Kim Bridgford at the tenth-anniversary Mezzo Cammin panel at the Poetry by the Sea conference.
Sophia Galifianakis was the recipient of the Mezzo Cammin scholarship.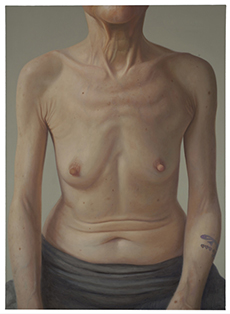 Corpus VI was formed in 2003, when six women figurative painters, who studied together at the Pennsylvania Academy of the Fine Arts, united to curate, exhibit and present our work to the public on our own terms, and launch our artistic careers. The name was chosen because it reflected our shared commitment to figurative representation. Clarity Haynes, Elena Peteva, and Suzanne Schireson were three of the founding members of the group, which organized an inaugural, self-titled show at Philadelphia's Highwire Gallery in the spring of 2005. The exhibition essay was written by Jeffrey Carr, Dean of the Pennsylvania Academy of the Fine Arts. The exhibition was very well-attended and reviewed in several art publications.

The experience of working together to successfully realize this exhibition, as well as the continuous dialogue and exchange of ideas on contemporary figuration, has proven to be greatly valuable to us. Ten years after graduating from PAFA, as our careers have taken us to different locations across the United States, three of the original members, Clarity Haynes, Suzanne Schireson, and Elena Peteva, have come together to reinvent the collective by inviting one artist each to be part of this exhibition that will begin at the New Bedford Art Museum in fall 2015 and travel to other institutions.

Holly Trostle Brigham, Stacy Latt Savage and Laurie Kaplowitz are professional figurative artists, whose strong artistic visions enrich the collective's range and explorations of contemporary representation. We are excited at the prospect of seeing our work all together in new configurations, creating new dialogues. Holly Brigham creates imaginative, narrative watercolors, which tell a feminist story, inserting her artistic persona into art historical narratives and mythologies. Laurie Kaplowitz uses textured paint to create personages that hint at the soul within, alluding to rituals of marking, scarring and adorning the body as an integral part of our human identity and presentation. Stacy Latt Savage combines figurative elements with fabricated structures and shapes to create objects that capture what it looks like to feel human and the complexities of our human condition. Clarity Haynes casts new light on ideas of beauty, femininity and embodiment through her realistic painted portraits of the female torso. Elena Peteva creates allegorical representations of our individual and social states through the human figure and subtle, charged, incomplete signs that invite the viewer's attempt for interpretation. Suzanne Schireson is influenced by her great-grandfather's autobiography as an early plastic surgeon and her paintings examine contradictions surrounding the birth of cosmetic surgery, such as the power to heal and the fostering of insecurity.