Sophia Galifianakis




My Childhood Portatif Lamp

There is no fainter light from which to read
mumbled wisdoms, mumbling my dreams.
Stocky mass of soldered rings—so little art
makes this little thing, refined for fineries

it will not see. Decked out in pearls and tilted cap,
quick burning incandescent spark weeping light
onto my shelf. What dread disfigurements of day
you've shaped, and nursed away; you've kissed

goodnight the childhood of my gaze on you
who were my shadow puppet maker, monster
tamer, first language of my first sight, hard burnished
metal keeping all the currents live inside,

harnessed like secrets that woke at night
from stories my dreams couldn't occupy.








At the Agora



He hangs octopus on the line to dry:
a fisherman's prize, he beats it on stone
until stiff life in his fists resigns.

I am six or seven when I roam
this temple of flies and flesh and chatter
so loud it becomes a single sound

where I dangle my song in the crowd to barter
my voice for the one, and the price is good.
I am ten I am twenty and then like laughter

my kisses are strewn at the market, the altar.
I do I say as the priest seeks an answer. I do
give my limbs and my blood and on paper

I do pen my pledge in the ink of the dead
where my name will lie loudly, robustly unread.








Spoken



Today my daughter saw the wheel in a new light.
Skirt sailing in the wind behind her, she got
tangled in the spokes. I don't need a bike,

she said; I can run naked. And I balked
with reason, but could not stop the eloquence
of her tiny freedom, as she giggled and dropped

her clothes. In the wind's wild temperaments
things rose indifferently and fell
like magic, to her disdain, in negligent

arrays among the leaves, and worse,
entwined inside the bent wire fence
beyond her reach, metal coiled again

with thread. And like scripture, she said
Mama, I don't need this stupid fence.








Broadcast News Anthem



Her voice on the TV plays like a child's song
knocked indelicately on the piano. Lost?
We are not lost, she chants, and rain
roils down the edges of her talk,

the earth unfurling note by note
beyond the long robes of her faith. Buildings
like soldiers on the ground around her.
Either everything changes

or nothing at all her song plays, always
the same song. From memory, fragments
with no real cause anchor
where they can carve space, a shrapnel

to chisel the face of a son whose name
in the name of God she hums My son
is gone my son. And so
what's done is done: abdomen: throat:

lip: tongue—disembodied breath
and song. Moses, Muhammad, Jesus, Red Cross.
Another resurrection for the art of loss.



AUTHOR BIO
Sophia Galifianakis lives in Ann Arbor and teaches at the University of Michigan, where she received her MFA in poetry. She is the lucky mother of two amazing kids who have single-handedly made the world beautiful. Her poetry has appeared or is forthcoming in Plume Poetry, The Greensboro Review, Spillway, and Painted Bride.
POETRY CONTRIBUTORS

Deborah Arnold

Sylvia Ashby

Meredith Bergmann

Carol Dorf

Melanie Figg

Sophia Galifianakis

Nicole Caruso Garcia

Jennifer Glancy

Dolores Hayden

Kjerstin Kauffman

Katrina Kostro

Michele Leavitt

Susan McLean

Ann Michael

Sally Nacker

Stella Nickerson

Samantha Pious

Rita Rousseau

Renée M. Schell

Leslie Schultz

Katherine Smith

Rebecca Starks

Myrna Stone

Chelsea Woodard (Featured Poet)

Marly Youmans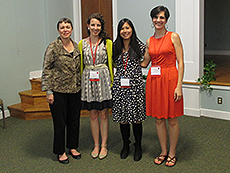 Jenna Le, Anne-Marie Thompson, and Chelsea Woodard join editor Kim Bridgford at the tenth-anniversary Mezzo Cammin panel at the Poetry by the Sea conference.
Sophia Galifianakis was the recipient of the Mezzo Cammin scholarship.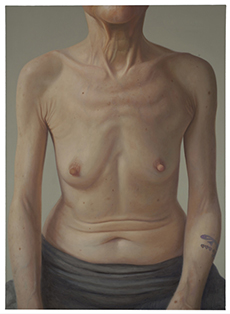 Corpus VI was formed in 2003, when six women figurative painters, who studied together at the Pennsylvania Academy of the Fine Arts, united to curate, exhibit and present our work to the public on our own terms, and launch our artistic careers. The name was chosen because it reflected our shared commitment to figurative representation. Clarity Haynes, Elena Peteva, and Suzanne Schireson were three of the founding members of the group, which organized an inaugural, self-titled show at Philadelphia's Highwire Gallery in the spring of 2005. The exhibition essay was written by Jeffrey Carr, Dean of the Pennsylvania Academy of the Fine Arts. The exhibition was very well-attended and reviewed in several art publications.

The experience of working together to successfully realize this exhibition, as well as the continuous dialogue and exchange of ideas on contemporary figuration, has proven to be greatly valuable to us. Ten years after graduating from PAFA, as our careers have taken us to different locations across the United States, three of the original members, Clarity Haynes, Suzanne Schireson, and Elena Peteva, have come together to reinvent the collective by inviting one artist each to be part of this exhibition that will begin at the New Bedford Art Museum in fall 2015 and travel to other institutions.

Holly Trostle Brigham, Stacy Latt Savage and Laurie Kaplowitz are professional figurative artists, whose strong artistic visions enrich the collective's range and explorations of contemporary representation. We are excited at the prospect of seeing our work all together in new configurations, creating new dialogues. Holly Brigham creates imaginative, narrative watercolors, which tell a feminist story, inserting her artistic persona into art historical narratives and mythologies. Laurie Kaplowitz uses textured paint to create personages that hint at the soul within, alluding to rituals of marking, scarring and adorning the body as an integral part of our human identity and presentation. Stacy Latt Savage combines figurative elements with fabricated structures and shapes to create objects that capture what it looks like to feel human and the complexities of our human condition. Clarity Haynes casts new light on ideas of beauty, femininity and embodiment through her realistic painted portraits of the female torso. Elena Peteva creates allegorical representations of our individual and social states through the human figure and subtle, charged, incomplete signs that invite the viewer's attempt for interpretation. Suzanne Schireson is influenced by her great-grandfather's autobiography as an early plastic surgeon and her paintings examine contradictions surrounding the birth of cosmetic surgery, such as the power to heal and the fostering of insecurity.