Dolores Hayden






Weeds



All but Death, can be adjusted.
—Emily Dickinson

Full mourning lasts a year and a day.
Wear henrietta trimmed in crepe,
lusterless cloth, dark as death.
Long sleeves with nine-inch weepers stifle
your sobs. Add bombazine cloak
and black felt widow's bonnet hung
with black crepe veil to hide your face.
Stop all the clocks. Drape all the mirrors.
And wear no jewelry save jet,
dull fossil coal pressed under earth.

Second mourning: nine months. Rewind
the clocks and dust the mirrors, shift
the veil, reveal your pale, pale face
above a black radzimir dress.
Not gone, but gone before. Remind
yourself: his profile leans within
your mourning brooch, his light brown hair
coils in your heart-shaped locket, inside
the silver ring banding your finger
a skeleton stretches, or a skull.

Ordinary mourning: three months.
Adorn your black silk dresses with
some polished jet. Light gleams on pleats,
heightens soft tucks, shadows the flounces
that rustle when you walk. Burn
the veil, the cambric handkerchiefs
bordered in black. A rope of pearls
with ivory urn and willow clasp
proclaims degree and length of loss.
Your grief has lasted for two years.

Half-mourning: six more months. Ease back
into a landscape where the seasons
shift with the sun. Your seamstress may
cut lower necklines, silks and satins
smooth on your skin—dove gray moiré
with lace or lavender glacé.
Your calendar holds more than Sunday
sermons so summon the milliner:
under a new hat's plumes and ribbons
you may venture a public smile.








Two Highways



—Lynchburg, Virginia

In Lou's Antiques I found a GM button,
"I HAVE SEEN THE FUTURE," blue on white,

round like a host, an inch across, italic
sign of communion with the car, salvation

straight from Flushing Meadows '39,
where General Motors pledged its faith in God

and God's own progress, forty thousand miles
of motorways Americans might drive

someday with government to pay the bill—
or most of it—for every headlong mile.

Increase a country's roads...increase its wealth.
Then local families could reach the Fair

by overnight express, a train I'll never
ride. They've boarded up the station now,

trash sifts across the tracks not far from Lou's,
and Main Street stands half-empty, malls, half-full.

Once in a while a farmer or a teacher,
maybe a feed store man, will wonder why

the town remains the size it was back then,
though on-ramps loop and off-ramps swoop away

from two wide highways toward vast vacant lots,
though eight lanes twine into a cloverleaf

streaming with cars and trucks that swirl, enclose,
and seize a town of twenty-two hundred souls.





AUTHOR BIO
Dolores Hayden's poetry collections are American Yard (2004) and Nymph, Dun, and Spinner (2010). Her work has appeared in Poetry, Shenandoah, Raritan, Best American Poetry, Ecotone, Slate, Kenyon Review, and Yale Review. She's been a poetry fellow at Djerassi and VCCA and received The Writer/Emily Dickinson Award from the Poetry Society of America, as well as several awards from the New England Poetry Club. Her web site is www.DoloresHayden.com
POETRY CONTRIBUTORS

Deborah Arnold

Sylvia Ashby

Meredith Bergmann

Carol Dorf

Melanie Figg

Sophia Galifianakis

Nicole Caruso Garcia

Jennifer Glancy

Dolores Hayden

Kjerstin Kauffman

Katrina Kostro

Michele Leavitt

Susan McLean

Ann Michael

Sally Nacker

Stella Nickerson

Samantha Pious

Rita Rousseau

Renée M. Schell

Leslie Schultz

Katherine Smith

Rebecca Starks

Myrna Stone

Chelsea Woodard (Featured Poet)

Marly Youmans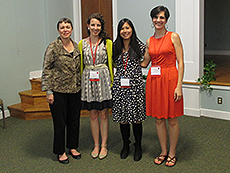 Jenna Le, Anne-Marie Thompson, and Chelsea Woodard join editor Kim Bridgford at the tenth-anniversary Mezzo Cammin panel at the Poetry by the Sea conference.
Sophia Galifianakis was the recipient of the Mezzo Cammin scholarship.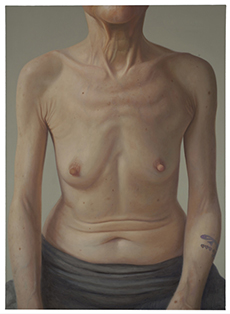 Corpus VI was formed in 2003, when six women figurative painters, who studied together at the Pennsylvania Academy of the Fine Arts, united to curate, exhibit and present our work to the public on our own terms, and launch our artistic careers. The name was chosen because it reflected our shared commitment to figurative representation. Clarity Haynes, Elena Peteva, and Suzanne Schireson were three of the founding members of the group, which organized an inaugural, self-titled show at Philadelphia's Highwire Gallery in the spring of 2005. The exhibition essay was written by Jeffrey Carr, Dean of the Pennsylvania Academy of the Fine Arts. The exhibition was very well-attended and reviewed in several art publications.

The experience of working together to successfully realize this exhibition, as well as the continuous dialogue and exchange of ideas on contemporary figuration, has proven to be greatly valuable to us. Ten years after graduating from PAFA, as our careers have taken us to different locations across the United States, three of the original members, Clarity Haynes, Suzanne Schireson, and Elena Peteva, have come together to reinvent the collective by inviting one artist each to be part of this exhibition that will begin at the New Bedford Art Museum in fall 2015 and travel to other institutions.

Holly Trostle Brigham, Stacy Latt Savage and Laurie Kaplowitz are professional figurative artists, whose strong artistic visions enrich the collective's range and explorations of contemporary representation. We are excited at the prospect of seeing our work all together in new configurations, creating new dialogues. Holly Brigham creates imaginative, narrative watercolors, which tell a feminist story, inserting her artistic persona into art historical narratives and mythologies. Laurie Kaplowitz uses textured paint to create personages that hint at the soul within, alluding to rituals of marking, scarring and adorning the body as an integral part of our human identity and presentation. Stacy Latt Savage combines figurative elements with fabricated structures and shapes to create objects that capture what it looks like to feel human and the complexities of our human condition. Clarity Haynes casts new light on ideas of beauty, femininity and embodiment through her realistic painted portraits of the female torso. Elena Peteva creates allegorical representations of our individual and social states through the human figure and subtle, charged, incomplete signs that invite the viewer's attempt for interpretation. Suzanne Schireson is influenced by her great-grandfather's autobiography as an early plastic surgeon and her paintings examine contradictions surrounding the birth of cosmetic surgery, such as the power to heal and the fostering of insecurity.