Rebecca Starks






Eastward



Two months of mud, and then we laid down sod
in swaths—a sudden spring of Look, don't touch.
All April, while the roots soaked through the mulch,
off! we trained the dog—off our four-month-old,
off squirrels, cats, the couch—and then we mowed,
ramming the blades against the fatted flock,
and let our dog out back to romp in the shock
of blank lawn so long kept out of the fold.
Watching her crouch, dash, tearing up the grass,
teasing out its spring—I felt her release
catch in my throat and, shifting abruptly
my son forgotten on my hip, his laugh
like the first choked turn of the mower's scythe
whose hand has lifted a rib from my side.








When It Was Time



We let her stalk through the garden's unmown grass
one last time, not that she could take it with her
but to set things right for a quiet moment,
her drab gray softened to pastel calico
dappled in the evening's delaying light.
It wasn't hope that we had kept alive
but the existential dread of ending,
not knowing when and having to decide.
Done with two shots: one to lull her to sleep,
the second to slow her breathing to a stop,
a sleight-of-hand designed to ease the guilt
of killing into some more natural
release, but all it did was hammer home
how much closer sleep is to life than death.

*

I felt how her soul had leavened her body,
half its usual size but heavier
than she had been for a long time, heavy
as when she slept or rested on me, content,
purring along to the hum of my concentration,
as I held her on my lap for the drive home
wrapped in a light blue towel damp with pee,
still warm; her face like a stuffed animal's
I quickly covered up again, the whiskers
bent, eyes glassy, fur mashed, she'd been so real,
so loved, and in withdrawal from compassion
I was filled with a strange empty elation
striking a chord of comfort, terror, grief
that death was nothing I could ever hold.

*

Nothing makes us more primitive than a body
stripped of the overlay of culture, soul:
in limbo between what we love and refuse
to be disposed of before we're ready,
before life swarms to fill the vacancy,
soil the misshapen hole we dug hastily
at duskmdash;the air the color of mosquitoes—
and fitted her in, still wrapped up in the towel,
dirt pattering on her so carefully
groomed paws and ears, stretched legs, her spiny tail,
her salmon-striped ribcage we pressed a stone on
like kids to make a fossil overnight;
the hurried epitaph we read for her
by Robinson Jeffers: "A House-Dog's Grave."




AUTHOR BIO
Rebecca Starks's poems have most recently appeared in Slice Magazine, The Carolina Quarterly, The Raintown Review, and Crab Orchard Review. She has a PhD in English from Stanford University and teaches literature and writing classes part-time for the Osher Institute of Lifelong Learning program at the University of Vermont. She edits Mud Season Review, a literary journal run by members of the Burlington Writers Workshop. For links to more work visit www.rebeccastarks.com.
POETRY CONTRIBUTORS

Deborah Arnold

Sylvia Ashby

Meredith Bergmann

Carol Dorf

Melanie Figg

Sophia Galifianakis

Nicole Caruso Garcia

Jennifer Glancy

Dolores Hayden

Kjerstin Kauffman

Katrina Kostro

Michele Leavitt

Susan McLean

Ann Michael

Sally Nacker

Stella Nickerson

Samantha Pious

Rita Rousseau

Renée M. Schell

Leslie Schultz

Katherine Smith

Rebecca Starks

Myrna Stone

Chelsea Woodard (Featured Poet)

Marly Youmans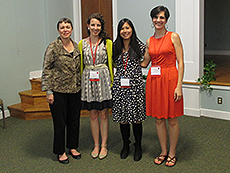 Jenna Le, Anne-Marie Thompson, and Chelsea Woodard join editor Kim Bridgford at the tenth-anniversary Mezzo Cammin panel at the Poetry by the Sea conference.
Sophia Galifianakis was the recipient of the Mezzo Cammin scholarship.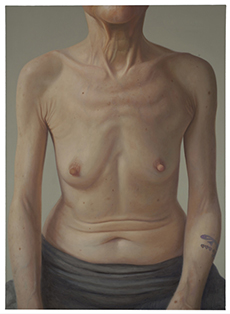 Corpus VI was formed in 2003, when six women figurative painters, who studied together at the Pennsylvania Academy of the Fine Arts, united to curate, exhibit and present our work to the public on our own terms, and launch our artistic careers. The name was chosen because it reflected our shared commitment to figurative representation. Clarity Haynes, Elena Peteva, and Suzanne Schireson were three of the founding members of the group, which organized an inaugural, self-titled show at Philadelphia's Highwire Gallery in the spring of 2005. The exhibition essay was written by Jeffrey Carr, Dean of the Pennsylvania Academy of the Fine Arts. The exhibition was very well-attended and reviewed in several art publications.

The experience of working together to successfully realize this exhibition, as well as the continuous dialogue and exchange of ideas on contemporary figuration, has proven to be greatly valuable to us. Ten years after graduating from PAFA, as our careers have taken us to different locations across the United States, three of the original members, Clarity Haynes, Suzanne Schireson, and Elena Peteva, have come together to reinvent the collective by inviting one artist each to be part of this exhibition that will begin at the New Bedford Art Museum in fall 2015 and travel to other institutions.

Holly Trostle Brigham, Stacy Latt Savage and Laurie Kaplowitz are professional figurative artists, whose strong artistic visions enrich the collective's range and explorations of contemporary representation. We are excited at the prospect of seeing our work all together in new configurations, creating new dialogues. Holly Brigham creates imaginative, narrative watercolors, which tell a feminist story, inserting her artistic persona into art historical narratives and mythologies. Laurie Kaplowitz uses textured paint to create personages that hint at the soul within, alluding to rituals of marking, scarring and adorning the body as an integral part of our human identity and presentation. Stacy Latt Savage combines figurative elements with fabricated structures and shapes to create objects that capture what it looks like to feel human and the complexities of our human condition. Clarity Haynes casts new light on ideas of beauty, femininity and embodiment through her realistic painted portraits of the female torso. Elena Peteva creates allegorical representations of our individual and social states through the human figure and subtle, charged, incomplete signs that invite the viewer's attempt for interpretation. Suzanne Schireson is influenced by her great-grandfather's autobiography as an early plastic surgeon and her paintings examine contradictions surrounding the birth of cosmetic surgery, such as the power to heal and the fostering of insecurity.