Sally Nacker






Emily Dickinson's Amherst, Main Street



I stayed in a room at a B and B
(across from the old home of Emily)
where once stood her father's field of rye.
I heard the fall wind as I closed my eyes.

I slept in a house on the land she viewed
from her window overlooking the field—
her sherry eyes on the gold, swaying rye
tossing and glinting, and waving goodbye.

Goodbye to the rye, now gardens and homes,
goodbye to the rustling swish on the loam,
goodnight, goodnight, dear Emily, I said,
then dreamed of her asleep in her Homestead.








During Stillness



There will be no table in heaven,
I would not think,
or cards upon it to send,
or pen with ink.

No book with written word
or notebook with lines.
No embroidered bird,
or fork with tines,

will lie on my napkin
beside my plate.
No wine in
my cup when the night is late.

No window sill
to invite light, no window
at all. Perhaps no tree will
stand and sway tall. So

with my mind and thoughts clear,
it is with joy that I sit
here. It is life I hold dear
amid the ordinary quiet.








Left


For my mother

In the narrow white boat
you took toward death—
through waters deep,
mysterious and remote

to me—you seemed as though
you were asleep,
your face aglow
with your bright light

that began to dim in this land
as you moved to another
through the night.
Not there to hold your hand,

this is how I imagine it
must have been as you proved,
in the radiant, white room, the pure
holiness of your solitude.

Death is what mothers do alone;
daughters cannot come along
or pause the creaking boat. Your lantern shone
for you only.



AUTHOR BIO
Sally Nacker received her MFA in Creative Writing (Poetry) from Fairfield University in January, 2013. Since then her poetry collection Vireo has been a finalist, semifinalist and honorable mention in three poetry book prize contests. The same collection was accepted for publication by Kelsay Books in October, 2014 and released in February, 2015. Happily, she was invited with Vireo to read at Poetry by the Sea: A Global Conference in Madison, CT. She is a frequent visitor to the Emily Dickinson Museum in Amherst. Sally and her husband can often be found taking several literary tours in New England. She values privacy, quiet, beauty, nature and stillness. She resides in Connecticut with her husband and their two cats.
POETRY CONTRIBUTORS

Deborah Arnold

Sylvia Ashby

Meredith Bergmann

Carol Dorf

Melanie Figg

Sophia Galifianakis

Nicole Caruso Garcia

Jennifer Glancy

Dolores Hayden

Kjerstin Kauffman

Katrina Kostro

Michele Leavitt

Susan McLean

Ann Michael

Sally Nacker

Stella Nickerson

Samantha Pious

Rita Rousseau

Renée M. Schell

Leslie Schultz

Katherine Smith

Rebecca Starks

Myrna Stone

Chelsea Woodard (Featured Poet)

Marly Youmans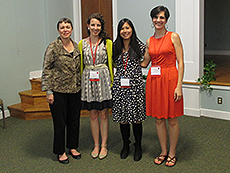 Jenna Le, Anne-Marie Thompson, and Chelsea Woodard join editor Kim Bridgford at the tenth-anniversary Mezzo Cammin panel at the Poetry by the Sea conference.
Sophia Galifianakis was the recipient of the Mezzo Cammin scholarship.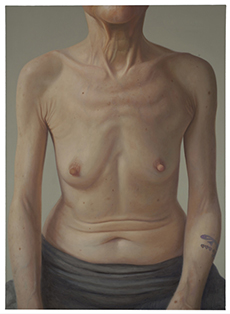 Corpus VI was formed in 2003, when six women figurative painters, who studied together at the Pennsylvania Academy of the Fine Arts, united to curate, exhibit and present our work to the public on our own terms, and launch our artistic careers. The name was chosen because it reflected our shared commitment to figurative representation. Clarity Haynes, Elena Peteva, and Suzanne Schireson were three of the founding members of the group, which organized an inaugural, self-titled show at Philadelphia's Highwire Gallery in the spring of 2005. The exhibition essay was written by Jeffrey Carr, Dean of the Pennsylvania Academy of the Fine Arts. The exhibition was very well-attended and reviewed in several art publications.

The experience of working together to successfully realize this exhibition, as well as the continuous dialogue and exchange of ideas on contemporary figuration, has proven to be greatly valuable to us. Ten years after graduating from PAFA, as our careers have taken us to different locations across the United States, three of the original members, Clarity Haynes, Suzanne Schireson, and Elena Peteva, have come together to reinvent the collective by inviting one artist each to be part of this exhibition that will begin at the New Bedford Art Museum in fall 2015 and travel to other institutions.

Holly Trostle Brigham, Stacy Latt Savage and Laurie Kaplowitz are professional figurative artists, whose strong artistic visions enrich the collective's range and explorations of contemporary representation. We are excited at the prospect of seeing our work all together in new configurations, creating new dialogues. Holly Brigham creates imaginative, narrative watercolors, which tell a feminist story, inserting her artistic persona into art historical narratives and mythologies. Laurie Kaplowitz uses textured paint to create personages that hint at the soul within, alluding to rituals of marking, scarring and adorning the body as an integral part of our human identity and presentation. Stacy Latt Savage combines figurative elements with fabricated structures and shapes to create objects that capture what it looks like to feel human and the complexities of our human condition. Clarity Haynes casts new light on ideas of beauty, femininity and embodiment through her realistic painted portraits of the female torso. Elena Peteva creates allegorical representations of our individual and social states through the human figure and subtle, charged, incomplete signs that invite the viewer's attempt for interpretation. Suzanne Schireson is influenced by her great-grandfather's autobiography as an early plastic surgeon and her paintings examine contradictions surrounding the birth of cosmetic surgery, such as the power to heal and the fostering of insecurity.