elcome to Mezzo Cammin, a web journal devoted to formal poetry by women. Publishing twice a year, Mezzo Cammin features poems in form by contemporary women writers; reviews of new books by and about women poets who work in form; and essays that explore a variety of topics, ranging from the accomplishments of a particular poet, to the possibilities of a particular form and the history and politics of canonization. Our journal aims not only to promote the work of contemporary women poets, but also to expose readers to formal poetry by women poets who may once have been well-known, but whose writing may now be difficult to find due to its lack of inclusion in anthologies, books falling out of print, and the tendency that still persists in academia of choosing the work of male poets to define a given era or literary style.
| | | |
| --- | --- | --- |
| | Our journal aims not only to promote the work of contemporary women poets, but also to expose readers to formal poetry by women poets who may once have been well-known, but whose writing may now be difficult to find. | |
We will therefore devote the essays section once a year to celebrating the achievement of a woman poet whose work deserves wider recognition. We are also starting a women poets timeline, known as "The Timeline Project," which will eventually be the largest database devoted to women's poetry in the world. We welcome suggestions concerning this timeline as well as contributions to it.

Our journal's title, Mezzo Cammin, derives most recognizably from the opening line of Dante's Inferno; more immediately, however, we borrow it from "Mezzo Cammin" by Judith Moffett (who, in turn, derived her title and theme from Longfellow as well as from Dante). Moffett's satirical, twenty-three stanza poem about reaching middle age inspires not only through her dexterity in working with rhyme and meter, but leads us to hope, as well, that controversies about how to define "form" have, at last, ripened to middle age. We at Mezzo Cammin therefore expect to take a middle path in our understanding of form by not limiting our definition to "poems written in rhyme, traditional stanza forms, and conventional rhyme and meter." Although such poems will likely predominate in the journal, especially in its early issues, we encourage submissions of poetry, essays, and reviews in which form is understood more liberally, as encompassing a repeatable pattern, of any sort, within a poem. In particular, we believe that women poets, as literary outsiders, have through the centuries been adept at playing with form; a tendency which, as in the case of Emily Dickinson, has sometimes led their work to be viewed skeptically, if at all, by the literary mainstream. At Mezzo Cammin, we hope to explore the variety of formal approaches taken by women writers and to recognize that "experimentation" in poetry is not limited to free verse, but flourishes equally well through poets' innovative handling of forms of repetition.


ADVISORY BOARD & STAFF
Advisory Board
Debra Bruce
Annie Finch
Allison Joseph
Marilyn Nelson
Molly Peacock
Kathrine Varnes

Staff
Kim Bridgford, Editor
Anna M. Evans, Design & Technical Editor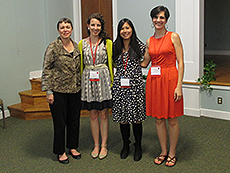 Jenna Le, Anne-Marie Thompson, and Chelsea Woodard join editor Kim Bridgford at the tenth-anniversary Mezzo Cammin panel at the Poetry by the Sea conference.
Sophia Galifianakis was the recipient of the Mezzo Cammin scholarship.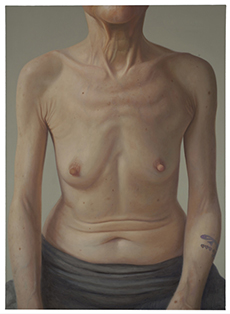 Corpus VI was formed in 2003, when six women figurative painters, who studied together at the Pennsylvania Academy of the Fine Arts, united to curate, exhibit and present our work to the public on our own terms, and launch our artistic careers. The name was chosen because it reflected our shared commitment to figurative representation. Clarity Haynes, Elena Peteva, and Suzanne Schireson were three of the founding members of the group, which organized an inaugural, self-titled show at Philadelphia's Highwire Gallery in the spring of 2005. The exhibition essay was written by Jeffrey Carr, Dean of the Pennsylvania Academy of the Fine Arts. The exhibition was very well-attended and reviewed in several art publications.

The experience of working together to successfully realize this exhibition, as well as the continuous dialogue and exchange of ideas on contemporary figuration, has proven to be greatly valuable to us. Ten years after graduating from PAFA, as our careers have taken us to different locations across the United States, three of the original members, Clarity Haynes, Suzanne Schireson, and Elena Peteva, have come together to reinvent the collective by inviting one artist each to be part of this exhibition that will begin at the New Bedford Art Museum in fall 2015 and travel to other institutions.

Holly Trostle Brigham, Stacy Latt Savage and Laurie Kaplowitz are professional figurative artists, whose strong artistic visions enrich the collective's range and explorations of contemporary representation. We are excited at the prospect of seeing our work all together in new configurations, creating new dialogues. Holly Brigham creates imaginative, narrative watercolors, which tell a feminist story, inserting her artistic persona into art historical narratives and mythologies. Laurie Kaplowitz uses textured paint to create personages that hint at the soul within, alluding to rituals of marking, scarring and adorning the body as an integral part of our human identity and presentation. Stacy Latt Savage combines figurative elements with fabricated structures and shapes to create objects that capture what it looks like to feel human and the complexities of our human condition. Clarity Haynes casts new light on ideas of beauty, femininity and embodiment through her realistic painted portraits of the female torso. Elena Peteva creates allegorical representations of our individual and social states through the human figure and subtle, charged, incomplete signs that invite the viewer's attempt for interpretation. Suzanne Schireson is influenced by her great-grandfather's autobiography as an early plastic surgeon and her paintings examine contradictions surrounding the birth of cosmetic surgery, such as the power to heal and the fostering of insecurity.