Susan McLean






Near Sundown



Our weeklong-rental home possessed a dock
on the channel. As the tide went out, my brother,
who'd fished from it for an hour with no luck,
hooked a crevalle jack, and then another
as soon as he tried again. My sister, too,
was landing jacks as fast as she could cast.
Shortly they had a bucketful. But who
would clean them? It was decades since we last
had eaten fish we'd caught. We asked our father,
who still, at eighty-six, knew how to kill
the flopping things. He didn't mind the bother,
chopping off heads and gutting with a will,
but even he stood staring, rattled by
the way the heads gasped on and wouldn't die.








Unlikely



Neither the peace that passes understanding
nor seat cushions that float will help at all
in the unlikely event of a water landing.

There'll be no sudden pardon countermanding
your doom. Eagle or sparrow, all birds fall.
Though ranked as "needs improvement" or "outstanding,"

you'll get no special treatment by demanding
a second chance, whether you pray or bawl.
In the unlikely event of a water landing,

no one will notice whether you are handling
it well or badly, and your final call
will go to voicemail. You may think you're standing

in God's own light and that some reprimanding
of vice is called for: bad things should befall
bad people. Here's the catch: in a water landing,

the bad don't segregate themselves by banding
together. All will wail and hit the wall,
the sinners strapped right next to the upstanding,
in the unlikely event of a water landing.








Long Odds



Another instant winner! It will not
be me. I never enter sweepstakes, play
the lottery or the horses, feed a slot,
or agonize about which card to lay.
Instead, I gamble on my mind's flipped coin,
nothing at stake except my cagey heart,
defying probabilities to join
the two-bit, three-card-monte scam of art.
Worse, I ignore the trends, scoff at the rules,
assume hard work and craft might corner fame,
following hope and instinct like the fools
who back a horse because they like its name,
too caught up in the game to count the cost:
with every word, another instant lost.



AUTHOR BIO
Susan McLean, who teaches English at Southwest Minnesota State University, has recently published Selected Epigrams, a collection of 503 verse translations of the satirical Latin epigrams of Martial, and The Whetstone Misses the Knife, a book that won the 2014 Donald Justice Poetry Prize. Her poems have appeared in Valparaiso Poetry Review, The Lyric, Light, Measure, and elsewhere.
POETRY CONTRIBUTORS

Deborah Arnold

Sylvia Ashby

Meredith Bergmann

Carol Dorf

Melanie Figg

Sophia Galifianakis

Nicole Caruso Garcia

Jennifer Glancy

Dolores Hayden

Kjerstin Kauffman

Katrina Kostro

Michele Leavitt

Susan McLean

Ann Michael

Sally Nacker

Stella Nickerson

Samantha Pious

Rita Rousseau

Renée M. Schell

Leslie Schultz

Katherine Smith

Rebecca Starks

Myrna Stone

Chelsea Woodard (Featured Poet)

Marly Youmans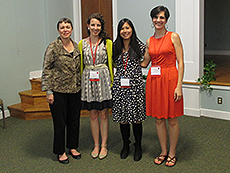 Jenna Le, Anne-Marie Thompson, and Chelsea Woodard join editor Kim Bridgford at the tenth-anniversary Mezzo Cammin panel at the Poetry by the Sea conference.
Sophia Galifianakis was the recipient of the Mezzo Cammin scholarship.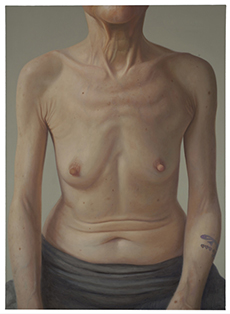 Corpus VI was formed in 2003, when six women figurative painters, who studied together at the Pennsylvania Academy of the Fine Arts, united to curate, exhibit and present our work to the public on our own terms, and launch our artistic careers. The name was chosen because it reflected our shared commitment to figurative representation. Clarity Haynes, Elena Peteva, and Suzanne Schireson were three of the founding members of the group, which organized an inaugural, self-titled show at Philadelphia's Highwire Gallery in the spring of 2005. The exhibition essay was written by Jeffrey Carr, Dean of the Pennsylvania Academy of the Fine Arts. The exhibition was very well-attended and reviewed in several art publications.

The experience of working together to successfully realize this exhibition, as well as the continuous dialogue and exchange of ideas on contemporary figuration, has proven to be greatly valuable to us. Ten years after graduating from PAFA, as our careers have taken us to different locations across the United States, three of the original members, Clarity Haynes, Suzanne Schireson, and Elena Peteva, have come together to reinvent the collective by inviting one artist each to be part of this exhibition that will begin at the New Bedford Art Museum in fall 2015 and travel to other institutions.

Holly Trostle Brigham, Stacy Latt Savage and Laurie Kaplowitz are professional figurative artists, whose strong artistic visions enrich the collective's range and explorations of contemporary representation. We are excited at the prospect of seeing our work all together in new configurations, creating new dialogues. Holly Brigham creates imaginative, narrative watercolors, which tell a feminist story, inserting her artistic persona into art historical narratives and mythologies. Laurie Kaplowitz uses textured paint to create personages that hint at the soul within, alluding to rituals of marking, scarring and adorning the body as an integral part of our human identity and presentation. Stacy Latt Savage combines figurative elements with fabricated structures and shapes to create objects that capture what it looks like to feel human and the complexities of our human condition. Clarity Haynes casts new light on ideas of beauty, femininity and embodiment through her realistic painted portraits of the female torso. Elena Peteva creates allegorical representations of our individual and social states through the human figure and subtle, charged, incomplete signs that invite the viewer's attempt for interpretation. Suzanne Schireson is influenced by her great-grandfather's autobiography as an early plastic surgeon and her paintings examine contradictions surrounding the birth of cosmetic surgery, such as the power to heal and the fostering of insecurity.