Myrna Stone




Mae West to Her Longtime Lover Two Hours Before Her Attorney Arrives to Draft Her Will

The Ravenswood, Los Angeles, 1966

Sweet Paulie, sweet baby boy, treat me good
and warm my cup of steak juice. It's moronic
to sip it chilled….Of course I've taken food
today—some Beluga caviar—and my colonic,

as usual, at six. A pussyfoot, love, you're not,
but must you do each task as though it's triage
and you're Doc Laskey back from Hell? Put
the jar of Ponds right here….I'll massage

my breasts myself….Ah, juice is better, pet,
quite hot. Now go and fetch my soaking teeth
and the green silk number I wore in Sextette.
No, wait. I want the acqua Edith Head sheath

instead. I'm going to look like a zillion zillion
when I divvy up my forty million.








Nok Thai's Refrain to Chang and Eng



Province of Samut Songkhram, Siam, 1811

You are two, two you are,
my right, my left, my near, my far,

before whom every village mother
averts her eyes, and every father

calls upon Buddha. You are two,
two you are, my boy babes new

as herons in the spring-fed swell
of the Mae Klong, where men tell

tales of you first spun by your bàba,
heads awry, eyes round as casabas

or coconuts. You are two, two
you are, a mewling clamor askew

in the air, demanding milk
and the heated skin of saffron silk

that lines my robe, which you savor
beyond reason. O, may you favor

the little balm of sleep till dawn
under our weave of mango fronds.

You are two, two you are,
my right, my left, my near, my far.








Luz Bones



—those bones comprising the coccyx, or tailbone, which according to legend are the last to decay in the grave, thereby seemingly immortal.

Inside my father's, in life, staphylococcus
once colonized itself after its descent
from his heart, each rude metropolis
inhabiting a segment where pain, nascent,

then perverse, afflicted him for months.
And in my own, during both labors,
grew a torment that, remembered, stuns
me still. A Jewish tale says that the sabers

of Death neither rattle nor slay in the city
of Luz, all that God saved of Paradise
here, where dwellers live an eternity
unbound from the onus of sin. No device

is given the rest of us but to envision
the body's smallish afterlife: a core
of bones—five or less, brown or ashen,
ordered or erratic—within an earthen door.


AUTHOR BIO
Myrna Stone is the author of four full-length books of poetry: In the Present Tense: Portraits of My Father, a Finalist for the 2014 Ohioana Book Award in Poetry; The Casanova Chronicles, a Finalist for the 2011 Ohioana Book Award in Poetry; How Else to Love the World; and The Art of Loss, for which she received the 2001 Ohio Poet of the Year Award. Her poems have been featured on both Poetry Daily and Verse Daily, and have appeared in such journals as Poetry, Ploughshares, Boston Review, TriQuarterly, The Massachusetts Review, Nimrod, and River Styx. Stone is a founding member of The Greenville Poets, based in Greenville, Ohio, where she lives with her husband in an 18th century Rhode Island farmhouse.
POETRY CONTRIBUTORS

Deborah Arnold

Sylvia Ashby

Meredith Bergmann

Carol Dorf

Melanie Figg

Sophia Galifianakis

Nicole Caruso Garcia

Jennifer Glancy

Dolores Hayden

Kjerstin Kauffman

Katrina Kostro

Michele Leavitt

Susan McLean

Ann Michael

Sally Nacker

Stella Nickerson

Samantha Pious

Rita Rousseau

Renée M. Schell

Leslie Schultz

Katherine Smith

Rebecca Starks

Myrna Stone

Chelsea Woodard (Featured Poet)

Marly Youmans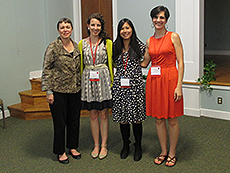 Jenna Le, Anne-Marie Thompson, and Chelsea Woodard join editor Kim Bridgford at the tenth-anniversary Mezzo Cammin panel at the Poetry by the Sea conference.
Sophia Galifianakis was the recipient of the Mezzo Cammin scholarship.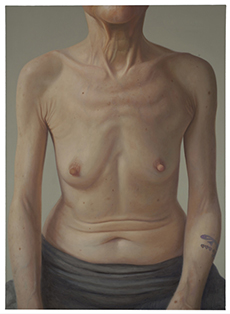 Corpus VI was formed in 2003, when six women figurative painters, who studied together at the Pennsylvania Academy of the Fine Arts, united to curate, exhibit and present our work to the public on our own terms, and launch our artistic careers. The name was chosen because it reflected our shared commitment to figurative representation. Clarity Haynes, Elena Peteva, and Suzanne Schireson were three of the founding members of the group, which organized an inaugural, self-titled show at Philadelphia's Highwire Gallery in the spring of 2005. The exhibition essay was written by Jeffrey Carr, Dean of the Pennsylvania Academy of the Fine Arts. The exhibition was very well-attended and reviewed in several art publications.

The experience of working together to successfully realize this exhibition, as well as the continuous dialogue and exchange of ideas on contemporary figuration, has proven to be greatly valuable to us. Ten years after graduating from PAFA, as our careers have taken us to different locations across the United States, three of the original members, Clarity Haynes, Suzanne Schireson, and Elena Peteva, have come together to reinvent the collective by inviting one artist each to be part of this exhibition that will begin at the New Bedford Art Museum in fall 2015 and travel to other institutions.

Holly Trostle Brigham, Stacy Latt Savage and Laurie Kaplowitz are professional figurative artists, whose strong artistic visions enrich the collective's range and explorations of contemporary representation. We are excited at the prospect of seeing our work all together in new configurations, creating new dialogues. Holly Brigham creates imaginative, narrative watercolors, which tell a feminist story, inserting her artistic persona into art historical narratives and mythologies. Laurie Kaplowitz uses textured paint to create personages that hint at the soul within, alluding to rituals of marking, scarring and adorning the body as an integral part of our human identity and presentation. Stacy Latt Savage combines figurative elements with fabricated structures and shapes to create objects that capture what it looks like to feel human and the complexities of our human condition. Clarity Haynes casts new light on ideas of beauty, femininity and embodiment through her realistic painted portraits of the female torso. Elena Peteva creates allegorical representations of our individual and social states through the human figure and subtle, charged, incomplete signs that invite the viewer's attempt for interpretation. Suzanne Schireson is influenced by her great-grandfather's autobiography as an early plastic surgeon and her paintings examine contradictions surrounding the birth of cosmetic surgery, such as the power to heal and the fostering of insecurity.