Corpus VI
"

Collective Body: Uncovered and Illuminated" will open in 2015 at the New Bedford Art Museum, New Bedford, MA. It will be on view from September 1 through November 13. This group exhibition features the work of Corpus VI, a contemporary collective of women artists, and presents diverse approaches to the figure across the disciplines of painting, drawing and sculpture. "A Collective Body: Uncovered and Illuminated" will be accompanied by a full color catalogue.
Corpus VI was formed in 2003, when six women figurative painters, who studied together at the Pennsylvania Academy of the Fine Arts, united to curate, exhibit and present our work to the public on our own terms, and launch our artistic careers. The name was chosen because it reflected our shared commitment to figurative representation. Clarity Haynes, Elena Peteva, and Suzanne Schireson were three of the founding members of the group, which organized an inaugural, self-titled show at Philadelphia's Highwire Gallery in the spring of 2005. The exhibition essay was written by Jeffrey Carr, Dean of the Pennsylvania Academy of the Fine Arts. The exhibition was very well-attended and reviewed in several art publications.
The experience of working together to successfully realize this exhibition, as well as the continuous dialogue and exchange of ideas on contemporary figuration, has proven to be greatly valuable to us. Ten years after graduating from PAFA, as our careers have taken us to different locations across the United States, three of the original members, Clarity Haynes, Suzanne Schireson, and Elena Peteva, have come together to reinvent the collective by inviting one artist each to be part of this exhibition that will begin at the New Bedford Art Museum in fall 2015 and travel to other institutions.
Holly Trostle Brigham, Stacy Latt Savage and Laurie Kaplowitz are professional figurative artists, whose strong artistic visions enrich the collective's range and explorations of contemporary representation. We are excited at the prospect of seeing our work all together in new configurations, creating new dialogues. Holly Brigham creates imaginative, narrative watercolors, which tell a feminist story, inserting her artistic persona into art historical narratives and mythologies. Laurie Kaplowitz uses textured paint to create personages that hint at the soul within, alluding to rituals of marking, scarring and adorning the body as an integral part of our human identity and presentation. Stacy Latt Savage combines figurative elements with fabricated structures and shapes to create objects that capture what it looks like to feel human and the complexities of our human condition. Clarity Haynes casts new light on ideas of beauty, femininity and embodiment through her realistic painted portraits of the female torso. Elena Peteva creates allegorical representations of our individual and social states through the human figure and subtle, charged, incomplete signs that invite the viewer's attempt for interpretation. Suzanne Schireson is influenced by her great-grandfather's autobiography as an early plastic surgeon and her paintings examine contradictions surrounding the birth of cosmetic surgery, such as the power to heal and the fostering of insecurity.
Asked whether she thought a woman's work had feminine qualities, the early 20th-century muralist Violet Oakley said that "in art the sex distinction is lost . . . that the artist puts in his work what is essentially human", illuminating the idea that art transcends gender. To be a woman artist today is a completely different experience than it was 100 years ago. We have chosen to form a collective based not just on a common identity, but on common artistic interests -- working with, interpreting, representing and reconsidering one of most ancient, complex and challenging subjects in art -- the human figure. We value our connection to a lineage of women artists forming collectives in the past, some of whom, like the early 20th-century group "The Red Rose Girls", which included artist Violet Oakley, had ties to the Pennsylvania Academy of the Fine Arts and played a role in the history of American Art. These artists forged creative ways of flourishing, navigating careers, creating fellowship, and supporting one another's work, ideas and careers, just as we do today. We hope that the dialogue between the works in this exhibition will inspire and provoke, illuminating contemporary and eternal questions concerning all that is, essentially, human.
Holly Trostle Brigham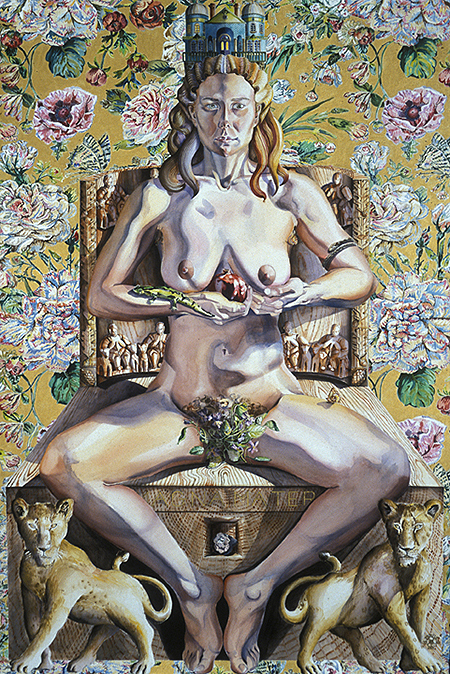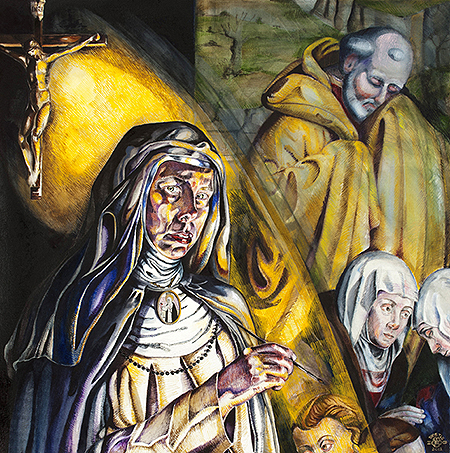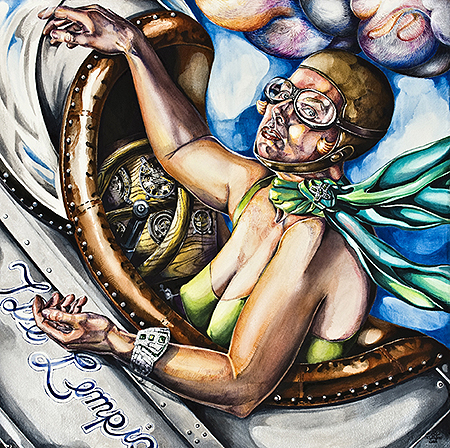 Clarity Haynes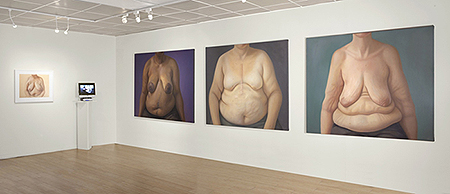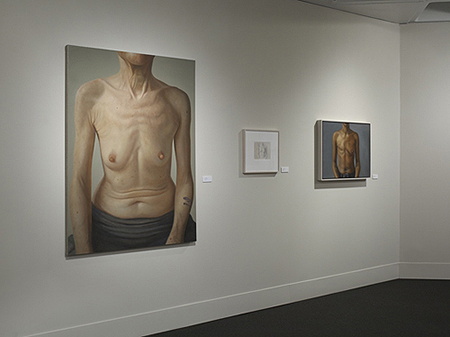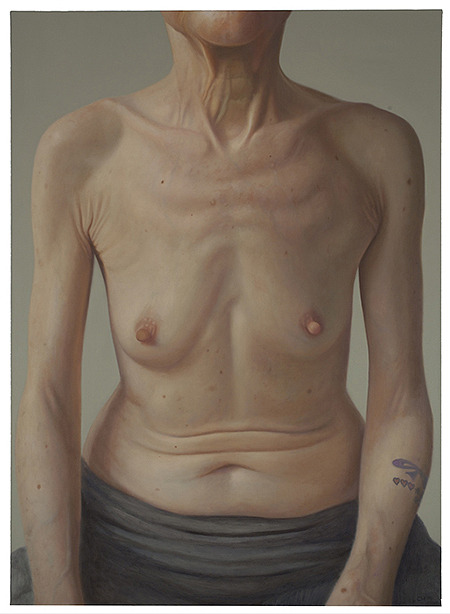 Laurie Kaplowitz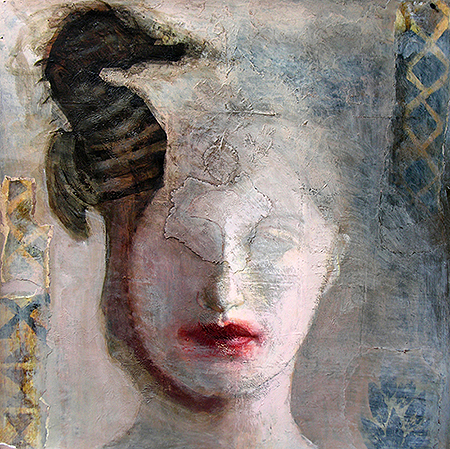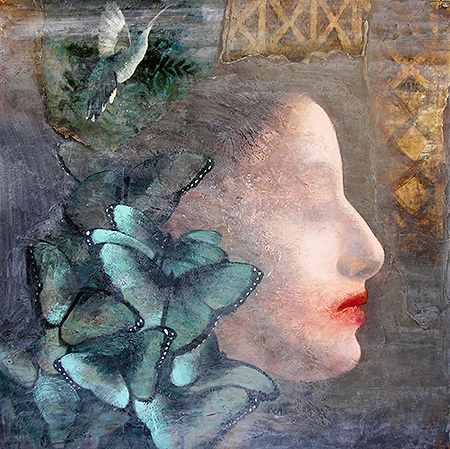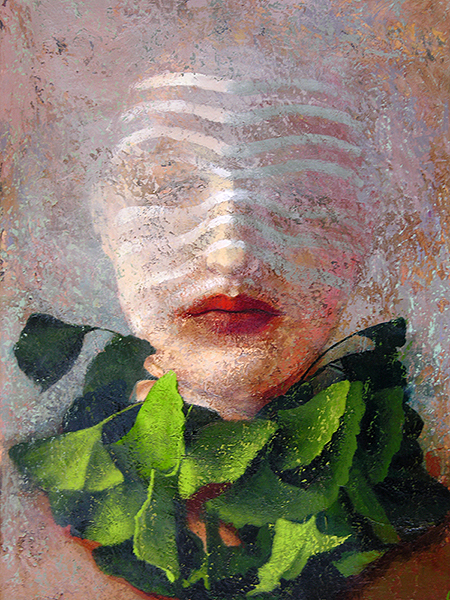 Elena Peteva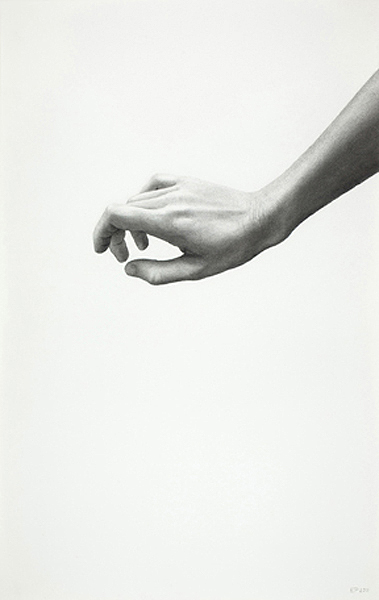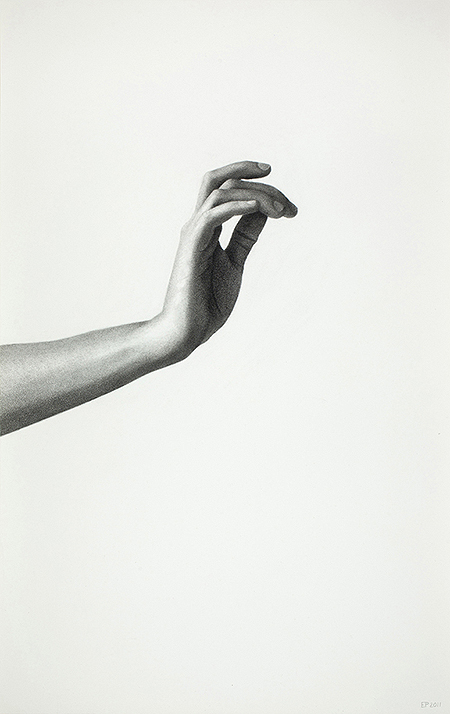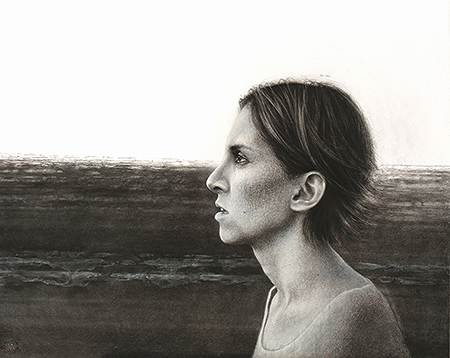 Stacy Lott Savage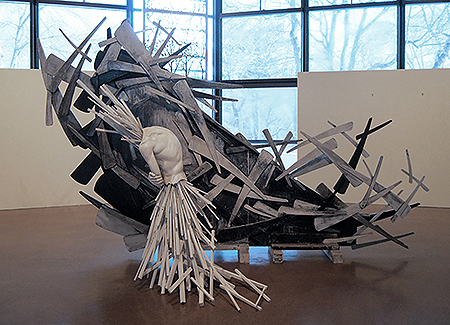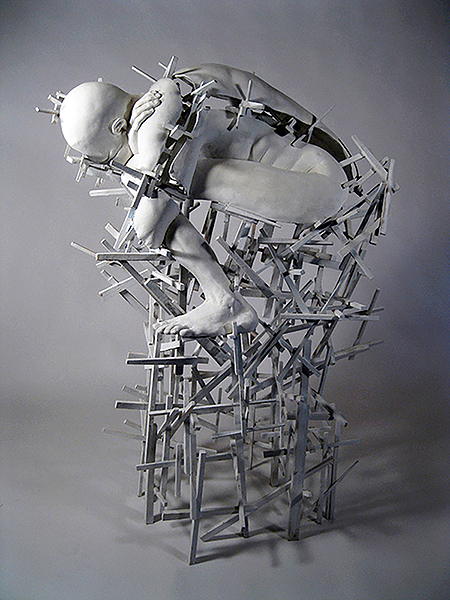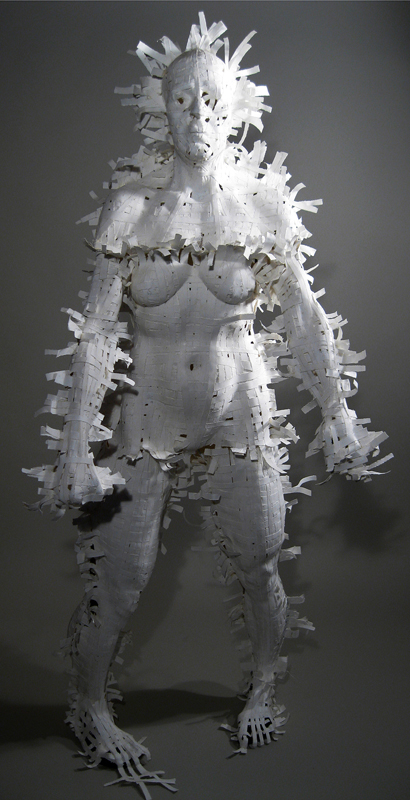 Suzanne Schireson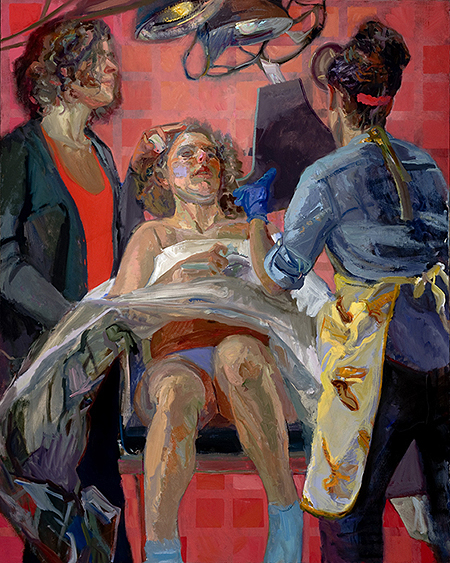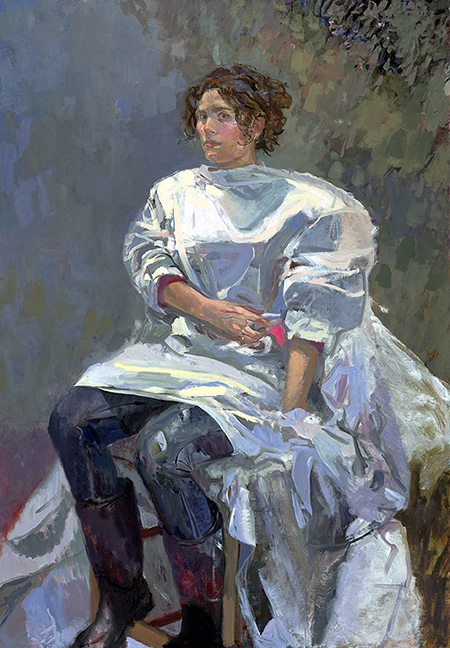 ARTIST BIO
Holly Trostle Brigham is a painter who lives in Philadelphia with her husband David and two children Noble and Flora. She creates life-sized figures in watercolor that depict historical and mythological women in elaborate settings. Holly was a visiting artist at Lafayette College in 2011-12 and created a print there with the Experimental Printmaking Institute, was recently a featured artist in the Art W Salon in New York City and Evolve the Conversation, a national interdisciplinary salon that is being produced as a documentary, and the blog Noodles on the Wall about mothers who balance their families and careers. She is preparing for solo exhibitions in 2013 at Rutgers University and the Berman Museum at Ursinus College. The latter exhibition will be accompanied by a catalog and will travel to the Luther Brady Art Gallery at George Washington University in Washington, DC in early 2014 . Later that year, Holly will also have a solo show at Lafayette College. Holly was born in Carlisle, PA, attended Smith College where she studied Art History and studied abroad in Florence, Italy. She went on to study Art History at the graduate level at the University of Pittsburgh, fine art at the Pennsylvania Academy of the Fine Arts and then earned her MFA in Painting at the George Washington University. Since then she has taught at Pasadena City College, Worcester State College, the Worcester Art Museum, and the Baum School of Art.





Clarity Haynes holds a BA in film from Temple University, a CFA in painting from the Pennsylvania Academy of the Fine Arts, and an MFA in painting from Brooklyn College, CUNY. Her work has been exhibited at diverse venues across the US, including the Allentown Art Museum, the Metropolitan Museum and Art Center in Miami, and Femina Potens Gallery in San Francisco. In the New York area, she has shown at The Kentler International Drawing Space, Life on Mars Gallery, Tabla Rasa Gallery, Hersh Fine Art, and The Bruce High Quality Foundation. Haynes has received numerous awards and grants, among them the Leeway Foundation's WOO grant and the Brooklyn Arts Council's Community Arts Regrant Award. Her work is represented in The Brooklyn Museum Feminist Art Base and the Drawing Center Viewing Program. She has been reviewed in The Huffington Post, Two Coats of Paint, Beautiful/Decay Magazine, and Brooklyn Exposed, among other publications. Haynes has taught and lectured at numerous institutions including The New York Academy of Art, The New York Studio School of Drawing, Painting and Sculpture, and Rutgers University. Haynes lives and works in New York City and teaches painting at Brooklyn College and Adelphi University.





Laurie Kaplowitz earned her Bachelor of Fine Arts degree from Boston University and her Master of Fine Arts degree from American University. She recently retired as a Chancellor Professor in Fine Arts from the College of Visual & Performing Arts at the University of Massachusetts in Dartmouth, MA.

Kaplowitz is represented by Fresh Paint Art Associates in Culver City, CA. Her work has been exhibited in commercial galleries in Los Angeles, New York, Dallas, and San Francisco, as well as the Fogg Museum at Harvard University; the DeCordova Sculpture Park and Museum in Lincoln, MA; the New Bedford Art Museum, New Bedford, MA; The Museum of Science, Boston, MA; the American Meteorological Society, Boston, MA; the Fitchburg Art Museum, Fitchburg, MA; the Fuller Craft Museum (formerly the Brockton Art Museum), Brockton, MA; the Albright-Knox Art Gallery, Buffalo, NY; the Currier Gallery of Art, Manchester, NH; Springfield College, Springfield, MA; Pine Manor college, Newton, MA; and the Women's Studies Research Center, Brandeis University, Waltham, MA. She has received commissions from Princess Cruise Lines, Royal Caribbean Cruise Lines, the American Meteorological Society, and the Ritz Carlton, Huntington Beach, CA.

Kaplowitz's work has been reviewed in Art News, The Boston Globe, The Boston Herald, Art New England, and The Dallas Morning News. Her work is collected nationally and internationally.





Elena Peteva is a practicing artist and Assistant Professor of Painting and Drawing at the University of Massachusetts Dartmouth. She was born in Sofia, Bulgaria, and moved to the United States in 1995. She received her high school diploma from Interlochen Arts Academy in 1997, a Certificate in Fine Arts from the Pennsylvania Academy of the Fine Arts in 2004 and a MFA from Syracuse University in 2007. She lives and has her studio in Providence, RI.

Peteva works in drawing, painting, printmaking and video. She exhibits nationally and internationally. Recent exhibitions include: Contemporary Art of the Century XXI at the European Museum of Modern Art in Barcelona, Spain (2013-2015); Presence and Absence solo exhibition at Arosita Gallery in Sofia, Bulgaria (2015); Face It: The Face In Contemporary Art at OnSite: Brooklyn Gallery in Brooklyn, NY (2015); SAIH 2015 - Representational Art in the 21st Century at University of Hawaii at Hilo gallery in Hilo, Hawaii (2015); DRAWN 1st Annual Exhibition of Contemporary Drawing at Manifest Creative Research Gallery and Drawing Center, Cincinnati, OH (2014); Drawing Discourse: 5th Annual Exhibition of Contemporary Drawing at S. Tucker Cooke Gallery, The University of North Carolina Asheville, Asheville, NC (2014); and many others. She has exhibited her work in: Museo Europeo de Arte Moderno in Barcelona, Spain; Museum of the Pennsylvania Academy of the Fine Arts; Fort Wayne Museum of Art; Manifest Creative Research Gallery and Drawing Center; Arnot Art Museum; Florida State University Museum of Fine Arts; and numerous commercial and non-profit art galleries. She is a recipient of three Elizabeth Greenshields Foundation grants for representational art, a Leslie and Frances Posey Foundation grant, a fellowship at the Saltonstall Foundation for the Arts' arts colony and a two-time finalist for the Figurativas Painting and Sculpture Competition of the Foundation of the Arts and the Artists in Barcelona, Spain.





Stacy Latt Savage is a Professor of Fine Arts/Sculpture at the University of Massachusetts Dartmouth. She received her Bachelor of Arts from Wells College and her Masters of Fine Art from Cornell University.

Stacy exhibits her sculpture in a variety of venues including museums, university galleries, outdoor public settings and permanent commissions. Selected museums include the DeCordova Museum and Sculpture Park (Lincoln, MA); the Alternative Museum (New York, NY); The Art Complex Museum (Duxbury, MA), the Fuller Museum (Brockton, MA); the Revolving Museum (Lowell, MA), the New Bedford Art Museum (NB, MA). University gallery settings include Brandeis University, Bridgewater State University, Stonehill College, UMass Lowell and Bristol Community College. A recent exhibition, The Enigma of 4am, at the Cotuit Center for the Arts (Cotuit, MA) was a large-scale collaborative installation project between Stacy and two Boston-based artists.

Additionally, Stacy founded the "River Project: Sculpture at the Slocum's River Reserve", 2009/2012/2015, (Dartmouth, MA) featuring site-specific outdoor sculpture of national and regional artists. She has also exhibited her large-scale public sculpture at the Skokie Sculpture Park (Skokie, IL), Forest Hills Cemetery (Boston, MA), Tarrant College (Fort Worth, TX), Chesterwood Museum (Stockbridge, MA), and The Whaling Museum (New Bedford, MA).

Stacy's studio work is inspired by the human figure and the inherent complexity of human emotion.





Suzanne Schireson is an artist and Assistant Professor of Painting and Drawing at The University of Massachusetts Dartmouth. Schireson's work includes painting, drawing, and video. In 2015, she had a solo exhibition at Smith College, and recently had paintings on display in New York, Providence and New Bedford. Schireson exhibits her work nationally and internationally, including The 2012 Ecorea Jeonbuk Biennale with exhibitions throughout Jeollabuk-do, South Korea. She is the recipient of two Elizabeth Greenshields Foundation Grants (2007 and 2009). Schireson holds an MFA from Indiana University (2008), a BFA from the University of Pennsylvania (2004), and a certificate from the Pennsylvania Academy of Fine Arts (2003). She currently lives and works in Providence, RI.

Her most recent body of work addresses her great grandfather's medical practice during the infancy of plastic surgery. These paintings explore inherent contradictions that underlie his work: the necessity of precision vs. the risk of invention and the power to heal vs. the fostering of insecurity. As a figurative artist she is fascinated by his surgical obsession with the aesthetics of the head and body.