Rita Rousseau






Perception



Thin streaks of pink across a gray dawn sky
presage a red sunrise announced by flocks
of raucous ravens with resounding cries
like barking dogs and gargling frogs and knocks
on nonexistent doors that open wide,
invisibly—a mere stirring of air—
a quantum ripple that gently subsides
as the doors close. Or were they ever there?
But all the ravens have disappeared, for
silence descends as vivid sunrise fades
into golden stillness, until the roar
of lawnmowers and leaf blowers invades
this peace, drowning delicious mystery
in billows of absolute certainty.








Landscape



The darkness lifts but does not bring new light.
Obscurity remains among the low
hills dense with fog as though an artist lay
thick clumps of gray gouache into a ring
of quaint sheep farms, then added streaks of rain,
an arched stone bridge across a wide mill race,

so filled with dull, dark water just a trace
of white paint could depict reflected light—
not from above—instead a distant train
from shaded windows shares a muted glow
in its slow course across a lowering
sky. Tiny blobs are children out to play

at farmer's helper in a grand relay
of hay bales from the barn, a daily race
to keep the flocks well fed until late spring
brings fresh green growth to fields and longer light
encouraging migration from below
the fells, upward to steeper crags, terrain

untouched throughout the winter months, whose rain
and snow have saturated stubborn clay
at times engendering an overflow,
a waterfall, a torrent of wet grace,
cascading down upon the cold stark blight
of wind bared moors. A lamb meandering

drifts further from the flock—wandering
across this naked land in search of grain
that can't be found, an unintended flight,
encouraging the sheep dogs to display
their skills—how carefully they can retrace
the straggler's route and bring him back with slow

encouragement to climb steep slopes and plow
through becks in spate, avoiding a long string
of dappled moor ponies, an equine race,
small and sturdy, accustomed to the strain
when bogs and rocks beneath their hooves delay
a swift return to all the dales' delight.








Kelp



Beneath the surface winter through
a forest quietly extends
slim branches upward with each new
leaf reaching higher, closer than
the one before to touch the green
waves tossing small boats end to end
and, ever growing, there to lean
just as a swimmer on his back
will float and view the sky between
one effort and the next attack.
Likewise the growing kelp prepares;
its long magenta fronds relax
releasing tendrils everywhere
to snare the swimmer unaware.








Judgments



A morning tongue investigating backs
of teeth recalls a pizza eaten late
last night, alone, awakened by the freight
trains whistling, clanging, banging on the tracks
that run behind red brick apartment stacks
whose solitary denizens await—
like livestock to the slaughter—their next fate
decided by a swiftly falling axe
of circumstance. The walls themselves display
malicious hints of poverty's disgrace
as if it were a character defect
unchangeable like faulty DNA,
imprisoning the bearer in a space
devoid of both protection and respect.



AUTHOR BIO
A native New Englander transplanted to the coast of Southern California, Rita Rousseau studied modern languages at Middlebury College, then earned a masterŐs degree in quantitative analysis from Loyola Marymount University. She has worked for many years as a translator, interpreter, freelance writer, software designer, and website developer. Her work has appeared in The Lyric, Westward Quarterly, Journal of Formal Poetry, Four & Twenty, and Avalon Literary Review, among others.
POETRY CONTRIBUTORS

Deborah Arnold

Sylvia Ashby

Meredith Bergmann

Carol Dorf

Melanie Figg

Sophia Galifianakis

Nicole Caruso Garcia

Jennifer Glancy

Dolores Hayden

Kjerstin Kauffman

Katrina Kostro

Michele Leavitt

Susan McLean

Ann Michael

Sally Nacker

Stella Nickerson

Samantha Pious

Rita Rousseau

Renée M. Schell

Leslie Schultz

Katherine Smith

Rebecca Starks

Myrna Stone

Chelsea Woodard (Featured Poet)

Marly Youmans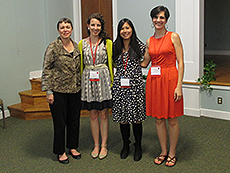 Jenna Le, Anne-Marie Thompson, and Chelsea Woodard join editor Kim Bridgford at the tenth-anniversary Mezzo Cammin panel at the Poetry by the Sea conference.
Sophia Galifianakis was the recipient of the Mezzo Cammin scholarship.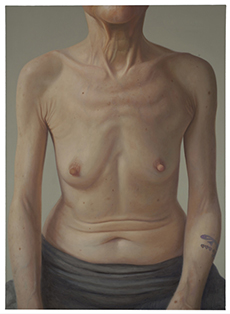 Corpus VI was formed in 2003, when six women figurative painters, who studied together at the Pennsylvania Academy of the Fine Arts, united to curate, exhibit and present our work to the public on our own terms, and launch our artistic careers. The name was chosen because it reflected our shared commitment to figurative representation. Clarity Haynes, Elena Peteva, and Suzanne Schireson were three of the founding members of the group, which organized an inaugural, self-titled show at Philadelphia's Highwire Gallery in the spring of 2005. The exhibition essay was written by Jeffrey Carr, Dean of the Pennsylvania Academy of the Fine Arts. The exhibition was very well-attended and reviewed in several art publications.

The experience of working together to successfully realize this exhibition, as well as the continuous dialogue and exchange of ideas on contemporary figuration, has proven to be greatly valuable to us. Ten years after graduating from PAFA, as our careers have taken us to different locations across the United States, three of the original members, Clarity Haynes, Suzanne Schireson, and Elena Peteva, have come together to reinvent the collective by inviting one artist each to be part of this exhibition that will begin at the New Bedford Art Museum in fall 2015 and travel to other institutions.

Holly Trostle Brigham, Stacy Latt Savage and Laurie Kaplowitz are professional figurative artists, whose strong artistic visions enrich the collective's range and explorations of contemporary representation. We are excited at the prospect of seeing our work all together in new configurations, creating new dialogues. Holly Brigham creates imaginative, narrative watercolors, which tell a feminist story, inserting her artistic persona into art historical narratives and mythologies. Laurie Kaplowitz uses textured paint to create personages that hint at the soul within, alluding to rituals of marking, scarring and adorning the body as an integral part of our human identity and presentation. Stacy Latt Savage combines figurative elements with fabricated structures and shapes to create objects that capture what it looks like to feel human and the complexities of our human condition. Clarity Haynes casts new light on ideas of beauty, femininity and embodiment through her realistic painted portraits of the female torso. Elena Peteva creates allegorical representations of our individual and social states through the human figure and subtle, charged, incomplete signs that invite the viewer's attempt for interpretation. Suzanne Schireson is influenced by her great-grandfather's autobiography as an early plastic surgeon and her paintings examine contradictions surrounding the birth of cosmetic surgery, such as the power to heal and the fostering of insecurity.