Deborah Arnold






The Ruby Slippers



Their power must be strong, or she wouldn't want them so badly.
– Glinda, the Good Witch of the North in Oz

for Millie G.



Poppies



The windows frost; snow rises on the sill
in contours, like the wrinkled gown beneath
a thinning cotton sheet. The hospital
presumes we acquiesce to loss, a wreath
of poppies hung above our mother's bed
as if, at 81, impending death
is Millie's destiny. Our grief instead
demands her voice, its pitch of gravel breath.
We want her cool repose of anger roused
the way it was in Oz – the witches' gleam,
not slackened eyelids under penciled brows,
but weapons of reproach. We dread the scene
of living without cuff or reprimand.
Snow falls; we trace the life line in her hand.



Movie Snow



Snow falls. We trace the life line in her hand
to scars from her first fall, the permanent
reminder that magic is fragile: a house can land
on anyone, and ruby slippers meant
to ward off spells can't stop a terrible
trip on the yellow brick steps with glass
bottles of milk to break the fall – a foible
movie snow could heal with sleep. Our real grass
stained with milk and blood, a pool of pink
collected from the hand and wrist a surgeon
stitched with ninety loops. Fools would think
that scar meant suicide, but they were wrong.
Surrender never weighted Millie's pocket.
She'd left her ruby slippers in the closet.



Crystal Ball



She left her ruby slippers in the closet
until the autumn broadcast that brought Oz
into our living room as proof and threat
to never dream or roam because because
because. My nightmares turned the Emerald City
pink; the sky was dark with flying monkeys,
and no one could make my mother's wrist pretty.
There was no magic snow, just fire and bees.
Then morning came and polished ordinary
things with hope and grace, as if a spell
from Glinda's wand reversed catastrophe.
Yet somewhere in the turret of a castle,
a wicked witch tapped on her crystal ball.
She chanted slowly, "Fall. Fall. Fall."



Crinoline



She chanted slowly, "Fall! Fall! Fall!"
and watched her daughters roll across the lawn
as she hung laundry on the line: the shawl
her mother hand-embroidered, faded fawn
sateen she'd cut from her own wedding gown;
our father's handkerchiefs and boxer shorts,
the crinoline we wore as veil and crown,
pretending to be brides while building forts –
until she caught us. Rage revealed the slip
to be her amulet. The slap her voice
delivered cooled into regret – the flip
of anger into guilt bequeathed us choice,
pajama picnics with the moon and Mars
as sugar fell from buttered bread like stars.



The Salesman's Souvenirs



As sugar fell from buttered bread like stars,
our father left the highway and came home
with souvenirs: balloons, perfume in jars,
and emerald cities crowned inside a dome
with snowflakes – Millie's dreams in miniature.
She fell in love with promises – they'd travel
West and circumnavigate the world
together. Then the twist: a downward spiral
trapped her with the children and the house.
She'd tuck us into bed with stories sewn
into lions, tigers and bears, then browse
the cruise brochures, and go to bed alone.
When he came home, she fell in love again
until he left again, and then again.



The Hour Glass



He left again and again. And then again,
at 81, she fell. The wall and sink
escaped her reach: a fingernail gashed paint
when she collapsed. Think, she whispered, think:
Glinda slapped a spit-shine on disaster –
How do I get out of this alive?
Yellow brick, pink crinoline – think faster.
Snow is rising on the sill. Survive.
She did.
We did not get the death bed scene
apologies, farewells, or lipstick gloss
on cheeks. It was the interrupted dream,
the call at 5 am, the sudden loss,
the empty ruby slippers placed beside
the bed she slipped into and slept, and died.



Ruby Slippers



The bed she slipped into and slept and died
was dressed in waves of blue, the sheet taut
on her side. I stripped it, started laundry, tried
on all her shoes, half a size too small
to fit my grief. Inside the strapless heels
she wore before she and my father met,
I found a dance card. Flawless script reveals
a Millie, Charles, Mac and Joe quartet
of friends. A piece of gathered crinoline
and yellow pine montage into a high
school ball – ten dances, and an Intermission
with a tryst that promises a life
unlived, a love unleft to kiss until
the windows frost as snow rises on the sill.








Evening



How does a secret woven into myth
unravel? Seams fray as cicadas stir,
and voices snap like threads tangled in whispers.
A blue veneer of smoke begins to drift,

and there – isn't that Eve, the moonlight sifting
through a net of leaves around her hair, the scent
of her perfume among the broken threads
of sequins hanging from her flimsy shift?

But it was just a tailor's mannequin,
an armless torso spiders webbed across,
a silk brocade and pattern pieces pinned
against its breasts, one sleeve grazed by moths,
one lost among the trees so thick with birds
that warbles sounded like a voice, like words.



AUTHOR BIO
Book artist and printmaker Deborah Arnold teaches classes in papermaking and book arts, including pop-up book structures. Her commissioned artworks are in private collections, including the White House Collection of American Crafts in Washington, DC, and her one-of-a-kind artist books have won awards at major exhibitions. Her mixed media journal entries were published in Keeping Time: 150 Years of Journal Writing, and her collage "Writing through the Blues" was chosen as the cover art for the book. Her poetry has been published in Passager, and an essay on poet Sonia Sanchez appeared in The Mezzo Cammin Women Poets Timeline Project. Deborah received her MA in English, with a concentration in Creative Writing, from West Chester University, PA. She has worked as an editor at J.B. Lippincott in Philadelphia, PA and at Winterthur Museum, DE, and is currently the coordinator for the Women and Gender Studies Department at University of Delaware. She lives in Elkton, Maryland.
POETRY CONTRIBUTORS

Deborah Arnold

Sylvia Ashby

Meredith Bergmann

Carol Dorf

Melanie Figg

Sophia Galifianakis

Nicole Caruso Garcia

Jennifer Glancy

Dolores Hayden

Kjerstin Kauffman

Katrina Kostro

Michele Leavitt

Susan McLean

Ann Michael

Sally Nacker

Stella Nickerson

Samantha Pious

Rita Rousseau

Renée M. Schell

Leslie Schultz

Katherine Smith

Rebecca Starks

Myrna Stone

Chelsea Woodard (Featured Poet)

Marly Youmans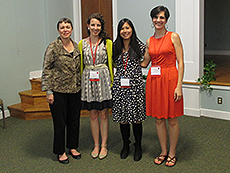 Jenna Le, Anne-Marie Thompson, and Chelsea Woodard join editor Kim Bridgford at the tenth-anniversary Mezzo Cammin panel at the Poetry by the Sea conference.
Sophia Galifianakis was the recipient of the Mezzo Cammin scholarship.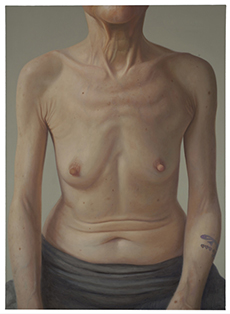 Corpus VI was formed in 2003, when six women figurative painters, who studied together at the Pennsylvania Academy of the Fine Arts, united to curate, exhibit and present our work to the public on our own terms, and launch our artistic careers. The name was chosen because it reflected our shared commitment to figurative representation. Clarity Haynes, Elena Peteva, and Suzanne Schireson were three of the founding members of the group, which organized an inaugural, self-titled show at Philadelphia's Highwire Gallery in the spring of 2005. The exhibition essay was written by Jeffrey Carr, Dean of the Pennsylvania Academy of the Fine Arts. The exhibition was very well-attended and reviewed in several art publications.

The experience of working together to successfully realize this exhibition, as well as the continuous dialogue and exchange of ideas on contemporary figuration, has proven to be greatly valuable to us. Ten years after graduating from PAFA, as our careers have taken us to different locations across the United States, three of the original members, Clarity Haynes, Suzanne Schireson, and Elena Peteva, have come together to reinvent the collective by inviting one artist each to be part of this exhibition that will begin at the New Bedford Art Museum in fall 2015 and travel to other institutions.

Holly Trostle Brigham, Stacy Latt Savage and Laurie Kaplowitz are professional figurative artists, whose strong artistic visions enrich the collective's range and explorations of contemporary representation. We are excited at the prospect of seeing our work all together in new configurations, creating new dialogues. Holly Brigham creates imaginative, narrative watercolors, which tell a feminist story, inserting her artistic persona into art historical narratives and mythologies. Laurie Kaplowitz uses textured paint to create personages that hint at the soul within, alluding to rituals of marking, scarring and adorning the body as an integral part of our human identity and presentation. Stacy Latt Savage combines figurative elements with fabricated structures and shapes to create objects that capture what it looks like to feel human and the complexities of our human condition. Clarity Haynes casts new light on ideas of beauty, femininity and embodiment through her realistic painted portraits of the female torso. Elena Peteva creates allegorical representations of our individual and social states through the human figure and subtle, charged, incomplete signs that invite the viewer's attempt for interpretation. Suzanne Schireson is influenced by her great-grandfather's autobiography as an early plastic surgeon and her paintings examine contradictions surrounding the birth of cosmetic surgery, such as the power to heal and the fostering of insecurity.