Book artist and printmaker Deborah Arnold teaches classes in papermaking and book arts, including pop-up book structures. Her commissioned artworks are in private collections, including the White House Collection of American Crafts in Washington, DC, and her one-of-a-kind artist books have won awards at major exhibitions. Her mixed media journal entries were published in Keeping Time: 150 Years of Journal Writing, and her collage "Writing through the Blues" was chosen as the cover art for the book. Her poetry has been published in Passager, and an essay on poet Sonia Sanchez appeared in The Mezzo Cammin Women Poets Timeline Project. Deborah received her MA in English, with a concentration in Creative Writing, from West Chester University, PA. She has worked as an editor at J.B. Lippincott in Philadelphia, PA and at Winterthur Museum, DE, and is currently the coordinator for the Women and Gender Studies Department at University of Delaware. She lives in Elkton, Maryland.





Sylvia Ashby started sending out poetry two years ago; now dozens of her pieces have been published in literary magazines. Recent work will appear in Rhino '15, Muddy River, Pantheon, Our World of Horror Anthology, and Silver Birch Press: I Am Waiting. Before this poetry obsession, she wrote, acted in, and published some fifteen plays—with thousands of productions.





Meredith Bergmann is a sculptor currently working on the FDR Hope Memorial for Roosevelt Island, NYC. Her poems and criticism have appeared or are forthcoming in Barrow Street, Contemporary Poetry Review, Hudson Review, Lavender Review, Light, Per Contra, The New Criterion, The Same, Umbrella and the anthology Hot Sonnets. A chapbook recently appeared from EXOT Books. She is poetry editor of American Arts Quarterly and its website at www.nccsc.net.





Holly Trostle Brigham is a painter who lives in Philadelphia with her husband David and two children Noble and Flora. She creates life-sized figures in watercolor that depict historical and mythological women in elaborate settings. Holly was a visiting artist at Lafayette College in 2011-12 and created a print there with the Experimental Printmaking Institute, was recently a featured artist in the Art W Salon in New York City and Evolve the Conversation, a national interdisciplinary salon that is being produced as a documentary, and the blog Noodles on the Wall about mothers who balance their families and careers. She is preparing for solo exhibitions in 2013 at Rutgers University and the Berman Museum at Ursinus College. The latter exhibition will be accompanied by a catalog and will travel to the Luther Brady Art Gallery at George Washington University in Washington, DC in early 2014 . Later that year, Holly will also have a solo show at Lafayette College. Holly was born in Carlisle, PA, attended Smith College where she studied Art History and studied abroad in Florence, Italy. She went on to study Art History at the graduate level at the University of Pittsburgh, fine art at the Pennsylvania Academy of the Fine Arts and then earned her MFA in Painting at the George Washington University. Since then she has taught at Pasadena City College, Worcester State College, the Worcester Art Museum, and the Baum School of Art.





Carol Dorf's poetry has been published in Spillway, Sin Fronteras, Antiphon, Composite, About Place, The Journal of Humanistic Mathematics, Scientific American, Maintenant, OVS, Best of Indie Lit New England, and elsewhere. She is poetry editor of Talking Writing.





Melanie Figg is a poet and teaching artist. She has won numerous awards for her poetry, including grants from the McKnight and Jerome Foundations and the Arts & Humanities Council of Montgomery Council. Her work has been published in Nimrod, Iowa Review, LIT, MARGIE, Colorado Review and many other journals. She lives in Washington, DC. www.melaniefigg.net





Sophia Galifianakis lives in Ann Arbor and teaches at the University of Michigan, where she received her MFA in poetry. She is the lucky mother of two amazing kids who have single-handedly made the world beautiful. Her poetry has appeared or is forthcoming in Plume Poetry, The Greensboro Review, Spillway, and Painted Bride.





Nicole Caruso Garcia's poetry has appeared or is forthcoming in journals such as The Raintown Review, 823 on High, Antiphon, The HyperTexts, Willow Review, The Sow's Ear Poetry Review, Soundings East, The Ledge, and others, as well as in the anthology Mother is a Verb. She received the Spring 2010 Willow Review Award. She earned her B.A. in English from Fairfield University, and after seven years in corporate industry, she left to earn her M.S. in Education from The University of Bridgeport. She makes her home in Connecticut, where she teaches Poetry and Creative Writing at Trumbull High School.





Jennifer A. Glancy is professor of Religious Studies at Le Moyne College in Syracuse, NY. Her previous publications include Slavery in Early Christianity and Corporal Knowledge: Early Christian Bodies (both published by Oxford University Press). Obsessions evident in those works surface in her poetry as well.





Dolores Hayden's poetry collections are American Yard (2004) and Nymph, Dun, and Spinner (2010). Her work has appeared in Poetry, Shenandoah, Raritan, Best American Poetry, Ecotone, Slate, Kenyon Review, and Yale Review. She's been a poetry fellow at Djerassi and VCCA and received The Writer/Emily Dickinson Award from the Poetry Society of America, as well as several awards from the New England Poetry Club. Her web site is www.DoloresHayden.com





Clarity Haynes holds a BA in film from Temple University, a CFA in painting from the Pennsylvania Academy of the Fine Arts, and an MFA in painting from Brooklyn College, CUNY. Her work has been exhibited at diverse venues across the US, including the Allentown Art Museum, the Metropolitan Museum and Art Center in Miami, and Femina Potens Gallery in San Francisco. In the New York area, she has shown at The Kentler International Drawing Space, Life on Mars Gallery, Tabla Rasa Gallery, Hersh Fine Art, and The Bruce High Quality Foundation. Haynes has received numerous awards and grants, among them the Leeway Foundation's WOO grant and the Brooklyn Arts Council's Community Arts Regrant Award. Her work is represented in The Brooklyn Museum Feminist Art Base and the Drawing Center Viewing Program. She has been reviewed in The Huffington Post, Two Coats of Paint, Beautiful/Decay Magazine, and Brooklyn Exposed, among other publications. Haynes has taught and lectured at numerous institutions including The New York Academy of Art, The New York Studio School of Drawing, Painting and Sculpture, and Rutgers University. Haynes lives and works in New York City and teaches painting at Brooklyn College and Adelphi University.





Laurie Kaplowitz earned her Bachelor of Fine Arts degree from Boston University and her Master of Fine Arts degree from American University. She recently retired as a Chancellor Professor in Fine Arts from the College of Visual & Performing Arts at the University of Massachusetts in Dartmouth, MA.

Kaplowitz is represented by Fresh Paint Art Associates in Culver City, CA. Her work has been exhibited in commercial galleries in Los Angeles, New York, Dallas, and San Francisco, as well as the Fogg Museum at Harvard University; the DeCordova Sculpture Park and Museum in Lincoln, MA; the New Bedford Art Museum, New Bedford, MA; The Museum of Science, Boston, MA; the American Meteorological Society, Boston, MA; the Fitchburg Art Museum, Fitchburg, MA; the Fuller Craft Museum (formerly the Brockton Art Museum), Brockton, MA; the Albright-Knox Art Gallery, Buffalo, NY; the Currier Gallery of Art, Manchester, NH; Springfield College, Springfield, MA; Pine Manor college, Newton, MA; and the Women's Studies Research Center, Brandeis University, Waltham, MA. She has received commissions from Princess Cruise Lines, Royal Caribbean Cruise Lines, the American Meteorological Society, and the Ritz Carlton, Huntington Beach, CA.

Kaplowitz's work has been reviewed in Art News, The Boston Globe, The Boston Herald, Art New England, and The Dallas Morning News. Her work is collected nationally and internationally.





Kjerstin Anne Kauffman received her MFA from Johns Hopkins University in 2014. Her poems appear or are forthcoming in 32 Poems, Unsplendid, and Zone 3, and her reviews in The American Poetry Review and The Hopkins Review. She and her family are in the process of relocating from Baltimore, MD to Valparaiso, IN.





Katrina Kostro was born, raised, and educated on the upper-Upper West Side of New York City. She studied Art History and Psychology at Barnard College, then completed a two-year position as a clinical research coordinator at New York Presbyterian's Columbia Center for Eating Disorders in the NY State Psychiatric Institute. She composes sonnets as she sings, swims, and downward-dogs, trying to figure out the next beats of her life. Her poems have appeared in Letters to the World: Poems from the Wom-Po LISTSERV, Columbia University's literary/art journal, Tablet, and BigCityLit. She is delighted about her Mezzo Cammin debut.





Michele Leavitt's audio chapbook of poems from the hepatitis C epidemic, Virus Conversations, went live in August of 2014 at www.eatwords.net. Her book-length poetry collection, Back East, won the inaugural Michael Macklin First Book Prize and was published by Moon Pie Press in 2013. Her memoir excerpt, "No Trespassing," won The Ohio State University's 2010 William Allen Award for creative nonfiction, was published in The Journal, and received a notable listing in 2011 Best American Essays. Other works of poetry and prose appear in venues including So to Speak, Dogwood, Umbrella, Mezzo Cammin, The Tower Journal, Passager, and Per Contra. A high school dropout, hepatitis C survivor, and former trial attorney, she now lives in Maine, where she co-directs the Honors Program at Unity College and teaches writing. More at www.michelejleavitt.com





Susan McLean, who teaches English at Southwest Minnesota State University, has recently published Selected Epigrams, a collection of 503 verse translations of the satirical Latin epigrams of Martial, and The Whetstone Misses the Knife, a book that won the 2014 Donald Justice Poetry Prize. Her poems have appeared in Valparaiso Poetry Review, The Lyric, Light, Measure, and elsewhere.





Ann E. Michael lives in Pennsylvania's Lehigh Valley, slightly west of where the Lehigh River meets the Delaware. She is Writing Coordinator at DeSales University, where she also teaches developmental writing and Introduction to Poetry. Her most recent collection of poems is Water-Rites. For more information, access her website at www.annemichael.com





Sally Nacker received her MFA in Creative Writing (Poetry) from Fairfield University in January, 2013. Since then her poetry collection Vireo has been a finalist, semifinalist and honorable mention in three poetry book prize contests. The same collection was accepted for publication by Kelsay Books in October, 2014 and released in February, 2015. Happily, she was invited with Vireo to read at Poetry by the Sea: A Global Conference in Madison, CT. She is a frequent visitor to the Emily Dickinson Museum in Amherst. Sally and her husband can often be found taking several literary tours in New England. She values privacy, quiet, beauty, nature and stillness. She resides in Connecticut with her husband and their two cats.





Stella Nickerson currently lives in Arizona, where she is pursuing a doctorate in engineering. Her poetry has appeared in Strong Verse, Strange Horizons, and Cicada. Her writing can be found at www.stellanickerson.com.








Elena Peteva is a practicing artist and Assistant Professor of Painting and Drawing at the University of Massachusetts Dartmouth. She was born in Sofia, Bulgaria, and moved to the United States in 1995. She received her high school diploma from Interlochen Arts Academy in 1997, a Certificate in Fine Arts from the Pennsylvania Academy of the Fine Arts in 2004 and a MFA from Syracuse University in 2007. She lives and has her studio in Providence, RI.

Peteva works in drawing, painting, printmaking and video. She exhibits nationally and internationally. Recent exhibitions include: Contemporary Art of the Century XXI at the European Museum of Modern Art in Barcelona, Spain (2013-2015); Presence and Absence solo exhibition at Arosita Gallery in Sofia, Bulgaria (2015); Face It: The Face In Contemporary Art at OnSite: Brooklyn Gallery in Brooklyn, NY (2015); SAIH 2015 - Representational Art in the 21st Century at University of Hawaii at Hilo gallery in Hilo, Hawaii (2015); DRAWN 1st Annual Exhibition of Contemporary Drawing at Manifest Creative Research Gallery and Drawing Center, Cincinnati, OH (2014); Drawing Discourse: 5th Annual Exhibition of Contemporary Drawing at S. Tucker Cooke Gallery, The University of North Carolina Asheville, Asheville, NC (2014); and many others. She has exhibited her work in: Museo Europeo de Arte Moderno in Barcelona, Spain; Museum of the Pennsylvania Academy of the Fine Arts; Fort Wayne Museum of Art; Manifest Creative Research Gallery and Drawing Center; Arnot Art Museum; Florida State University Museum of Fine Arts; and numerous commercial and non-profit art galleries. She is a recipient of three Elizabeth Greenshields Foundation grants for representational art, a Leslie and Frances Posey Foundation grant, a fellowship at the Saltonstall Foundation for the Arts' arts colony and a two-time finalist for the Figurativas Painting and Sculpture Competition of the Foundation of the Arts and the Artists in Barcelona, Spain.





Samantha Pious is currently studying for a Ph.D. in Comparative Literature at the University of Pennsylvania. Some of her literary translations have appeared in broad!, Lunch Ticket, Construction, Gertrude, and other publications. Others are available on her website at samanthapious.wordpress.com.





A native New Englander transplanted to the coast of Southern California, Rita Rousseau studied modern languages at Middlebury College, then earned a masterŐs degree in quantitative analysis from Loyola Marymount University. She has worked for many years as a translator, interpreter, freelance writer, software designer, and website developer. Her work has appeared in The Lyric, Westward Quarterly, Journal of Formal Poetry, Four & Twenty, and Avalon Literary Review, among others.





Stacy Latt Savage is a Professor of Fine Arts/Sculpture at the University of Massachusetts Dartmouth. She received her Bachelor of Arts from Wells College and her Masters of Fine Art from Cornell University.

Stacy exhibits her sculpture in a variety of venues including museums, university galleries, outdoor public settings and permanent commissions. Selected museums include the DeCordova Museum and Sculpture Park (Lincoln, MA); the Alternative Museum (New York, NY); The Art Complex Museum (Duxbury, MA), the Fuller Museum (Brockton, MA); the Revolving Museum (Lowell, MA), the New Bedford Art Museum (NB, MA). University gallery settings include Brandeis University, Bridgewater State University, Stonehill College, UMass Lowell and Bristol Community College. A recent exhibition, The Enigma of 4am, at the Cotuit Center for the Arts (Cotuit, MA) was a large-scale collaborative installation project between Stacy and two Boston-based artists.

Additionally, Stacy founded the "River Project: Sculpture at the Slocum's River Reserve", 2009/2012/2015, (Dartmouth, MA) featuring site-specific outdoor sculpture of national and regional artists. She has also exhibited her large-scale public sculpture at the Skokie Sculpture Park (Skokie, IL), Forest Hills Cemetery (Boston, MA), Tarrant College (Fort Worth, TX), Chesterwood Museum (Stockbridge, MA), and The Whaling Museum (New Bedford, MA).

Stacy's studio work is inspired by the human figure and the inherent complexity of human emotion.





Renée M. Schell's poetry has appeared in Catamaran Literary Reader, Cæsura, On the Dark Path: An Anthology of Fairy Tale Poetry, Perfume River Poetry Review, and other journals. Her work also appears online at stringpoet.com, literarymama.com, in Cha: An Asian Literary Journal and MonkeyBicycle. Renée holds a Magister degree from the University of Bonn and a Ph.D. in German Studies from Stanford University. She plays classical piano and co-edits poetry for the Willow Glen Poetry Project and for Red Wheelbarrow. Her poem "Beyond Vienna" won Third Prize in the String Poet Contest 2014.





Suzanne Schireson is an artist and Assistant Professor of Painting and Drawing at The University of Massachusetts Dartmouth. Schireson's work includes painting, drawing, and video. In 2015, she had a solo exhibition at Smith College, and recently had paintings on display in New York, Providence and New Bedford. Schireson exhibits her work nationally and internationally, including The 2012 Ecorea Jeonbuk Biennale with exhibitions throughout Jeollabuk-do, South Korea. She is the recipient of two Elizabeth Greenshields Foundation Grants (2007 and 2009). Schireson holds an MFA from Indiana University (2008), a BFA from the University of Pennsylvania (2004), and a certificate from the Pennsylvania Academy of Fine Arts (2003). She currently lives and works in Providence, RI.

Her most recent body of work addresses her great grandfather's medical practice during the infancy of plastic surgery. These paintings explore inherent contradictions that underlie his work: the necessity of precision vs. the risk of invention and the power to heal vs. the fostering of insecurity. As a figurative artist she is fascinated by his surgical obsession with the aesthetics of the head and body.





Leslie Schultz studied creative writing at the University of Wisconsin-Madison and at the M.F.A. program at McNeese State University in Lake Charles, LA. She now lives in Northfield, Minnesota. She has poems forthcoming in The Midwest Quarterly and The Wayfarer. Her work has appeared in The Madison Review, The Mid-American Poetry Review; Stone Country; Sun Dog; and in a chapbook, Living Room, (Midwestern Writers' Publishing House) and in Everything Comes to Light (The Cramers Press). In 2013, she won first prize at the Great River Shakespeare Festival/Maria W. Faust Sonnet Competition. She has published two middle-grade novels, The Howling Vowels and And Sometimes Y (Do Life Right, Inc.). Schultz blogs on art and life, and would love it if you'd visit her website: www.winonamedia.net.





Katherine Smith's poems and fiction have appeared in a number of journals, among them Mezzo Cammin, Unsplendid, Measure, Fiction International, Gargoyle, Ploughshares, The Journal of the Motherhood Initiative, Shenandoah, The Southern Review, Atlanta Review, and Appalachian Heritage. Her first book, Argument by Design (Washington Writers' Publishing House), appeared in 2003. Her second book of poetry Woman Alone on the Mountain recently appeared from Iris Press. She teaches at Montgomery College in Maryland.





Rebecca Starks's poems have most recently appeared in Slice Magazine, The Carolina Quarterly, The Raintown Review, and Crab Orchard Review. She has a PhD in English from Stanford University and teaches literature and writing classes part-time for the Osher Institute of Lifelong Learning program at the University of Vermont. She edits Mud Season Review, a literary journal run by members of the Burlington Writers Workshop. For links to more work visit www.rebeccastarks.com.





Myrna Stone is the author of four full-length books of poetry: In the Present Tense: Portraits of My Father, a Finalist for the 2014 Ohioana Book Award in Poetry; The Casanova Chronicles, a Finalist for the 2011 Ohioana Book Award in Poetry; How Else to Love the World; and The Art of Loss, for which she received the 2001 Ohio Poet of the Year Award. Her poems have been featured on both Poetry Daily and Verse Daily, and have appeared in such journals as Poetry, Ploughshares, Boston Review, TriQuarterly, The Massachusetts Review, Nimrod, and River Styx. Stone is a founding member of The Greenville Poets, based in Greenville, Ohio, where she lives with her husband in an 18th century Rhode Island farmhouse.





Chelsea Woodard's first collection, Vellum, was published by Able Muse Press in 2014 and was a finalist for the Able Muse Book Award. Her poems have appeared or are forthcoming in the Threepenny Review, Southwest Review, Blackbird, Poetry Daily, American Arts Quarterly, and elsewhere. She lives and teaches in New Hampshire.





Recent poetry books by Marly Youmans are Thaliad (Montreal: Phoenicia, 2012), The Foliate Head (UK: Stanza, 2012), and The Throne of Psyche (Mercer, 2011). Recent novels are Glimmerglass and A Death at the White Camellia Orphanage (Ferrol Sams Award, ForeWord Silver Award); forthcoming is Maze of Blood (Mercer). Find her at Marly Youmans / The Palace at 2:00 a.m..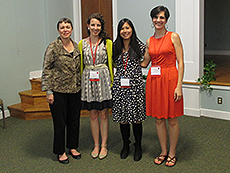 Jenna Le, Anne-Marie Thompson, and Chelsea Woodard join editor Kim Bridgford at the tenth-anniversary Mezzo Cammin panel at the Poetry by the Sea conference.
Sophia Galifianakis was the recipient of the Mezzo Cammin scholarship.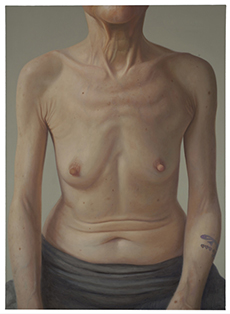 Corpus VI was formed in 2003, when six women figurative painters, who studied together at the Pennsylvania Academy of the Fine Arts, united to curate, exhibit and present our work to the public on our own terms, and launch our artistic careers. The name was chosen because it reflected our shared commitment to figurative representation. Clarity Haynes, Elena Peteva, and Suzanne Schireson were three of the founding members of the group, which organized an inaugural, self-titled show at Philadelphia's Highwire Gallery in the spring of 2005. The exhibition essay was written by Jeffrey Carr, Dean of the Pennsylvania Academy of the Fine Arts. The exhibition was very well-attended and reviewed in several art publications.

The experience of working together to successfully realize this exhibition, as well as the continuous dialogue and exchange of ideas on contemporary figuration, has proven to be greatly valuable to us. Ten years after graduating from PAFA, as our careers have taken us to different locations across the United States, three of the original members, Clarity Haynes, Suzanne Schireson, and Elena Peteva, have come together to reinvent the collective by inviting one artist each to be part of this exhibition that will begin at the New Bedford Art Museum in fall 2015 and travel to other institutions.

Holly Trostle Brigham, Stacy Latt Savage and Laurie Kaplowitz are professional figurative artists, whose strong artistic visions enrich the collective's range and explorations of contemporary representation. We are excited at the prospect of seeing our work all together in new configurations, creating new dialogues. Holly Brigham creates imaginative, narrative watercolors, which tell a feminist story, inserting her artistic persona into art historical narratives and mythologies. Laurie Kaplowitz uses textured paint to create personages that hint at the soul within, alluding to rituals of marking, scarring and adorning the body as an integral part of our human identity and presentation. Stacy Latt Savage combines figurative elements with fabricated structures and shapes to create objects that capture what it looks like to feel human and the complexities of our human condition. Clarity Haynes casts new light on ideas of beauty, femininity and embodiment through her realistic painted portraits of the female torso. Elena Peteva creates allegorical representations of our individual and social states through the human figure and subtle, charged, incomplete signs that invite the viewer's attempt for interpretation. Suzanne Schireson is influenced by her great-grandfather's autobiography as an early plastic surgeon and her paintings examine contradictions surrounding the birth of cosmetic surgery, such as the power to heal and the fostering of insecurity.