Carol Dorf






Islands



A Golden Shovel after Muriel Rukeyser

In the expansive nature of "O"
that open mouth most often reserved for
shock or love, secular reference to God's
names, outpouring of sound for the sake
of sense, in so many cases we say they
pack too much into too small a space and are
at a loss to understand islands connected
by the earth's mantle underneath
the sea. Sometimes we ask why they
move away from our gaze, as we look
out towards the horizon—nearly lost at
sea now and we must hold each
layer tightly against the cold. On other
days we watch little boats bob their way across
the waves at the shore's edge, the
eddies at the break washing glittering
foam towards them, towards the sea
shore. Late at night we hear some
one or something call out as if to keep
reminding itself of a name or a
date before the world was full of low
humming. Then, the sound profile
so jagged, full of interruptions. Some
sounds can break your ears when they are
continuous, variation in volume cliffs
you topple over, hands over your ears, while the
argument between drums and horns sends bathers
to their sweltering hotel rooms. When you think
about distance and little boats, islands
provide short respites though they are
stingy with promises, and appear separate
from each other, and cold at night, like
the way darkness makes us afraid of them.








Dust for My Sake



Two notes: 1) I am dust. 2) For my sake
the world was created. Together they connect
despair and the grandiose, create the sea
between worlds for neo-kabbalists to think
into being; an earth with gravity to hold
the atmosphere and the waters, to keep

all from shooting off into space, to keep
each box of memory intact for the sake
of the children who don't forget being held
against a mother's chest, interconnected
heartbeats giving both space to think
again after infant misery and its sea

of tears. Walking a path above the sea
shore she remembers rocking a child to keep
the peace in a disintegrating house she thinks
belonged to someone for whose sake
she was told to hush, to disconnect
impulse from expression, and to hold

still, god-dammit; what has become of her hold
on the storyline? Bring back the sound of the sea
with sanderlings rushing waves, that connect
the earth and the oceans. Even now they keep
sliding their thin beaks into the sands for the sake
of their next meal but somehow she thinks

it refers to continuity, the way when we think
of the long-gone complete with suitcases, it holds
them in this world, not really for their sake
but as a ballast against the rising sea
which absorbs barrier islands and keeps
reminding us that all the oceans are connected

underneath. We need to map connections
as we build globes, however many ways we think
up to distract ourselves, plans that keep
enumerating distinctions that hold
separate dust and sands that underlie the sea.
Who has the chutzpah to say, "For my sake,

the planet keeps to its course, holds
steady; when I think of the sea,
I remember dust. For my sake."





AUTHOR BIO
Carol Dorf's poetry has been published in Spillway, Sin Fronteras, Antiphon, Composite, About Place, The Journal of Humanistic Mathematics, Scientific American, Maintenant, OVS, Best of Indie Lit New England, and elsewhere. She is poetry editor of Talking Writing.
POETRY CONTRIBUTORS

Deborah Arnold

Sylvia Ashby

Meredith Bergmann

Carol Dorf

Melanie Figg

Sophia Galifianakis

Nicole Caruso Garcia

Jennifer Glancy

Dolores Hayden

Kjerstin Kauffman

Katrina Kostro

Michele Leavitt

Susan McLean

Ann Michael

Sally Nacker

Stella Nickerson

Samantha Pious

Rita Rousseau

Renée M. Schell

Leslie Schultz

Katherine Smith

Rebecca Starks

Myrna Stone

Chelsea Woodard (Featured Poet)

Marly Youmans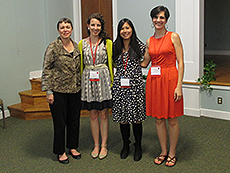 Jenna Le, Anne-Marie Thompson, and Chelsea Woodard join editor Kim Bridgford at the tenth-anniversary Mezzo Cammin panel at the Poetry by the Sea conference.
Sophia Galifianakis was the recipient of the Mezzo Cammin scholarship.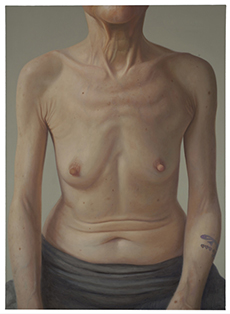 Corpus VI was formed in 2003, when six women figurative painters, who studied together at the Pennsylvania Academy of the Fine Arts, united to curate, exhibit and present our work to the public on our own terms, and launch our artistic careers. The name was chosen because it reflected our shared commitment to figurative representation. Clarity Haynes, Elena Peteva, and Suzanne Schireson were three of the founding members of the group, which organized an inaugural, self-titled show at Philadelphia's Highwire Gallery in the spring of 2005. The exhibition essay was written by Jeffrey Carr, Dean of the Pennsylvania Academy of the Fine Arts. The exhibition was very well-attended and reviewed in several art publications.

The experience of working together to successfully realize this exhibition, as well as the continuous dialogue and exchange of ideas on contemporary figuration, has proven to be greatly valuable to us. Ten years after graduating from PAFA, as our careers have taken us to different locations across the United States, three of the original members, Clarity Haynes, Suzanne Schireson, and Elena Peteva, have come together to reinvent the collective by inviting one artist each to be part of this exhibition that will begin at the New Bedford Art Museum in fall 2015 and travel to other institutions.

Holly Trostle Brigham, Stacy Latt Savage and Laurie Kaplowitz are professional figurative artists, whose strong artistic visions enrich the collective's range and explorations of contemporary representation. We are excited at the prospect of seeing our work all together in new configurations, creating new dialogues. Holly Brigham creates imaginative, narrative watercolors, which tell a feminist story, inserting her artistic persona into art historical narratives and mythologies. Laurie Kaplowitz uses textured paint to create personages that hint at the soul within, alluding to rituals of marking, scarring and adorning the body as an integral part of our human identity and presentation. Stacy Latt Savage combines figurative elements with fabricated structures and shapes to create objects that capture what it looks like to feel human and the complexities of our human condition. Clarity Haynes casts new light on ideas of beauty, femininity and embodiment through her realistic painted portraits of the female torso. Elena Peteva creates allegorical representations of our individual and social states through the human figure and subtle, charged, incomplete signs that invite the viewer's attempt for interpretation. Suzanne Schireson is influenced by her great-grandfather's autobiography as an early plastic surgeon and her paintings examine contradictions surrounding the birth of cosmetic surgery, such as the power to heal and the fostering of insecurity.