Kim Bridgford is the director of the West Chester University Poetry Center and the West Chester University Poetry Conference. As editor of Mezzo Cammin, she was the founder of The Mezzo Cammin Women Poets Timeline Project, which was launched at the National Museum of Women in the Arts and will eventually be the largest database of women poets in the world. The author of five books of poetry, including Hitchcock's Coffin: Sonnets about Classic Films, she has recently traveled to Bhutan with her collaborative partner, visual artist Jo Yarrington, to complete a three-book series on journey and sacred space. She has been featured in The New York Times, The Washington Post, The Philadelphia Inquirer, and on NPR. Other earlier work in Mezzo Cammin: 2010.2, 2009.2, 2009.1, 2008.1.




Nicole Caruso Garcia was born in New Jersey in 1972. She earned her B.A. in English from Fairfield University, and after seven years in corporate industry, she left to earn her M.S. in Education from The University of Bridgeport. Her poetry has appeared in literary journals such as Willow Review, The Sow's Ear Poetry Review, Soundings East, The Ledge, Poetry Midwest, and Small Pond Magazine of Literature. She received the Spring 2010 Willow Review Award. She teaches Poetry and Creative Writing at Trumbull High School. Despite her penchant for formalism, her rapping alter ego, Capital G, often visits to bust a rhyme for her students. Her first video, "Plagiarism Rap," debuted on YouTube in February. She and her husband live in Connecticut. Earlier work in Mezzo Cammin: 2011.2, 2011.1, & 2008.1.




Claudia Gary (formerly Claudia Gary-Annis) writes, edits, and composes (tonally) in the Washington, D.C. area. Her first full-length poetry collection, Humor Me, was published in 2006 by David Robert Books, and a second collection is in progress, along with her work as a licensee to the literary estate of the poet Richard Moore. Her articles on veterans' health and other topics have appeared in Vietnam Magazine, VFW, and The VVA Veteran. For more information and links to some of her published poems, see claudiagary.com.




Tracey Gratch lives in Quincy, MA with her husband and their four young children. Her poems have appeared in online and print publications including, Soundzine, Snakeskin, The Poetry Porch Sonnet Scroll, Lucid Rhythms, Loch Raven Review, The Flea, Annals of Internal Medicine, Boston Literary Magazine, Victorian Violet Press Journal and The Yale Journal for Humanities in Medicine. She also has a poem in a recent anthology of Science Poetry.



Kathryn Jacobs has a new book out, In Transit, from David Roberts Books. A professor at Texas A & M--C, she also has three chapbooks, a book on medieval marriage contracts, and roughly 140 poems published in journals like The New Formalist, Measure, Mezzo Cammin, and The Raintown Review. Currently she is commuting to Texas via Michigan (online teaching). Earlier work in Mezzo Cammin: 2009.2, 2008.1, & 2007.1.




Erin Jones is the 2011 winner of The Lyric's national undergraduate poetry competition, and the 2011 second prize winner of the national Iris N. Spencer Awards. She has work forthcoming in The Lyric, Tower Journal, Tar River Poetry, and Victorian Violet Press Journal. She is a recent graduate of West Chester University, where she majored in sociology and minored in creative writing. Twice a featured reader at the West Chester University Poetry Center, she will be attending the Juniper Institute at the University of Massachusetts this June.




Jean L. Kreiling's poetry has been published widely in print and on-line journals, and her interdisciplinary essays on music and poetry have appeared in several academic journals. She is the winner of the 2011 Able Muse Write Prize for poetry, and has been a finalist for the Dogwood Poetry Prize, the Frost Farm Prize, and the Howard Nemerov Sonnet Award. Earlier work in Mezzo Cammin: 2011.1, 2010.2, 2010.1.




Rhea Nowak received her BA from Bennington College in Printmaking and Painting, her MFA from the University of Connecticut in Printmaking and Drawing, and a Master Printer Certificate from Il Bisonte an international school of printmaking in Florence Italy. After teaching in Connecticut for a number of years she joined the Art Department faculty at SUNY College at Oneonta in the fall of 2007 where she teaches foundations and printmaking. Her prints, mixed media drawings and unique books have been exhibited in juried and solo shows in both the U.S. and Europe.




Angela Alaimo O'Donnell teaches English, Creative Writing, and literature courses in American Catholic Studies at Fordham University in New York City. Her most recent book, Saint Sinatra & Other Poems (Word Press), was published in 2011. Previous books include a full-length collection, Moving House (Word Press, 2009), and two chapbooks, Mine (Finishing Line Press, 2007) and Waiting for Ecstasy (Franciscan University Press, 2009). Her poems have appeared in a number of journals, including America, Comstock Review, First Things, Hawaii Pacific Review, Journal of the Motherhood Initiative, Pedestal Magazine, Post Road, Potomac Review, RUNES, St. Katherine Review, The Nepotist, and Valparaiso Poetry Review. O'Donnell was a finalist for the Foley Poetry Award and the Mulberry Poets Award, and her work has been nominated for Pushcart and Best of the Web prizes. Earlier work in Mezzo Cammin: 2011.1, 2009.2, & 2007.2.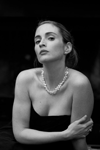 Featured poet Alexandra Oliver was born in Vancouver and currently lives in Toronto. She has been nominated for a CBC Literary Award and the Pushcart Prize. Her poetry regularly appears in journals worldwide, and her first collection, Where the English Housewife Shines, was published in 2007, by Tin Press in London, England. She has performed her poems at Lollapalooza and The National Poetry Slam, and on CBC Radio One and National Public Radio, and was a featured performer and interviewee in the 1998 documentary, Slam Nation. Oliver holds and MA in Drama from the University of Toronto and an MFA in Creative Writing from the University of Southern Maine. She is co-editing (with Annie Finch) an anthology of poetry in non-iambic meters. Her second collection is due out soon. Other earlier work in Mezzo Cammin: 2009.2




Liz Robbins' Play Button won the 2010 Cider Press Review Book Award, judged by Patricia Smith. Her poems are forthcoming in Cimarron Review, The Journal, and New York Quarterly. She's an assistant professor of creative writing at Flagler College in St. Augustine, Florida.





Doris Watts lives in Temecula, California. Her poems have appeared in Mezzo Cammin, The Formalist (she was twice a finalist in the Howard Nemerov Sonnet Competition), Blue Unicorn, The Lyric, and The Mid-American Poetry Review. She has work forthcoming in 14 by 14. She graduated from the University of Redlands and completed a Special Major Master's Degree in Technical Communication at San Diego State University. She has worked as a usability specialist, examining the human interface with hardware and software documentation, and as a technical writer. Earlier work in Mezzo Cammin: 2011.2, 2011.1, 2009.2, & 2009.1.




Marly Youmans's ninth book is A Death at the White Camellia Orphanage, winner of The Ferrol Sams Award for Fiction (Mercer University Press, 2012.) Forthcoming are The Foliate Head, a collection of poetry from Stanza Press in the UK, and Thaliad, an epic poem from Phoenicia Publishing (Montreal), as well as several novels, Glimmerglass and Maze of Blood (Mercer.) Currently she is serving as a judge for The National Book Award in Young People's Literature. Earlier work in Mezzo Cammin: 2011.2, 2011.1, 2010.2, 2010.1, 2009.2, 2009.1, 2008.2, 2008.1, & 2007.1.



Claire Zoghb's first collection, Small House Breathing, won the 2008 Quercus Review Poetry Series Annual Book Award. Her chapbook, Dispatches from Everest, is forthcoming. Her work has appeared in Connecticut Review, CALYX, Mizna: Prose, Poetry and Art Exploring Arab America, Natural Bridge, Assisi Online Journal, and in the anthologies Through A Child's Eyes: Poems and Stories About War and Eating Her Wedding Dress: A Collection of Clothing Poems. She has poems forthcoming in Crab Creek Review. Twice a Pushcart nominee, Claire was the winner of the 2008 Dogwood annual poetry competition. A graphic designer, she is on the staff of Drunken Boat and works as Graphics Director at Long Wharf Theatre.